Jan 31
And discover how she unlocked her grandmother's secret story
I'm delighted to welcome Katrina Kirkwood to Virtual Book Club, my interview series in which I give authors the opportunity to pitch their novels to your book club.
After leaving a career as a research scientist to bring up four children then retraining as an artist, Katrina found herself working as a digital storyteller in the Welsh valleys. Listening to a group talking about their grandparents set her thinking about the strange string of beads left to her by her own grandmother, Isabella Stenhouse. For years it had been tangled round Isabella's stethoscope at the back of a cupboard. Rumour held that the beads had been given to Isabella by a grateful German prisoner of war while she was working as a doctor during the First World War. As the group talked, Katrina wondered. What if the rumour was true? It would be so wonderfully romantic – the barriers of gender and enmity smashed in one simple gift …
Soon, she was flying to Edinburgh, taking the coach to London, haunting archives, searching libraries and travelling far and wide across Europe and even into the Middle East to try and solve the mystery of Isabella's beads. She discovered that others, too, were interested in the story – the Arts Council of Wales, the BBC Antiques Roadshow, local papers, the national press, television programmes, Irish radio and numerous blogs – but the book still needed to be written. A creative writing course with Horatio Clare in North Wales helped. Mentoring by The Literary Consultancy gave impetus and, eventually, it was done. She self-published The Mystery of Isabella and the String of Beads in July 2016, not long after leaving Wales for Norwich.
Q: What is it about your book that you feel makes it particularly suitable for book clubs?
Book clubs are places to stretch your reading habit, to try things you'd usually reject. So why stop at fiction? Non-fiction is sometimes hard to read, but Isabella was designed to be a page-turner. It's the real life version of the much-used fictional trope of a granddaughter unlocking a grandmother's secret story. It flows in the same way as a novel does and, almost as proof that truth can be stranger than fiction, it has enough jeopardy and drama to make a novelist proud.
Not only that, it raises questions that are ideal for discussion: starting perhaps with the question of whether non-fiction can be a good read and how history is best told, but moving on to such meaty topics as would you or I have the courage to be an Isabella, what price patriotism nowadays, family loyalty and the stiffness of British upper lips.
Q: The protagonist in your book is Dr Isabella Stenhouse. What five words best describe her?
Determined, feminine, courageous, loyal, ambitious
Q: Tell us a little about the major areas you had to research.
I knew nothing about the history of the period so I had to start from scratch. It was the diaries and letters of people from the time that really inspired me – to 'hear' their voices was magic. Girls talked about their schooling, women spoke of struggling their way into the medical profession, nurses and doctors anguished over caring for the wounded of WW1, women doctors vented their frustration at the way they were treated and prisoners of war related their anger, sadness and despair. Their writings were so vivid that it felt as if I'd actually met these people.
Click here to look inside and buy
Biography and mystery combine. Join Katrina Kirwood as she unlocks her grandmother's secret story.
"Tonight I felt drawn to Isabella again and couldn't stop. I rarely re-read a book and even though I know this story I wanted to follow it through to the denouement – which I felt you gave me … An expert might disagree with me, but this reader feels you will entice other readers to follow the trail too."- Lila Haines, Director of Egino C.I.C.
Q: Did you know where this book was going to go right from the start?
By setting myself the goal of discovering who had given Isabella her string of beads, I knew where the book had to end, but for a long time I had no idea how to get to that ending. I had to run with whatever information turned up then wait and see what happened next. It was a great relief when the ending I needed came into sight but, when it did, I needed to muster all my courage because it involved travelling to Egypt. I was terrified.
Q: Was the decision of how to structure the book obvious?
Far from it. I've never particularly enjoyed reading non-fiction – I need a good plot, a strong storyline and engaging characters to pull me through. I could see that Isabella's story was a really good yarn but with very few personal comments from Isabella herself, I had no easy way of hooking in the reader's emotions and making it a book I'd enjoy reading myself. It took a lot of trial and error to develop a structure which combined my aim of writing a good read with my equally fierce conviction that the story was far too remarkable to allow any deviation from truth and accuracy.
Q: What are the particular challenges of writing fact-based work?
Every word is a challenge. It's very inhibiting. You can't afford to let it flow. For the work to be credible, you've got to check every nuance of each word against the known facts. That's another thing – the facts are liable to change. You never know when something new may turn up which will alter your understanding of the information you already have. You have to hold it lightly.
Q: How do you make sure your long hours of research don't show up on the page?
There are two answers to that question.
The first is that I chose to let the research show on the page. I love research. It's like being a detective. Following up the clues, finding out what had happened to Isabella and tracking her through Scotland, France, Malta and Egypt and finally solving the mystery of her beads was incredibly exciting. Leaving out the research would have been like taking people straight to the end of a crime novel – it would have been a nothing.
The second answer is to do with how the research is presented on the page. I'm a storyteller as well as a former academic, and there was no way I was prepared to write a dry-as-dust academic treatise. I wanted my words to sound as easy and natural as the many voiceovers that I'd edited, so I read every sentence and paragraph aloud not once, but many times. Clumsy, academic or stiff language would trip up my tongue. Even if I was lazy and didn't alter it the first time round, it was still there challenging me next time and eventually, however tricky it was to alter the text, I had to give in. Sadly though, reading aloud prevented me from indulging my usual habit of working in cafés.
Isabella's beads
Q: At what point in writing the book did you come up with its title?
I knew the title before I began writing. Sometimes I was tempted to dump it, but anything else didn't convey that the book was the story of a mystery that centred on Isabella's string of beads. A publisher once told me that if they took the book they'd change the title so it fitted the algorithms better. That would have been fine, but they didn't take the book. The subtitle is my sop towards the algorithms.
Q: I am a walker. Geoff Nicholson, author of The Lost Art of Walking wrote, "There is something about the pace of walking and the pace of thinking that goes together. Walking requires a certain amount of attention but it leaves great parts of the time open to thinking. I do believe once you get the blood flowing through the brain it does start working more creatively. Your senses are sharpened. As a writer, I also use it as a form of problem solving. I'm far more likely to find a solution by going for a walk than sitting at my desk and 'thinking'." If you agree, how does walking help you? If you disagree, how do you unknot your thinking?
I completely agree. Sitting at a desk does nothing. I was living in Cardiff while I wrote Isabella and I'd have to leave the house and stride down the hill to gaze at Roath Park Lake. By the time I'd paused, gained a sense of balance and climbed the hill again, either the problem would have been solved or I'd have thought of something else to carry on with while the problem carried on brewing in my sub-conscious. The other problem solver was a good long soak in a hot bath. Showers were no good. They never delivered creative solutions.
Q: Did you deliberately time the release of your book with the centenary of WW1?
Yes, it made the next couple of years the main period of interest for Isabella. While I would have loved a trade publishing deal, I finished the book quite late and felt that if I hung out for a trade deal, the story would probably miss its topical moment so I chose to self-publish the book on the most important centenary of Isabella's WW1, 24th July 2016. On that day one hundred years earlier, Isabella had signed her name on a contract that made her one of the very first women doctors ever to be employed by the British Army. They're a group of women about whom very little is known, so I wanted to make a bit of a splash for them.
Q: Which professional services didn't you skimp on?
I have a very strong digital background so I formatted the book myself, but knew it needed to be checked by a trained pair of eyes. Through Reedsy, I found a wonderful proof-reader and copy-editor, Hazel Reid. Equally, although I've been using photoshop for years, I didn't want to risk designing the cover myself so I commissioned Shona Andrews of Spikyshooz Design. She put up with me being a very interfering customer and came up with a design I really liked.
Q: Twenty words on why your book should be a reader's next read…
It's as exciting an adventure as any Hollywood blockbuster, it's topical, it's a great read -and it's true!
Isabella, pictured in Egypt
You can find out more about Katrina and her writing on her website and on Twitter @kkstories. Katrina is happy to visit local book clubs in person or to Skype others.
Remember, if you enjoyed this post please share it. If there's anything else you'd like to ask Katrina please leave a comment.
To have future posts delivered directly to your in-box, visit the sidebar on the right and subscribe to my blog, or to find out about new releases, competitions and freebies, subscribe to my newsletter and grab your free copy of my novel, I Stopped Time.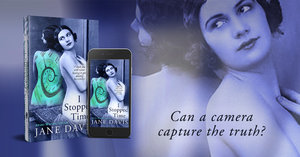 Written on January 31, 2017 at 12:08 pm, by Jane Davis
Categories: Author Interviews, Blog, Homepage, Virtual Book Club | Tags: Author Interviews, behind the book, Bookclub, Dr Isabella Stenhouse, Indie Authors, Katrina Kirkwood, non-fiction, nonfiction, Self-Publishing, string of beads, Virtual Book Club, women doctors, Writers, Writing, Writing life, WW1
Subscribe to the blog Enter your email address and you'll be notified when new articles are published. (We will not share your email with any third party.)
Want to be featured?

I'd love to hear from authors who would like to be featured in an interview or submit a guest post. To be considered, please complete the contact form.

Image © Juanrvelasco | Dreamstime.com