The London Collection
Description:
The London Collection is a box set of three full-length novels linked only by their setting…
'Davis has a light touch. She writes with subtlety and nuance. And she does something many writers of literary fiction fail to do: she tells a good story.' ~ Put It In Writing Book Blog.
'I read each of these books separately and what a great collection they make. The city of London comes alive in all its urban multi-cultural mix and mass. Intelligent, thought-provoking and with details so well observed that you think, 'I never noticed that before but she's right!' ' ~ Jean Gill, Author
Buy here
Universal link for The London Collection (all retailers)
My Counterfeit Self
From the award-winning author of Half-truths and White Lies and An Unknown Woman, comes an emotional story of hidden identities, complicated passions and tangled truths.
'Completely gripping, excellently written and so skilfully put together, I can't recommend My Counterfeit Self highly enough.' ~ Isabel Wolff, author of Ghostwritten.
A rose garden. A woman with white hair. An embossed envelope from the palace.
Lucy Forrester, for services to literature, you are nominated for a New Year's Honour.
Her hands shake. But it's not excitement. It's rage. For five decades, she's performed angry poems, attacked government policy on everything from Suez to Trident, chained herself to embassy railings, marched, chanted and held placards high.
Lucy knows who she is. Rebel, activist, word-wielder, thorn in the side of the establishment. Not a national bloody treasure.
Whatever this is – a parting gesture, a final act of revenge, or the cruellest of jokes – it can only be the work of one man. Dominic Marchmont, outspoken literary critic and her on/off lover of fifty years, whose funeral begins in under an hour.
This compelling portrayal of the bohemian life of an activist poet, the men she loves, and the issues she fights for will leave you thinking long after you turn the final page.
Smash all the Windows
Winner of The Selfies (Best independent fiction author) 2018 and a finalist in the 2018 IAN Book of the Year Awards
'Thoughtful and powerful, beautifully written, charged with meaning and gripping as any thriller.' ~ Lorna Fergusson, author
It has taken conviction to right the wrongs.
It will take courage to learn how to live again.
For the families of the victims of the St Botolph and Old Billingsgate disaster, the undoing of a miscarriage of justice should be a cause for rejoicing. Finally, the coroner has ruled that the crowd did not contribute to their own deaths. Finally, now that lies have been unravelled and hypocrisies exposed, they can all get back to their lives.
If only it were that simple.
Tapping into the issues of the day, Davis delivers a highly charged work of fiction, a compelling testament to the human condition and the healing power of art.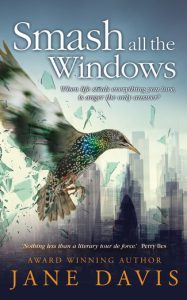 At the Stroke of Nine O'Clock
A Historical Novel Society Editor's Choice.
London 1949. The lives of three very different women are about to collide.
'This is the first time I have come across this author, and what a revelation! She writes stunning prose that keeps the pages turning.' Historical Novel Review.
Like most working-class daughters, Caroline Wilby is expected to help support her family. Alone in a strange city, she must grab any opportunity that comes her way. Even if that means putting herself in danger.
Star of the silver screen, Ursula Delancy, has just been abandoned by the man she left her husband for. Already hounded by the press, it won't be long before she's making headlines for all the wrong reasons.
Patrice Hawtree was once the most photographed debutante of her generation. Now childless and trapped in a loveless marriage, her plans to secure the future of her ancient family home are about to be jeopardised by her husband's gambling addiction.
Each believes she has already lost in life, not knowing how far she still has to fall.
Six years later, one cause will reunite them: when a young woman commits a crime of passion and is condemned to hang, remaining silent isn't an option.
'You don't read a Jane Davis novel – you inhabit it.' ~ Clare Flynn