Mar 31
When you need a little perspective in your life, plant yourself in a big landscape. Preferably on top of a mountain. Last week saw a welcome return to the Lake District, which has become our home from home.
Day One
Matt and I arrive by our chosen modes of transport. (I have an inner ear condition that makes me feel as if I am being propelled into a tunnel of doom when travelling on motorways. Needless to say, I'm not the best of passengers.) This way, Matt gets to drive like Jenson Button and I get to read. (Rohan Quine's, The Platinum Raven and Other Novellas, since you ask. And, yes, it is fabulous). That said, I am more than glad to find Matt standing outside the train station. 'Good journey?' I ask. 'Yes.' he grins. 'You would have hated it.' A coffee and a panini later, we are on our way through Skelghyll Woods, where daffodils are in abundance, and up towards Wansfell Pike.
Notice should say: These daffodils are for writing poetry about, not for picking (a line I blatantly stole from Dan Holloway.) 
Straight up the side is a test of fitness. As usual, my pace is slow and steady, while Matt has bursts of energy and then stops to point out the view. Ambleside reveals itself in the valley below, a church spire at its heart, and Scandale Valley comes into view, as does Windermere. I find a face in a tree as I pause for breath. (I have never noticed it before, despite years of coming here.) Matt (the one on the right) can't see it. He isn't trying very hard.


There is snow above 2000 feet, but our intended climb falls short of that height and the weather is kind. As we approach the summit (a windy outcrop, with fine views down the length of Windermere) the presence of Mountain Rescue is a reminder of the power of the mountains. Even fell-walking can be dangerous when the ground is muddy and the rocks are slippery.
Our usual walk would take us to Troutbeck Valley and back to Ambleside via a circular route, but this is no day for heroics or foolishness. We are clearly surplus to requirements, the gods' way of telling us to go back the way we came – and go shopping. We visit Detail and the Old Courthouse Gallery, and are very careful not to break anything expensive-looking.
A stone's throw from The Stones Throw is a wonderful restaurant called Artelier. (Ignore the reviews on their website and go to Trip Advisor.) We both choose the crab cakes. I plump for the fillet of beef (melt in your mouth) while Matt has the rump of lamb (he's speechless), and, spoilt for choice, we share an assiette of scrummy desserts. (There is also bubbly – a 300ml bottle of prosecco, which does two glasses, is only £6.99 – a good Rioja and a tawny port.)
Matt makes it his man-mission to light the wood-burning stove, but the wood is either too green or too damp. I fear for his eyebrows. Still, he is determined, and so I leave him to it and retire to bed.
Day Two
It's hard to think of a finer sight than the view that opens up as you drive into Great Langdale Valley. The Langdale Pikes and Crinkle Crags are instantly recognisable, but this is day two and we are not here for a big climb.
We zig-zag over Side Pike, pausing to look back towards Bowfell.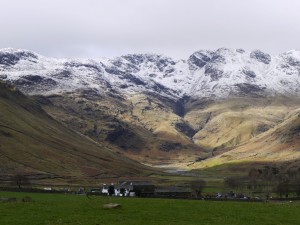 Then we wend our way to Blea Tarn and beyond, working our way through to Little Langdale.
Woods in front of Blea Tarn
Much of the path is flooded and wading is required. (Good job we waxed our boots.)

We pause for a snack just above Slater's Bridge. It's a picture-perfect spot and can attract crowds. Today we are lucky. We have the place to ourselves.

Another climb takes us past a farm and then we drop down through woodland and start heading back towards Great Langdale. A huge amount of work has been carried out on the paths since we were last here in September. The ground has been churned up, while the crushed blue-grey slate looks misplaced.
Stone wall, stone path, stone mountain
Horror of horrors, Chesters Cafe has no table for us. We browse in the shop and discover a new takeaway section, so we leave with a box of cake heaven – a slab of ginger and pear cake and a date flapjack to share.
We catch the early showing of The Book Thief at Fellini's (ask about their meal and cinema deals – the film is almost free). I have to admit that I was apprehensive about what kind of film could be made out of Marcus Zuzak's near-perfect novel. The film doesn't follow the original storyline, not precisely, but then it doesn't attempt to. What it does very effectively is to remind moviegoers of the importance of books. Of the touch of them. What it feels like to hold one in your hands. How it feels to stand and watch them being burned. Of the power of words. Because stories can and will change your life – if you let them.
We follow this with dinner at Zefferelli's.  Gorgonzola souflee with pear and walnut salad followed by aubergine and mozarella stack for me, pizza for Matt.
Day Three    
Monday is one of those golden days, crisp and bright in the morning, allowing us to scamper up Loughrigg Fell before the sun heats up. The views across to Fairfield are spectacular and we have them to ourselves (the thoroughly under-rated bliss of solitude). Treading well-known paths, we comment – not for the first time – on the absence of lambs in the pastures. Last year's big freeze spell has had a worrying knock-on effect.
Here is where I will say it: I am not a fan of legislating everything, but the countryside code needs to be updated.
The bliss of solitude…
The peace at the trig-point is marred by a woman who is actually freaking out about the lack of Internet connectivity. The fact that she cannot post a photograph of herself at the summit to Facebook causes her a level of distress that her boyfriend/husband/male companion couldn't have foreseen. She is clearly unable to 'experience' something without announcing her achievement to the world in real time. I feel for the boyfriend/husband/male companion. I worry sometimes that, by observing the world through a camera lens, I miss the bigger picture, but this is something else. It is disturbing to witness. Rather than look embarrassed, her male companion is entitled to be angry. His company should have been enough.
We leave them behind and peace is restored – until the descent, when we encounter a group of late teens/twenty-somethings. We hear them before we see them: they have music blaring. I assume that it will be like encountering a car driving down a country lane, its full beams blazing. Surely, they will turn the music off when they realise that they aren't alone? They don't. 'I came up here to get away from all that!' another walker comments as he passes me. In my twenties, I used to be a Venture Scout Leader and took groups of 16+ year olds climbing, but that, I remind myself, was over twenty years ago.
In recent years, we have seen red squirrels feasting on bird feeders, but there are none today. We skirt the lake and drop down into Grasmere. Matt stops to try on an Indian hat.
Then we feast on toasted cheese and herb scones, slathered with the best local butter. By the time we emerge, the afternoon has warmed up. Matt takes one look at Heron Pike and says, 'I'm not climbing up that just to come down again!' I am probably not supposed to laugh, but I do. This becomes our catch-phrase for the rest of the week. We climb as far as Alcock Tarn –  a bit of a wind trap as it turns out. (I still have the blood-shot eye to prove it.)
Dropping down, we pick up the Coffin Route back to Ambleside, through the grounds of Rydal Hall.
There is an obvious menu choice at Matthew's Bistro. We both opt for the smoked haddock fishcakes followed by the slow-cooked lamb. It's a good honest place, where the waiter tells us, 'You're not getting down from the table until you finish that lot.' I try my best, washing it down with Argentinian malbec. He compromises and allows me to leave a potato. But he is not happy.
Day Four        
Tuesday: The BBC says it will rain all day. Heavily. Equipped for all weathers though we are, I refuse to climb anything I can't see the top of. It seems like the perfect day to try The Drunken Duck (reputed to serve the best chips ever). It is half-way up a narrow country lane, mid-way between Ambleside and Skelwith Bridge. The off-road paths have been vastly improved since we last attempted to walk in this direction. Progress is good and the weather is not too bad. Our knowledge of the lower level areas is patchy. We spot some teepees through a field and the fortifications of what appears to be a castle. The map tells us it is Wray Castle. It turns out to be newer than our house, built in the 20th Century by a Liverpudlian surgeon on his wife's inheritence from the family gin business.

There is a good exhibit on Beatrix Potter's association with the castle, where she holidayed in her teens, but the place is sparsely furnished. The National Trust doesn't have the funds to populate its library. Instead it has employed ingenuity. Shelves have been painted on the walls and white markers and provided so that visitors can write the names of books they would like to see there. Genius! (See the blue section down the bottom? That's me, that is.)
And then to lunch… We park ourselves at the bar and try not to drip on everything. Matt is enthused to discover that The Drunken Duck has its own micro brewery. Naturally we order two pints of Westmorland Gold, and very fine it is indeed. Once a table is vacated, we order our food. Warm white baps filled with slow-roasted pork, stuffing and apple sauce, and triple-cooked chips on the side. Divine. Another beer apiece and we amble back to Ambleside, with nothing to do but pick up our dinner. (Du vin, du pain and du boursin.) And then we discover that Grease is on the telly!
Day Five        
Coniston is today's destination. The village has more of a 'working' feel than some other lakeland villages. And yet, along with 98 other practices, the GP's surgery may be closed because it isn't 'financially viable.' That's bad news for locals. Many farmers live here. They can't afford to take a day off sick, let alone drive to Ambleside for medical attention. (And the A593 is a roller-coaster of an A-road.) There is also a large 'old-boy' community: veterans of the second world war. It saddens me, when so much provision is made for the treatment of non-life-threatening conditions that basic care cannot continue to be made available for those who have paid their dues.
The forecast is for a dry morning and a wet afternoon. We spend the first part of the day walking along the lakeside and in the fells around the Old Man. After a pit-stop for coffee and cakes (carrot, toffee, pecan and date and a chocolate muffin, just to be on the safe side), we explore the Ruskin Museum. Much work has been carried out since we were here last. Like then, it is still very much a hub of the community. Without doubt, the most important aspect of its collection relates to Bluebird, whose wreckage was retrieved from Coniston Lake in 2002, over 30 years after Donald Campbell's tragic accident. With reconstruction of K7 nearing completion, a new wing has been built to accommodate her. Displays are now impressively high-tech. I have to admit that I rather miss opening a random folder and finding myself a quiet corner in which to read faded newspaper articles.
Day Six
The forecast is much the same. With rain due to arrive at 3 o'clock on the dot (and it does), we decide on the Easedale Round. Straight up the side to Helm Crag (named 'the lion and the lamb'), it is veritable rush-hour.
We leave the majority behind, and continue onwards and upwards. With the return side of the horseshoe fast disappearing into cloud, I propose an alternative descent which cuts off the final climb. (I don't much fancy snow and ice in the rain.) It turns out to be the right decision. Even before we hit the valley floor, a deluge sets in.
I make my annual pilgrimage to Sam Read's, a great little indie bookstore. I buy (rather appropriately), Sarah Hall's debut, Haweswater, a fictional account of the flooding of Mardale to make way for the reservoir.
All through our descent, we could smell the famous Grasmere gingerbread. Matt stocks up on supplies. His life won't be worth living if he goes back to work without a supply.
Day Seven
The weather forecaster doesn't even pretend to look optimistic. There will be two hours of dry at best. For our final walk we select a low-level route starting at Skelwith Bridge, and following the Cumbrian Way to Elterwater and exploring the surrounding farmland. We see our first lambs of the week – and they're a good size. This is splendid countryside, green and lush. Best of all, our walk takes us back to Chesters cafe, where we have better luck on the table front. Matt orders a beetroot and goats' cheese tarte tatin, followed by treacle and lemon tart with mascarpone cream. I stick to savoury and have a filo basket filled with red onion, figs and goats' cheese, accompanied by a cajun sweet potato and curly kale salad.
After which we had to pack…