Jul 11
There are many reasons why I'm delighted to welcome Kathleen Jowitt to my blog, but the biggest and best of those is that her Novel Speak Its Name (2016) was the first self-published novel ever shortlisted for the Betty Trask Prize. Previous winners include Zadie Smith, Hari Kunzru and David Szalay.
Kathleen was born in Winchester and grew up deep in the Welsh Marches and, subsequently, on the Isle of Wight. After completing her undergraduate degree in English Literature at the University of Exeter she moved to Guildford and found herself working for a major trade union.
She now lives in Cambridge, works in London, and writes on the train. Her stories are about people who sort their own heads out and learn that they are, on the whole, not nearly such terrible human beings as they thought they were. Speak Its Name explores Christianity, homosexuality and bisexuality in the context of student life and politics. Her next book will be published in late 2017 and looks at physical capacity, the social model of disability, acceptance, redemption, and integrity.
Q: Firstly, huge congratulations on your award and thank you so much for shining a light for indies. One of the three judges of the award, Michéle Roberts, had this to say about the shortlist. 'The entries for this year's Betty Trask Prize formed a particularly rich and varied collection. The shortlist features pleasingly original approaches to novel-writing and is characterised by diversity of subject, tone and voice, by the authors' passion, intelligence and deep commitment to their art.' You must be thrilled.
It's a great honour to be the first self-published author ever to receive a Betty Trask Award, and a very welcome vindication of my decision to take responsibility for my own work. It proves that I wasn't wasting my time, making my book as good as it possibly could be.

The judges said: 'An original, closely-observed, funny and often touching story with an unusual setting and a keen understanding of the interactions between members of small communities.'

'A brilliant coming of age story, taking place against the backdrop of a major conflict between various Christian denominations on a university campus. The author then proceeds to add further conflict into the mix – the protagonists sexuality, and her inner conflict in dealing with LGBT issues presented by the church.' Amazon reviewer
Q: I know that you've chosen to answer questions about your writing life, but I'd love to know a little more about Speak Its Name. Where is the book set and how did you decide on its setting?
Speak Its Name is set in Stancester, a fictional cathedral city that's in more or less the same location as real-world Ilchester, in Somerset.
I always knew that I was writing in the same tradition as Anthony Trollope's Barchester series, and a fictional cathedral city is practically a requirement in that political-ecclesiastical genre! After that it was a case of finding a place to put it. Arguing that many of our significant cities have Roman origins, I had a look at a map of Roman Britain, and Ilchester seemed like the perfect place. It stands at the crossroads of two Roman roads; it was an important town in its day; but I wasn't running the risk of Stancester's being mistaken for any real city.
Q: At what point in writing the book did you come up with its title?
Not until it was very nearly finished. I always find titles difficult – how can one sum up tens of thousands of words in fewer than ten? – and for a long time I was telling friends about 'my University of Barchester thing'. In the end I sat down and made a list of all the things I could possibly call it. When I did that, 'Speak Its Name' jumped out at me. Not only is it a nod to 'the love that dare not speak its name', it fits well with the idea of 'telling it like it is' that's such an important theme throughout the book.
Q: Do you think that self-revelation is part of the writing process?
Definitely. Quite early on in writing Speak Its Name, I put in a (very minor) character whose main function was to demonstrate the existence of bisexual people in opposite-sex marriages. She wasn't exactly a self-portrait, but she and I had a lot in common. Coming back a few edits later, I was shocked by how narrow and constricted her life seemed. I'd grown a lot in the writing process.
I think the simple fact that it takes time to write a book is significant. One can't help but change and grow over the course of such a long process; and writing itself forces one to think things through and to examine one's own world view and assumptions.
Q: Jodie Archer said that when she worked at Penguin UK, she found that manuscripts by new authors were too ambitious, like a painter who can't settle on one colour and uses the whole paint box. How has your writing style changed over time?
I certainly cut Speak Its Name down in the course of writing it. It started out with six different point of view characters (the current one is none of them), and at one point it grew to 115,000 words, from which I removed 35,000. I'm convinced that half the skill of writing is knowing what to take out.
Q: Do you know the ending to your story when you put pen to paper? Have you ever changed the ending after you started to write?
Years of trial and error have taught me that I have to know where the story is going to end up; otherwise I never get anywhere at all. I ask myself, 'What are the conditions that need to be fulfilled for this book to have a satisfying ending? Where does each of the characters need to be?' And then I start writing in that direction. It really helps to have something to aim at.
Q: How do you cope with the self-doubt that seems to plague the creative process?
It's one of those things that shows up regularly, isn't it? Now that I know that it's just a thing that happens, with no particular relevance to reality, it's easier to deal with. Sometimes I can acknowledge its presence and plough on through. Sometimes I have to turn my attention to something else, work on that for a while, and pick up the work in progress weeks or months down the line. Of course it never turns out to be as bad as I thought it was when I laid it aside.
Q: How do you survive writing in what is perceived as an unpopular genre?
I'm writing for myself. That's what I remind myself. They say that you write the book that you want to read. I certainly did that, and I had to do it, because I'd never seen it anywhere else – because yes, it's an unpopular genre.
Other people have told me that my book has meant a lot to them, and that never fails to thrill me. Even so, I suspect that I'll always end up writing primarily to please myself.
Q: What do you think the greatest advantage of self-publishing is?
That freedom – to write whatever I like, in as many unpopular genres as I please. I don't have to conform to anyone else's expectations; I can go at my own pace; I don't have to worry about what other people think will sell.
Q: I am a walker. Geoff Nicholson, author of The Lost Art of Walking wrote, "There is something about the pace of walking and the pace of thinking that goes together. Walking requires a certain amount of attention but it leaves great parts of the time open to thinking. I do believe once you get the blood flowing through the brain it does start working more creatively. Your senses are sharpened. As a writer, I also use it as a form of problem solving. I'm far more likely to find a solution by going for a walk than sitting at my desk and 'thinking'." If you agree, please comment on how walking help you. If you disagree, how do you unknot your thinking?
I'm a walker, too. If I've got stuck I go for a walk along the river, and either I think about the thing I'm stuck on, or it bubbles away at the back of my mind while I watch the ducks and the rowers, and by the time I get home again something has usually worked itself loose.
The other thing that works for me is to find a pub or a café, get out a notebook, and write down whatever I'm thinking or feeling about the project in that moment. For example: 'I feel as if I haven't got a handle on Polly's character. The trouble is, I don't know how she feels about Michael. What might she feel about Michael?' And so on. The immediate product is by no means great literature, but it does tend to make things easier a little way down the line.
Either way, a change of scenery seems to make a big difference.
Q: And I see that it is a condition of the award that you spend it on travel! What is your favourite opening line of a novel?
'Once there was a boy called Eustace Clarence Scrubb, and he almost deserved it.' I don't always see eye to eye with C. S. Lewis, but he knew how to write.
Q: Russell Grandinetti, who oversees Amazon's Kindle business, say that the print book is "a really competitive technology": it is portable, hard to break, has high-resolution pages and a "long battery life". Do you prefer eBooks or 'tree books'?
It depends on my mood and on the circumstances. I have a Kobo, and I find it invaluable for reading books that would be too thick and heavy to carry around with me, or that are only available in electronic format, or that I don't have in the house and want to read right this minute.
On the other hand, if I want to flick through something to find a particular passage, or if I want to read in the bath, or if I've got an armchair and a glass of wine lined up, then I much prefer a paperback.
Q: In an interview about self-publishing, asked about advice he had for fellow authors, Hugh Howey recommends patience and says that you can't lose if you combine happiness with low expectations. How do react to that? Is there any advice you would add?
That sounds about right to me! I feel extremely privileged to have been shortlisted for the Betty Trask Prize, but I certainly wasn't expecting it. It's come as a huge, wonderful surprise. Even so, the world hasn't changed overnight, and I'm still catching the train to London every morning and doing my job, just as I did before.
The only advice that I would add is to keep reading. It's horribly easy – particularly when writing is something that has to be fitted in around the day job – to lose all one's spare time to the self-publishing process. There's always something that one could be doing – a scene to tweak, a review blog to contact, a research rabbit hole to fall down. I believe, however, that reading other people's books is essential for keeping a sense of perspective.
Want to know more about Kathleen and her writing?
Read Kathleen's blog about the Betty Trask awards ceremony here – and while you're at it, do sign up for her blog.
Website ~is www.kathleenjowitt.com
Twitter handle ~ @KathleenJowitt
To have future posts delivered directly to your in-box, visit the sidebar on the right and subscribe to my blog, or to find out about new releases, competitions and freebies, subscribe to my newsletter and grab your free copy of my novel, I Stopped Time.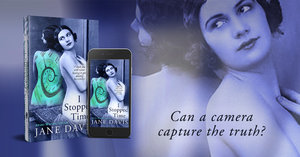 Written on July 11, 2017 at 1:28 pm, by Jane Davis
Categories: A Day in the Life, Author Interviews, Blog, In-depth, Self-Publishing | Tags: Author Interviews, Authors, Authors under the age of 35, Award-winning fiction, behind the book, Betty Trask Award, bisexuality, Christianity, coming of age, contemporary fiction, debut novel, homosexuality, Kethleen Jowitt, LGBT, literary fiction, politics, Self-Published Authors, Speak Its Name, Stancester, student life, women's fiction, Writers, Writing life
Subscribe to the blog Enter your email address and you'll be notified when new articles are published. (We will not share your email with any third party.)
Want to be featured?

I'd love to hear from authors who would like to be featured in an interview or submit a guest post. To be considered, please complete the contact form.

Image © Juanrvelasco | Dreamstime.com