Oct 14
Today I'm delighted to welcome Phyllis H. Moore to Virtual Book Club, my interview series that gives authors the opportunity to pitch their novels to your book club.
Phyllis says that she wants to live life experiences more than once: doing it, writing about it and reading about it. She's had two careers and two retirements. Both careers gave her inspiration for her novels: The Sabine Series, Sabine, Billy's Story, Josephine's Journals and Secrets of Dunn House, Opal's Story, Tangled, a Southern Gothic Yarn, and The Bright Shawl, Colors of Tender Whispers, The Ember Months, Birdie & Jude, and an anthology of spooky short stories inspired by real places and events, The Bridge on Jackson Road. She has authored one nonfiction book, Retirement, Now What? Phyllis has been published by Caffeinated Press in the anthology, Brewed Awakenings 2, Fifteen Tales to Jolt Your Mind Awake.
Phyllis is a retired social worker and former owner/operator of a small bed and breakfast. She's lived in the rural areas and cities of south Texas. She currently lives on Galveston Island with her husband, Richard.
Phyllis, can I start by asking what it is about your novel that makes it particularly suitable for book clubs?
Book clubs often discuss characters and relationships as if they are real people living their real lives. In my novel, Birdie & Jude, the characters are experiencing real life situations, but they've been forced to do it with a stranger. The relationship takes on another dimension because they don't know the past. Secrets aren't secrets, accolades don't exist. Birdie and Jude start fresh, only the present.
The situation, a hurricane approaching, requires the new friends to examine their exchanges and decisions. It can be humorous, but also raw. They question past decisions based on new eyes. The story poses questions applicable to our own lives.
Readers tell me the story gave them peace with deaths of friends and relatives. Birdie notices something in Jude, a familiar soul. Convinced she's known this soul before, Birdie gains a new-found confidence, a second chance to live authentically. How many people get that chance?
Why do you write?
I'm a storyteller. I've always enjoyed recounting experiences orally. I didn't start writing until I was sixty-two. Yes, I'm a late bloomer. My first career was in social work. I traveled the rural areas in the Texas hill country, covering several counties. Crossing cattle guards to get to a family wasn't unusual. I did that job over fifteen years. I met some characters. The names and details change, but they show up in my novels. Specific situations aren't recounted, but the essence of the people and their yearnings are relatable to many.
After retirement, I owned and operated a bed and breakfast in a small historic town in South Texas. We had many visitors over the seven years we owned the property. All of our guests were interesting. They too, inspire stories.
I retired from the bed and breakfast to travel, and I do. However, between trips, I decided to write about some of the characters I've known over the years. I changed their names, put them in a different settings, and they began speaking to me. That's where I am today, listening to my old friends whisper to me in the middle of the night and making notes.
What was your first recognition as an author?
Testing the waters with submissions to journals was how I decided to see if anyone would read my stories. There were rejections, but there was also acceptance and encouragement. Fiction Southeast was the first journal to accept an essay. After that, there were short stories and articles. It gave me courage to publish. The reviews I received from people I didn't know bolstered my confidence to continue to write and publish. I think I would write even if I didn't publish. I enjoy the process.
Click here to look inside or buy
Birdie has lived to regret many of her decisions, but she doesn't regret offering a stranger, Jude, shelter from an approaching hurricane. Their serendipitous meeting will form a bond that will change their lives forever.
"Excellent writing, hard to put down. Amazing how two lost souls found each other when both were in need."
"Beautiful. Made me cry."
I know that you've retired from your day job, but what other distractions do you have that take you away from writing, and what other elements do they lend to your writing?
I'm retired from three careers and do some volunteer work. Making time each day to write is a challenge sometimes, but I can always find time. Distractions happen if I allow them, but I try to use each observation as details for a future scene or character. Many times I find when I write and put it aside for a while, I can approach it fresh again and edit to improve my fist draft. For me writing is enjoyable and what I do to relax. If I didn't enjoy it, I probably wouldn't be writing.
You generally write women's fiction or historical fiction. What can readers expect?
My stories begin with character. The characters always drive the tale. Readers can expect a life story, usually centered on family relationships. The historical fiction doesn't go any further back than the early 1900's and the stories, so far, have been set in Texas.
As a reader, I enjoy Southern Gothic stories. Family dysfunction, quirky characters in rural settings, and questioning the functioning of accepted institutions interests me. These tropes enter my stories even when I don't plan on them. I think it's interesting to present social issues we grapple with today and look back in our history to see how far we've come. Because I was a teenager in the '60's and remember the protests centered on race and war at that time, I almost always have a character impacted by that war and protest. It was also the birth of the women's lib movement. This is relevant to the current Me Too movement. My characters have many of the same experiences I had.
Birdie & Jude has two prominent characters, Birdie, a sixty-something woman who had a rebellious youth, partly because of her differences and Jude, a twenty-something, facing a major milestone. It's a melding of the two experiences. A story of hope.
Did you know where this book was going to go right from the start?
This is interesting, because I didn't. I even wrote a blog titled, Not Just One Thing, about how so many issues braided themselves into this story. I dedicated this story to an old high school friend who experienced an incident in 1968. He recently told me about it. It's shocking, but I'm not surprised. My editor wrote after reading the dedication: "Heartbreaking, raw, and a true portrayal of what has happened, of what could still happen, of what happens in today's world. Very shocking first chapter. I can't wait to see what happens next."
The inspiration for this story began with a hurricane approaching the Texas coast. I started writing on Galveston Island as Hurricane Harvey barreled toward us. I wondered what it would be like if a BOI (born on the island), met a person stranded because of circumstance, and offered them shelter from the approaching storm. That's how it begins, but the two women have much to offer each other, and what starts as a chance meeting evolves into more than I could have predicted in the beginning.
"The writer is that person who, embarking upon her task, does not know what to do." (Donald Barthelme) Does that sound like you?
Absolutely, one hundred percent. I know the character, maybe one, and they introduce me to the others. I know where they will be and I create their world (usually a place I know). When I set the margins, choose the font and format, the character begins talking to me, whispering about what will happen and how happy or pissed they are to be alive in my head. When I have to pause to get the clothes out of the dryer, they follow me, talking as I lean over to pull the warm clothes to the basket. They continue talking as I fold the clothes and so on. They disappear when the story is done and I fold the clothes alone.
Editing begins after I've left the story alone for a while. That's when I realise how little I know and how clumsy the first draft was. The character reappears to tell me to get it right. "Don't make the reader guess about me," they say. "Make them love me or pity me, or hate me, but make them want to know me and not put me down."
It's a personal journey and it's a risk to put thoughts in a permanent medium. I always learn something from the characters and their journey.
Where is the book set and how did you decide on the setting?
Birdie & Jude is set on Galveston Island, Texas. Birdie was born and raised on the island. She knows it well and has a love/hate relationship with it. However, it's what she knows and where she's comfortable living. In a way, the island has trapped her because she was never able to leave and stay gone. Jude grew up in foster care, moving frequently, separated from her biological siblings since infancy. The two women batten themselves down in Birdie's stately Victorian house not far from the Seawall.
Birdie's old neighborhood still has the small corner grocery store where her parents shopped. Her neighbors are the grandchildren of people who knew her grandparents. There is familiarity in almost every structure on every street. It has been Birdie's thrill and aggravation. The people will protect her and scold her, as they always have. I live on the Island and have for over thirty years, but I'm considered a new-comer. There is pride in the old families here and they celebrate their circles in private clubs, Mardi Gras krewes, and historic churches. It's the old guard Birdie attempted to buck when she was a teen, but she really didn't understand why.
The island setting was necessary for the hurricane, but there were other storms that presented themselves throughout the novel, not weather, but social storms. Today, the island is one of the most diverse populations in Texas. Race and religion are celebrated. A recovery from a hurricane in 2008, found the Jewish community offering their temple to the Muslim congregation that had been flooded. We have evolved in some ways.
What is the central conflict in your novel?
Living an authentic life is the struggle for Birdie. She always believed she needed to hide who she was. She thought she could only reveal herself to one person, her childhood best friend, Henry. She felt she needed to betray who she really was to be accepted by her family. Jude also has a struggle with identity and self-confidence. There is an arc for both characters.
Birdie's struggle is real, and her family does reject her and attempt to change her. The resentment that builds from those early years makes her a crusty, irritable older woman. Living authentically at earlier age would have changed the story. However it wouldn't have been as interesting. Her passion and fight wouldn't have been there. Maybe she wouldn't have offered a hand to a stranded Jude.
In her later years, Birdie's willing to pick a fight with anyone because that's what she knows. Her struggles created her character. You have to love her when you know where she came from. On the surface, a person would see Birdie as the offspring of a well-to-do family, living in a comfortable home with no need to work. However, for her, the inner struggle has colored everything in her life. Jude, on the other hand, has never known her family, been rejected by foster homes repeatedly, and latched on to the only friend she ever had to stabilize herself. That one friend dies, unexpectedly, and she's left adrift. She almost expects it, but why now?
"My childhood," David Lynch has famously said, "was elegant homes, tree-lined streets, the milkman, building backyard forts, droning airplanes, blue skies, picket fences, green grass, cherry trees. Middle America as it's supposed to be. But on the cherry tree there's this pitch oozing out—some black, some yellow—and millions of red ants crawling all over it. I discovered that if one looks a little closer at this beautiful world, there are always red ants underneath." Have you ever had a red ants moment?
This is exactly what happens in Birdie & Jude. The setting is the same, the perfect neighbourhood, Victorian houses blocks from the beach, a comfortable older woman walking her little terrier. But when she spots a body and offers shelter, we get to go inside her house and her tongue, loosened by wine, tells her tale.
It's true of all my stories, nothing is ever as it seems because we don't show the world our blemishes. We paint our lips, comb our hair, wear our most uncomfortable shoes, and put on the most flattering outfit to venture into the public. I think this is why so many characters will chop off their hair in protest. "How do you like me now?" It's that underbelly, the dark side, that makes the story interesting and real. The red ants are my second choice. My absolute favourite are fire ants.
Where can readers find out more about your writing?
I blog on my website http://www.phyllishmoore.com. Or you can follow me on Pinterest and Facebook. If readers would like to contact me, I would be willing to visit a book club if requested, probably by Face Time or Skype.
If there's anything else you'd like to ask Phyllis please leave a comment.
To have future posts delivered directly to your in-box, visit the sidebar on the right and subscribe to my blog, or to find out about new releases, competitions and freebies, subscribe to my newsletter and I will send you a free copy of my novel, I Stopped Time, as a thank you.
While I have your attention, can I please draw your attention to my updated Privacy Policy. (You may have noticed, they're all the rage at the moment.) I hope this will reassure you that I take your privacy seriously.
Remember, if you enjoyed this post please share it.
If you have subscribed to my blog but no longer wish to receive these posts, simply reply with the subject-line 'UNSUBSCRIBE' and I will delete you from my list.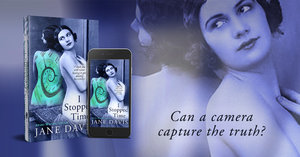 Written on October 14, 2018 at 7:34 am, by Jane Davis
Categories: Author Interviews, Blog, Homepage, Virtual Book Club | Tags: American authors, American Fiction, bed and breakfast, Birdie and Jude, Book clubs, Born on an Island, Galveston Island, Historical Fiction, hurricane, journals, Sixty-something, Southern Gothic, Texas, women's fiction
Subscribe to the blog Enter your email address and you'll be notified when new articles are published. (We will not share your email with any third party.)
Want to be featured?

I'd love to hear from authors who would like to be featured in an interview or submit a guest post. To be considered, please complete the contact form.

Image © Juanrvelasco | Dreamstime.com