Mar 24
The story behind the cover
I felt very strongly that the cover for Small Eden should have a strong local anchor. The inspiration for my tenth novel was the cottage I have called home for the past twenty-one years, built (as far as we've been able to ascertain) as the ticket office for pleasure gardens which opened at the turn of the century and had closed by 1923.
What led a man to embark on such an endeavour after the last of the London pleasure gardens had failed isn't written in any local history books. The little we know comes from Ordnance Survey maps, census records and a reproduction of a woodcut which hangs in our hall, depicting Edwardian ladies playing a game of doubles on a tennis court, just in front of our cottage. Of course, if our research had been more successful, there would have been no story to write. My feeling was that the reason had to be personal.
The blurb
1884. The symptoms of scarlet fever are easily mistaken for teething, as Robert Cooke and his pregnant wife Freya discover at the cost of their two infant sons. Freya immediately isolates for the safety of their unborn child. Cut off from each other, there is no opportunity for husband and wife to teach each other the language of their loss. By the time they meet again, the subject is taboo. But unspoken grief is a dangerous enemy. It bides its time.
A decade later and now a successful businessman, Robert decides to create a pleasure garden in memory of his sons, in the very same place he found refuge as a boy – a disused chalk quarry in Surrey's Carshalton. But instead of sharing his vision with his wife, he widens the gulf between them by keeping her in the dark. It is another woman who translates his dreams. An obscure yet talented artist called Florence Hoddy, who lives alone with her unmarried brother, painting only what she sees from her window…
The brief
I wanted the cover for Small Eden to have a Victorian feel. Something lush. But I still wanted it to looked like a Jane Davis novel.
There was a problem. Good quality Victorian portraits that are licensed for commercial use are hard to come by. At the time when my novel is set (1870 – 1889), photography was still a relatively new medium. Studio portraits were for the rich or to mark special occasions.  
The Past on Glass
Those of you who have read my novel, I Stopped Time, already know about my passion for early photography and will understand how fascinated I was to learn about a local discovery of national importance. When a Sutton optician's shop was being demolished as part of a road-widening scheme, 10,000 glass photographic plates dating back to 1900 – 1920s were discovered in the basement. They were the work of portrait photographer, David Knights-Whittome.
Reading about the find, I couldn't help but think of Anthony Penrose's discovery of 60,000 prints, negatives and articles for Vogue in the attic of his family home, after the death of his mother, Lee Miller.
A grant from the Heritage Lottery Fund (HLF) enabled the restoration of some 4,000 plates. Although Knights-Whittome held warrants from the British and Portuguese royal families, he also took inspiration from ordinary lives. The identity of many of those he photographed has been lost. Sadly, the portraits' dates mean that many of the young men in uniform whose images Knights-Whittome captured may have perished in the first world war. The collection is wonderful and the quality quite extraordinary. As I explored collection on Flickr I was drawn to one image in particular because of its luminous quality. I was able to secure a licence to use it from the Local Studies department of London Borough of Sutton. Although I don't know the identity of the woman in the photograph, my Small Eden had its Eve.
Detective work
My Adam proved more elusive. I was looking for something specific. A man with his face in profile, in his early to mid-thirties, and taken between 1884 – 1889. And I wanted him to look as if he had a head full of dreams. After I exhausted stock photography sites, my search took me to a private collection belonging to vintage photograph restorer, Roger Vaughan. This time it was the eyes that drew me in. They were dreamer's eyes.
Reading that the images were available to licence, I dashed off an email enquiry, but it disappeared into the ether. As did my reminders. All I had was a name – York Stephens – and I knew that he was an English actor.
An internet search led me to an obituary which appeared in the New York Times on February 6, 1937. 'Yorke (with an e) Stephens dies, an English Actor, appeared in a number of London and New York Successes, left the stage in 1923.' Far from being part of a private collection, the photograph had been used by the actor on his calling card. It had also appeared in The Theatre, A Monthly Review, Volume VIII, July to December, 1886. The date was a perfect fit for Small Eden's timeline. What's more, The National Portrait Gallery had a pristine copy, available to license for use.
I haven't been able to trace very much additional information about Yorke Stephens. I know that he was born between 1860- 1862. He is described on eBay as an actor/singer and a colleague of G Bernard Shaw. Flickr has what appears to be an earlier portrait of him taken at the studio of Alfred Ellis, Photographer, 20 Upper Baker Street, London. I also know that in 1910 he appeared in a Broadway production called Pomander Walk.
If this is all that it's possible to discover about an actor, little wonder that the identity of so many of David Knights-Whittome's subjects remain unknown.
Making them look as if they belong together
Even though I was fairly certain that I had the right images, Andrew Candy of Tentacle Design has performed a small miracle. He has made the photographs of two people who never met in life look as if they belong together.
Do let me know what you think!
Small Eden will be out on 30 April 2022. Pre-order from 5 April 2022 to have it delivered to you on the date of release.
To have future posts delivered directly to your in-box, visit the sidebar on the right and subscribe to my blog, or to find out about new releases, competitions and freebies, subscribe to my newsletter and I will send you a free copy of my novel, I Stopped Time, as a thank you.
While I have your attention, can I please draw your attention to my updated Privacy Policy. (You may have noticed, they're all the rage.) I hope this will reassure you that I take your privacy seriously.
Remember, if you enjoyed this post please share it.
If you have subscribed to my blog but no longer wish to receive these posts, simply reply with the subject-line 'UNSUBSCRIBE' and I will delete you from my list.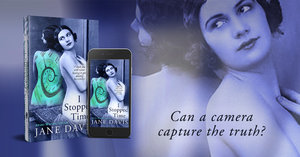 .