Sep 2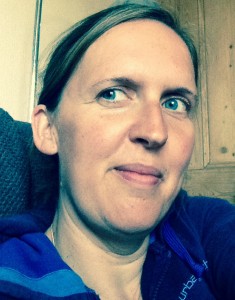 Today, I'm delighted to welcome author Katharine Smith to my blog. Katharine lives in sometimes sunny Shropshire with her husband and two children, and she runs a small publishing business working with other independent authors. She says that she always, always wanted to write, yet chose to study philosophy at University. With her interesting but not very practical degree tucked under her arm, she set out into the world in 1998, ready to take on some interesting and creative jobs. She ended up processing building society account applications, followed by a range of similarly unsatisfying jobs for various companies. She eventually moved on to more interesting roles within the ICT and charity sectors, all the while wanting to write.
She began and gave up on a couple of novels but once the idea of Writing the Town Read had hooked her, Katharine was committed, though it still took a long time to complete. In parallel, she was taking a course in proofreading, with the Publishing Training Centre.
In 2009 she set up as a freelance proofreader and I completed the first draft of Writing the Town Read… and she gave birth to a little girl. It was a busy year. Since then, all of those things have grown and progressed. Katharine nows run a small publishing house, working freelance as an editor, proofreader and copywriter, and her little girl is not so little. She also has a brother now, and Writing the Town Read has a novel to follow in its wake, hopefully later this year.
Q: Katharine, you say that you always wanted to write. Who gave you your first encouragement?
I was very much encouraged by teachers at school and by my parents. I think they could see how much I enjoyed writing. At the earliest stage (primary school) it was largely rhyming poetry and, shall we say, 'exaggerated' stories about what I'd been up to at the weekend (I'm not sure my parents were aware of the castle at the end of the garden which I escaped to when they were washing up, I imagine they were quite surprised to read about it).
Q: Writing the Town Read is your first novel and its protagonist is Jamie Calder. What five words best describe him/her?
Opinionated, naive, funny, caring, talented.
Q: Where is the book set and how did you decide on its setting?
Writing the Town Read is set in an unnamed town in Cornwall, which some readers may recognise as heavily influenced by St Ives. I spend a lot of time in Cornwall (not as much as I'd like) and I also wrote a large chunk of the book whilst staying in a beautiful little artist's studio in St Ives.
Q: At what point in writing the book did you come up with its title?
I came up with the title fairly early on. I sometimes doubt it is the right title for the book as it stands today – I changed it fairly dramatically, cutting back on a lot of the content to do with Jamie's writing – however a stubborn part of me wanted to keep it, as it is important to me as part of the process I went through to complete the book.
Q: Was your novel inspired by any real life events?
The summer of 2005, when the story is set, I was often in London working. This was the summer of the bombs on the Underground and the bus, which killed and injured so many people. I was there when there were the failed attacks on the Tube, a couple of weeks after the first bombs. I remember walking with the crowds through the city, as the transport network had once again been brought to a halt, getting on a train and escaping London, back to life in Shropshire, relieved that I didn't have to worry about such threats on a daily basis. It got me thinking about the differences between rural and city life and in particular how these events were affecting people differently throughout the country.
Q: If you were trying to describe your writing to someone who hasn't read anything by you before, what would you say?
I would say my writing is about people, about life, and relationships. It's not exciting, fast-paced thriller-type writing. At least not so far. To date my books are about the characters in them; a period of life which is formative to them, and the important relationships they have. Put that way it perhaps sounds a bit boring but I aim to bring humour and insight into the worlds of my characters and the events they experience. I like people, and I find them interesting – so that's what I want to write about. Location is also particularly important in Writing the Town Read.
Click here to buy ebook from Amazon.com and here for Amazon.co.uk
Q: Hilary Mantel says that a Catholic upbringing is the only qualification a writer requires. Do you have any writing qualifications?
I was brought up Catholic so I'll go with that!
I did enrol on a writing course once but I was a lot younger and not altogether comfortable with discussing my own or others' writing. I don't really think you need qualifications at all. Studying certainly can't hurt but I do think that if you can write, you can write. A good editor can help you shape and tweak your story when it's done, but you won't get to that point without a talent for writing and I really don't think that can be learned.
Q: What is your 'writing routine' – if such a thing exists?
My life at present doesn't lend itself to a writing routine. I have small children to look after, and a business to run. My writing comes after those things and I fit it in whenever I can. I am, however, often thinking about my stories and characters and I can jot down notes or send text messages to myself if there are points I don't want to forget while I am not able to write.
Q: What can we find you doing when you are not writing? 
I read a lot – no surprise there – and I attend a lot of children's birthday parties, generally ones we've been invited to. I am actually trying to get fitter at the moment too.  I did the Clun Valley Challenge in May this year, walking 26 miles to raise funds for the MS Trust. I walk regularly, and I did my first run in about 25 years just last week.
Katharine is running a very special promotion. For the period 3rd – 7th September, the ebook of Writing the Town Read will be free to download. Just click on the links below the book covers.    
You can find out more about Katharine at Heddon Publishing's website, on Twitter @PublishHeddon, or on Facebook.
If you enjoyed this post, please visit the sidebar and enter your email address to subscribe to my blog. If you would like to be featured on my blog, drop me a line at janerossdale@btinternet.com.  
Subscribe to the blog Enter your email address and you'll be notified when new articles are published. (We will not share your email with any third party.)
Want to be featured?

I'd love to hear from authors who would like to be featured in an interview or submit a guest post. To be considered, please complete the contact form.

Image © Juanrvelasco | Dreamstime.com