Jun 21
Today, I'm delighted to welcome Barbara Lamplugh to Virtual Book Club, an interview series in which I put questions to authors about the books they'd like to persuade your club to read. If you want to pose a question of your own, you'll have the opportunity to do so at the end. (There's also a giveaway, so do make sure to comment!)
Barbara has been writing since the 1970s. Her love of adventure and travel took her first on an overland journey to Kathmandu in a converted fire-engine, which inspired her to write Kathmandu by Truck (1976) and then on the Trans-Siberian railway, by boat to Japan and around SE Asia, which led to her second book, Trans-Siberia by Rail (1979). Another new experience – motherhood – came next. With two children to bring up, her wanderings had to be put aside for a while but she continued to write, turning now to fiction. She has written several novels though Secrets of the Pomegranate is the first to be published.
Her day jobs have included working as a librarian, as a project officer for Age Concern (inspiration for one of her earlier novels), running a Volunteer Bureau and, briefly, recording milk yields on Shropshire farms. She also found time to train as a counsellor and work for two local charities, and to write occasional articles for magazines and newspapers, including The Guardian.
In 1999, with her two children now independent, she fulfilled a long-held ambition and moved to Granada in Spain. For several years she worked as a features writer for Living Spain magazine, contributing around a hundred articles on topics as diverse as garlic, machismo, the life of a lighthouse keeper and the nightmarish experience of being trapped at an all-night drumming festival. Alongside her writing, she teaches English, edits and translates.
Her novels have always focused on ordinary people rather than the privileged or exotic. Working in the community and meeting people from all walks of life proved to her that everyone has stories to tell and that the most fascinating and unexpected are sometimes hidden behind a seemingly conventional exterior. Almost everyone has secrets – some that may never be revealed, others that are only revealed to a select few, but by their nature, secrets are always subject to discovery and as in Secrets of the Pomegranate, may be catapulted into the open by a dramatic event.
With five grandchildren in the UK, she makes regular visits there. Her other passions include cycling, dancing, jazz and, of course, reading.
Q: Please tell us how you first became a writer.
A: I've enjoyed writing since my childhood but what prompted me to sit down and write my first book was an overland journey to Kathmandu. I was so inspired by the experience – the encounters with different people, cultures and landscapes along the way – that I simply had to record them. I wrote Kathmandu by Truck partly for myself so that I wouldn't forget and was surprised how easy it proved to find a publisher. After that, I was hooked on both travel and writing. Another long trip followed, resulting in Trans-Siberia by Rail, published in 1979. When I had to give up extended travel (not compatible with having small children!), I turned to writing novels.
Q: Where is Secrets of the Pomegranate set and how did you decide on its setting?
A:  It's set in Granada, Spain. My six previous (unpublished) novels had all been set in England but after many years living in Granada, I began to feel rather out of touch with contemporary life in Britain. Setting a novel in my adopted hometown came more naturally. I was witness to many of the events that form the background to the novel and could write authentically about day-to-day life in a way that would be impossible for someone who knew Spain only as a visitor.
Q: You mention the day to day but I wonder, was your novel inspired by any real life events? And, if so, how did you deal with the responsibility that comes with this?
A: The real-life event that triggers the story of Deborah and Alice, the two sisters who are my main protagonists, was the terrorist bombing of four trains in Madrid in March 2004, which killed two hundred people and injured many more. I wanted to show the far-ranging and sometimes unexpected repercussions of a major disaster on the lives of individuals, as well as the political fallout. In my story, secrets and lies are a major theme. I draw parallels between the sisters' lie and the political lies that were told, which changed the game in the general election a few days after the attack. I did feel some responsibility to depict the facts correctly and to avoid causing any potential upset to the victims' families. However, all the real-life events were seen through the eyes of my characters, so I didn't feel the need to offer an impartial view.
Passionate, free-spirited Deborah has finally found peace and a fulfilling relationship in her adopted city of Granada – but when she is seriously injured in the Madrid train bombings of 2004, it is her sister Alice who is forced to face the consequences of a deception they have maintained for ten years.
At Deborah's home in Granada, Alice waits, ever more fearful. Will her sister live or die? And how long should she stay when each day brings the risk of what she most dreads, a confrontation with Deborah's Moroccan ex-lover, Hassan? At stake is all she holds dear…
Click here to buy or look inside
Secrets of the Pomegranate explores, with compassion, sensitivity and – despite the tragic events – humour, the complicated ties between sisters, between mothers and sons and between lovers, set against a background of cultural difference and prejudices rooted in Granada's long history of Muslim-Christian struggles for power.
Q: Deborah is your protagonist. What six words best describe her?
A:  Free-spirited, impetuous, fiery, self-confident, principled, passionate.
Q: You tackle some meaty ethical issues. How effective do you think fiction is as a bridge between the experts and the public when it comes to stimulating debate?
A:  When I write fiction, one of my aims is to make people think. I hope that by sharing the moral dilemmas of the characters, readers might be led to question some of their own beliefs. Where 'experts' are politicians, who always have their own agendas, and the media, who usually have an angle too, I think fiction has the freedom to offer an alternative slant on the issues or just to open the door to debate. In Secrets of the Pomegranate, there's a strong focus on prejudice, particularly against Muslims, and on the preconceptions most of us have – the way we fall back on stereotypes, whether of race, gender, religion or a host of other factors. An example in the novel is the way women are treated in Islam. Deborah's research throws a different light on the subject.
Q: You've raised the question of one of your character's research. What about your own?
A:  I didn't need to do any research on life in Granada in 2004, when the action takes place, as I was there and living through it. I did need to talk to people about everyday life in the city during the 1980s and '90s in order to make Deborah's diary extracts authentic. However, my main area of research mirrored Deborah's: the 800 year-long Islamic civilisation in Spain and, in particular, the role of women, with a focus on the female poet, Walladah Bint Mustakfi.
Q: Do you feel under pressure to make your main characters likable?
A: One of my previous novels was rejected by a publisher's editor on the grounds that she couldn't stand the main protagonist. Although she was the perpetrator of a crime no one would condone, I had tried to portray her sympathetically, as a victim of what life had thrown at her, and other readers did take a more understanding view. In Secrets of the Pomegranate, most of the characters have flaws. After all, they're human beings. I have to admit though, to making some late-stage revisions to one of them to make her more likeable, so the answer to the question has to be yes. I think it helps if readers like the main characters. What is absolutely essential is that they care about what happens to them. For some readers, this may amount to the same thing.
Q: Why did you decide to switch to different characters' points of view?
A:  The novel opens with the terrorist attack in Madrid, in which Deborah, the central character, is caught up. I switch between three points of view: Deborah's through extracts from her diary going back to 1985 when she arrived in Granada, her son Mark's and that of her sister Alice. In this way the reader gets to see Deborah from different angles, forming a more rounded picture. The three viewpoints are written in different styles, which helps break up the text and make it more readable. Deborah's is more literary; Mark's (he is an immature twenty year-old dropout), is characterised by colloquial language including a lot of swearing; Alice's is coloured by her grief and her fear that the secret she and Deborah shared will be exposed. One point I wanted to illustrate was the contrast between Deborah's impressions of Granada as an insider, well integrated in the culture and fluent in the language, and Alice's as a visitor, an outsider with little understanding of the culture.
Photo credit: Gustavo Morales
(Photo credit for featured image is  Julio Aranda)
Q: We know you've made your home in Granada. How does your environment influence your writing?
A: I'm inspired by my surroundings – not just the beautiful physical environment I'm privileged to live in but the culture and history of Granada. The Moorish influence is very present in the architecture, the agriculture (for example the acequias or irrigation channels introduced by the Arabs), the food, the language with its many words of Arabic origin, and much more. Walking through the Albaicín's maze of narrow streets or standing in a square gazing up at the Alhambra, the history of the place is almost tangible. Also, I find my creativity is enhanced by the sun – as if the creative part of my brain needs that light, that energy.
Q: What do you want readers to think or feel after reading one of your books?
A: My hope is that the novel has given readers food for thought and aroused feelings in them. Both are equally important. What they think and feel matters less. When readers say that parts of the novel made them cry, I take it as a compliment. It means they care about the characters and/or identify with them in some way. I want them to feel satisfied with the resolution of the novel, even though it can't be exactly happy. Some readers have said Secrets of the Pomegranate made them eager to visit Granada. That's a positive outcome too, though not my main purpose!
Q: What is it about your novel that you feel makes it particularly suitable for book clubs?
A:  I think it's highly suitable for book clubs because of the ethical issues raised and their wider relevance (some are highly topical, others controversial). There is also ample material for discussion in the contrasting characters of the two sisters, the question of what makes a good mother, how living a lie affects one's life, the portrayal of women in Muslim Spain, and much more. It's not a heavy book or unduly long and readers say it's a page-turner – all of which should recommend it to book club members.
Q: Your writing has moved from non-fiction to fiction. I just stumbled across this in an article by Adam Haslett. 'A psychiatrist friend once pointed out to me that one of the definitions of psychosis is a fixed belief in an imaginary world lasting months or years, which no one but the patient himself is able to perceive. He wondered aloud if this wasn't also a decent definition of a novelist.' Do you think he has a point?
A:  I do think there's some truth in this. As a novelist, you create a world and people it with imaginary characters. Even if the world they live in is a real place that can be described from life, their immediate context within it is imagined. Yet as a writer, you have to perceive it as real. The skill is in making this world, the characters in it and the stories you have invented for them real enough for your readers to believe in.
Secrets of the Pomegranate has been awarded a B.R.A.G. medallion
Q: What are you working on at the moment?
A: I'm working on another novel set in Spain but with a more historical view, covering three generations of women. It starts with Rose, an English nurse who travels to Spain at the beginning of the Civil War in 1936, with the International Brigades. She falls in love with a Spanish Republican fighter and… Well, without giving too much away, I'll just say that the novel covers some of the less savoury aspects of Spain's recent history. Interwoven with the brutal war that tears Spain apart, seen through Rose's eyes, is the story of Consuelo, a girl growing up under Franco's dictatorship. The action continues almost up to the present day as Consuelo's daughter Marisol discovers dark secrets in the history of her own family.
Q: Where can readers find out more about you and your work?
A:  I have a website,  and a Facebook page. I'm also willing to visit book clubs in person or by Skype. And I have a list of suggested questions I've drawn up for book clubs to discuss, available from me at blamplugh@hotmail.com.
I would like to offer a Giveaway of one paperback copy of the book (anywhere in Europe) to the first person who leaves a comment.
If you would like to buy the book, it is also available from Silverwood Books,  itunes and Kobo.
Remember, if you enjoyed this post please share it. If there's anything else you'd like to ask Barbara please leave a comment.  
To have future posts delivered directly to your in-box, visit the sidebar on the right and subscribe to my blog, or to find out about new releases, competitions and freebies, subscribe to my newsletter and grab your free copy of my novel, I Stopped Time.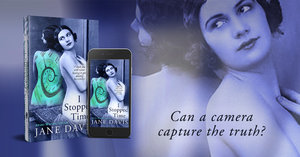 And if you're an author and would like to appear on Virtual Book Club, please fill in a contact form.
Written on June 21, 2016 at 9:31 am, by Jane Davis
Categories: Homepage, In-depth, Virtual Book Club | Tags: Barbara Lamplugh, contemporary fiction, Giveaway, Indie Authors, Madrid 2004, Novels set in Granada, Novels set in Spain, On writing, Secrets, Secrets of the Pomegranate, Self-Publishing, Virtual Book Club, Writing life
Subscribe to the blog Enter your email address and you'll be notified when new articles are published. (We will not share your email with any third party.)
Want to be featured?

I'd love to hear from authors who would like to be featured in an interview or submit a guest post. To be considered, please complete the contact form.

Image © Juanrvelasco | Dreamstime.com