Mar 28
Today I'm delighted to welcome Louise Walters to Virtual Book Club, the interview series in which authors have the opportunity to pitch their novels to your book club.
Louise was born in Banbury, Oxfordshire in 1967, and still lives in the area. She was educated at two local village primary schools, before attending my secondary school, The Cooper School in Bicester. Her favourite subject was English, closely followed by History. She has always been a lover of books and remembers poring over Hilda Boswell's Treasury of Nursery Rhymes, totally immersed in the pictures (as do I).
Her first published novel came about when she bought a small, vintage suitcase with a label inside. The label read, "Mrs D E Sinclair" and she remembers thinking what a great title for a novel: Mrs Sinclair's Suitcase. Eight years later, in 2014, her story was published. It has since been translated into 15 languages and is being read by people all over the world, a feeling Louise describes as "marvellous."
But it's her second novel, A Life Between Us, that will be the subject of our discussion today.
"Tina Thornton's twin sister Meg died in a childhood accident, but for almost forty years Tina has secretly blamed herself for her sister's death. During a visit to her aging Uncle Edward and his sister Lucia, who both harbour dark secrets of their own, Tina makes a discovery that forces her to finally question her memories of the day her sister died. Who, if anyone, did kill Meg? As Tina finds the courage to face the past, she unravels the tangled family mysteries of her estranged parents, her beautiful French Aunt Simone, the fading, compassionate Uncle Edward, and above all, the cold, bitter Aunt Lucia, whose spectral presence casts a long shadow over them all. A Life Between Us is a beautifully evocative story of a family torn apart at the seams, which will appeal to readers who enjoy family sagas and modern-day mysteries."
Dark family secrets with repercussions that resonate through several decades and a dual time-line. I'll be on familiar territory today!
Louise, the protagonist in A Life Between Us is Tina. What five words best describe her?
Loyal, loving, imaginative, imperfect, wise.
Where is the book set and how did you decide on its setting?
It is set somewhere in England in several eras – 1950s, 1960s, 1970s, and the present day.
Which scene did you find the most challenging to write and why?
There is a scene fairly early on in which two of my characters make a grave mistake. I feared for them as I wrote this scene. It's pivotal, but uncomfortable to read – and was tough to write.
Where did you get your inspiration from?
All around me. It's a matter of being open to inspiration, looking and listening out for it. I think writers tune in to others on an exceptionally nosy level. You can't be a writer and not be nosy!
Elizabeth Strout says, 'You can't write fiction and be careful. You just can't. I've seen it with my students over the years, and I think actually the biggest challenge a writer has is to not be careful. So many times students would say, "Well, I can't write that, my boyfriend would break up with me." And I'd think, 'Well, OK, I'm sorry, I don't really have much more to tell you.' Do you plead guilty or not guilty?
She's right. You have to put to one side how family and friends may react to your work. It's vital, and something writers have to come to accept if we are going to write The Truth, whatever that means for us.
Was the decision of how to structure the novel obvious?
It was, to me. It's a complicated structure and I've done my best to make it easy to follow. But it does take some concentration I'm afraid!
How did you arrive at the decision to switch backwards and forwards between different time-lines?
It wasn't really a decision, it's just the way it had to be. The past informs the present and I tend to write the past into my work. Going back to your earlier question about recurring themes, my recurring style is going back and forth from "then" to "now". All my novels, so far, have this element.
Mine too. The key trick in writing historical fiction is transporting readers to another time and place without overloading them with historical information. So how much detail is too much?
If it shows, it's too much. The literary equivalent of having arrows pointing at a certain word and shouting "See, I looked it up, I know all about ra-ra skirts in the 1980s." Unfortunately, a lot of writers seem to do this and it just jars you right out of the story. If your book is set in 1983-ish and is about young women, a character is not going to mention they are wearing a ra-ra skirt. It will be obvious to the other characters. So the narrator doesn't need to mention the ra-ra skirt either. I try to be careful with research, and I keep it to a minimum – just enough to get basic facts correct. I use artistic license. A novel isn't a history book. Facts serve my story, not the other way round.
An early editorial review of I Stopped Time criticised the apparent ease with which my main character deserted her young son. 'Part of the problem, I know, is different mindsets. Today, we feel that a mother should always put her child above a husband or partner.' How do you perceive the temptation to superimpose contemporary values on historical fiction?
Oh, this bugs me so much. I can't stand it when authors – and editors! – impose today's morals and attitudes on characters from the past. It simply leads to a fake and inauthentic read. I try really hard to understand how people really thought and acted in days gone by.
Verbal anachronisms have been spotted recently in Downton Abbey and in Ripper Street. There is always a difficulty of striking a balance between getting the 'feel' of the language of the era right and borrowing directly from the language of the day. How do you go about this?
Again, this annoys me too. I think as a writer you just have to be careful. If in doubt, change the dialogue to something more standard. For instance, don't have a character from even a decade ago describe something as "sick" (meaning "good") because it is a recent term (I think)! "Wicked", maybe… but if in doubt I go for something like "fantastic". Just an obvious example, but it is so jarring to hear or read anachronisms.
Roberta likes to collect the letters and postcards she finds in second-hand books. When her father gives her some of her grandmother's belongings, she finds a baffling letter from the grandfather she never knew – dated after he supposedly died in the war.
Click here to look inside or buy
Do you find yourself returning to any recurring themes within your writing and, if so, are you any closer to finding an answer? Or, put more simply, what is the question that keeps you writing?
I seem to write a lot about motherhood! Also, other family relationships, and love and sexual relationships. Basically, relationships!
How do you feel when you have finished writing a novel? Are there any particular characters you have found it hard to let go of?
I feel a huge sense of relief once the work is finally, finally finished, i.e., the last proof read has been done and the book is ready to print. Much earlier in the process, once the drafting has been finished, I feel bereft. I grow to care about my characters and it's hard to effectively step out of their story.
Which books are on your bed-side table now?
I was recently given a Kindle and I'm reading A Visit from the Goon Squad by Jennifer Egan. I had no idea how great Kindles are! I still love print books though, and will keep using bookshops.
Finally, what do reading and writing mean to you?
They mean all kinds of things… comfort, education, entertainment, fulfillment, even wish-fulfillment. And nowadays, writing is my living. I feel immensely grateful that I am earning money from doing something I love. I'll never be rich, but I can carry on writing, which is all I can ask for.
Want to find out more about Louise and her writing?
Visit her website, look her up on Amazon, or like her Facebook Page.
Remember, if you enjoyed this post please share it. If there's anything else you'd like to ask louise please leave a comment.
To have future posts delivered directly to your in-box, visit the sidebar on the right and subscribe to my blog, or to find out about new releases, competitions and freebies, subscribe to my newsletter and grab your free copy of my novel, I Stopped Time.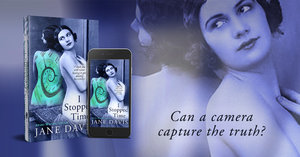 Written on March 28, 2017 at 11:44 am, by Jane Davis
Categories: Author Interviews, Blog, Homepage, In-depth, Virtual Book Club | Tags: A Life Between Us, Author Interviews, Authors, behind the book, Book Launch, Bookclub, British and Irish writers, contemporary fiction, family sagas, Indie Authors, Louise Walters, Mrs Sinclair's Suitcase, mysteries, Novels set in England, On writing, Virtual Book Club
Subscribe to the blog Enter your email address and you'll be notified when new articles are published. (We will not share your email with any third party.)
Want to be featured?

I'd love to hear from authors who would like to be featured in an interview or submit a guest post. To be considered, please complete the contact form.

Image © Juanrvelasco | Dreamstime.com