May 2
Today I'm delighted to welcome Aimee Juarez to Virtual Book Club, the interview series in which authors have the opportunity to pitch their novels to your book club.
Aimee has always had a penchant for history, investigative research, mysticism, lore, spirituality, and the paranormal. Born and raised in sunny South Florida, Aimee grew up dreaming of faraway cities in times long past while harbouring a curiosity for things that go bump in the night.
She began her writing career in 2001 as a stringer in Miami. In the years that followed, Aimee worked as a print journalist and freelance writer. In 2013, she turned to fiction and began writing her debut novel, The Sitting Room, the first book in her Society of Psychical Studies series. She published the novel three years later through her independent publishing company, Bayley Street Press.
Aimee earned a bachelor's degree in journalism, with minors in British literature and psychology, and a master's degree in business at two South Florida universities.
Q: Aimee, please can you start by telling us how you came to be a writer.
Many writers say they instinctively knew they wanted to be writers at a young age. As hokey or nostalgically sentimental as that may sound, that really was the case with me. One afternoon when I was four or five years old—sometime in the mid-1980s—I had finished watching a Pink Panther cartoon and decided to "novelise" it. So I grabbed my crayons and pens; several blank sheets of paper; a stapler; and my toy record player to serve as my pretend typewriter. Then I sat on the floor and got to work, drawing the scenes and writing the text. When I was finished, I stacked the sheets together, folded them in half, and stapled them along that makeshift book spine, creating my "novel". I remember thinking, "I'm going to do this for real some day. I'm going to write a book." That desire (as well as the memory) stuck with me in the years that followed. I got my official start in writing by way of journalism in 2001—first as a stringer and later as a newspaper reporter and as a freelance writer. I didn't turn to fiction until 2013 when I started writing my debut novel, The Sitting Room.
Q: You published The Sitting Room in September 2016 through your independent publishing company, Bayley Street Press. The Sitting Room is the first book in the Society of Psychical Studies series. What is it about The Sitting Room that you feel makes it particularly suitable for book clubs?
I think book clubs that enjoy exploring supernatural and esoteric subjects will enjoy The Sitting Room. The tone of the story—as well as the manner in which the characters approach the supernatural—is rational and grounded, not at all fanatical, and I think anyone looking to have a serious discussion on the possibility that there may be more to the world around us than the five physical senses would lead us to believe will have a lot of material to work with.
Q: Tell us a bit about the story and the development of the series. Did you know where it was all going to go right from the start?
Not at all. When I began initial research on The Sitting Room in July of 2011, the story was going to be one standalone novel. The original plot I had developed at the time was also much different from the final product.
The novel itself—along with the Society of Psychical Studies series—traces its origins to my bookshelf. I was enrolled in a business-related doctoral programme in 2011 and had the summer months off so I decided to give creative writing another go. I say "another" because writing a novel was something I had been trying to do, off and on, for years. I had been working on developing another story idea when I felt compelled to put that aside and try writing a ghost story. Paranormal, spiritual, and esoteric topics have always interested me. I had always been an avid reader and follower of these subjects, which made writing a story along these lines seem like a natural progression. So I pulled a few of my reference books off the shelf and got to work. I didn't do much writing that summer, mostly reading, note-taking, and character development. By summer's end, I had developed a few central characters, including protagonist Doctor David Gosfield, Ted Williamson, Michael Ashmore, and Lionel Ledford, who hides his psychical gift behind the public persona of famed illusionist Douglas Daniels. The Lionel Ledford/Douglas Daniels character is loosely based on Daniel Dunglas Home, a popular medium in Victorian London while Doctor David Gosfield was loosely modelled on psychologist Carl Jung.
I returned to the story two years later—during the summer of 2013—ready to fully devote myself to developing and writing the story. I was jobless and had withdrawn from the doctoral programme, realizing it never really interested me—not as much as writing did. So I devoted my time to working on the novel while helping my mother care for my grandmother, who had developed advanced dementia. When I went back to my original notes that summer, I made several changes, like moving the setting out of northeast England to London and developing additional characters, including Adele Ledford, who was never part of the original story idea. At one point during the research-and-writing phase, I realised the storyline could serve as the foundation of a series and that's when the Society of Psychical Studies—as a series—was born. I kept developing The Sitting Room with that in mind and I was very happy with the finished product. It took three years of research, writing, rewriting, and revisions to complete The Sitting Room, which also included several cover designs and my founding of Bayley Street Press to independently publish it. I consider this novel a labour of love and, happily, my grandmother got to see the finished product—the actual paperback—before she passed away in December of 2016.
Q: The Sitting Room is set in 1894 London. As an American, was it difficult to cross cultures and get into the mind-set of your Victorian characters?
Not entirely. I minored in both English literature and psychology when I was a university student. Because these two areas of study were concentrations of mine, I had foundational knowledge of British culture, the time period, and other general aspects. To me, the most difficult and most important part of writing the story was always staying true to who these characters are as people… to humanise them and make them as three-dimensional as possible. So while I wrote the main narrative as an American writer, I worked hard to make sure the attitudes matched the time period and that the dialogue and any materials the characters read or encountered, for instance, were as realistic as possible, with the goal of the reader being fully immersed in the story, emotionally and intellectually.
Q: Tell us about the major areas you had to research.
Everything, really… the geographical layout of Victorian London, its neighbourhoods, and its demographics; specific sections of the city; specific street names and the buildings that existed in 1894; clothing and slang along with popular songs, music halls, restaurants, and other specific locations of interest during that time, among other things.
Q: At what point in writing the book did you come up with its title?
At the onset, during the summer of 2011. The title was the first thing that came to my mind when I began working on the story. I struggled a bit with it, though, because one of my reference books on spiritualism in Victorian London spoke about the popularity of holding séances in a drawing room, not necessarily a sitting room, which serves as the front parlour of a house. I was going to change the title to The Drawing Room, but that sounded completely off. So I stuck to my original name and reworked the premise of the story. The idea of someone living in a small terrace or row house—one too small to have a large drawing room—would probably get around this limitation by holding spiritual consultations in their sitting room. That premise made the story more real to me… as if that sort of situation really could have happened in Victorian London, so I went with it.
Q: What is the central conflict in The Sitting Room?
I believe the central conflict of the story focuses on the self—on growth and expansion through self-acceptance. And that calls for the release of fear. I firmly believe the more you fear something, the more life circumstances will force you to confront it in one way or another. My characters weren't spared of that. In The Sitting Room, the past is a source of fear because of the way it's perceived—some characters harbour angry memories and view the past through the lens of anger; others harbour old hurts and, consequently, prefer keeping their psychical gifts and abilities quiet than be deemed eccentric by those in prim-and-proper social spheres. In The Sitting Room, confronting fear means releasing misperceptions, misguided feelings, and self-consciousness. It's the only way to grow and change for the better.
Q: Which scene or scenes did you find the most challenging to write and why?
The asylum scenes were the most challenging to write, particularly the ones when David first arrives at Etham Hospital, a fictional asylum I set on the grounds of South Eastern Hospital, which was a real fever hospital in Deptford during the 1890s. But these scenes were also the most liberating, artistically.
When I was creating the asylum, I wanted it to be out on the fringe of existence—a place where those deemed mad are cast away from the world and left to their alleged "lunacy." The name "Etham" reflects that. In the Old Testament, "Etham" was a no man's land of sorts—out near the edge of wilderness; away from civilisation. In The Sitting Room, the only true link Etham's patients have to the outside world are the train whistles they hear from their hospital rooms, if they aren't lucky enough to have a view of the train tracks. Aside from all the research I had to do concerning Victorian asylums and treatments, what made the hospital scenes most challenging to write was the emotional pull they had—dragging my mind out to that feeling of isolation and emptiness; to understand what if was like to be lost in some internal wilderness. I was already feeling isolated at the time I was working on the story, having mostly cut myself off from the outside world to write the novel while helping to care for my grandmother.
Interestingly, my favourite scene in the story is the scene when David walks up to Etham Hospital for the first time. The setting itself—the building; the trees; the birds singing; the courtyard and its fountain; the shrubs partly obscuring the train tracks—I felt a resonance or familiarity when I created it, as if I knew this place and the separateness it embodied; as if I'd been there before. It was very profound for me.
Q: Did you incorporate any real-life characters into your novel? If so how?
The two most-prominent, real-life people mentioned in the story are Doctor William James and John Maskelyne. Doctor James was a leading American psychologist and Harvard University professor in the mid- to late-nineteenth century. Maskelyne was a popular illusionist in London at the time. Neither man "appears" in The Sitting Room as a living, breathing character. Instead, they only surface as influences.
Because I minored in psychology when I was a university student, I was familiar with Doctor James' work along with his interests in the supernatural. Making him Doctor David Gosfield's former professor and mentor—having Doctor James serve as an influence on my protagonist—worked extremely well.
Like Doctor James, Maskelyne serves as an influence on Lionel Ledford's public persona, Douglas Daniels, in the realm of stage, but he also helps set a sort of contrast. In addition to being an illusionist, Maskelyne was also an anti-spiritualist. Lionel's professional connection to Maskelyne emphasises Lionel's desire to keep his mediumship and his involvement in esoteric subjects private, hiding behind a public persona who tends to come off as a bit of an anti-spiritualist too.
Q: You mentioned the contrast between John Maskelyne and your character Lionel Ledford (aka Douglas Daniels). Did you attempt to strike a similar contrast in the love story between Doctor David Gosfield and Adele Ledford?
I did, yes, only with David and Adele, any contrasts that exist between them blend together over time. Adele, who is as gifted a psychic as her Uncle Lionel Ledford, learns she doesn't need to hide her abilities from David. Instead, she realizes she is able to be herself and allow her abilities to flourish without scrutiny, scepticism, or judgment—something she had been devoid of for several years.
Q: In which ways was writing The Sitting Room transformative for you?
My effort at making these characters as three-dimensional as possible really helped me clarify many false assumptions I had concerning relationships, among other things.
Q: What's next?
At the moment, I'm writing What Once Was, book two in the Society of Psychical Studies series. This novel finds the psychical studies group investigating supernatural occurrences at a North London book shop when they encounter an entity bent on disrupting the course of Adele's life. I'm also developing book three in the series along with a couple of other novels that are paranormal in nature.
If you would like to learn more about Aimee, visit her website, follow her on Twitter, Facebook or Goodreads.
Aimee is willing to visit book clubs by Skype. Her handle is: aimeejuarez.
Remember, if you enjoyed this post please share it. If there's anything else you'd like to ask Aimee please leave a comment.
To have future posts delivered directly to your in-box, visit the sidebar on the right and subscribe to my blog, or to find out about new releases, competitions and freebies, subscribe to my newsletter and grab your free copy of my novel, I Stopped Time.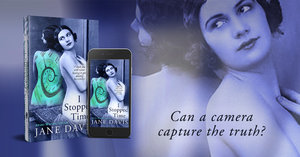 Written on May 2, 2017 at 12:32 pm, by Jane Davis
Categories: Author Interviews, Homepage, In-depth, Virtual Book Club | Tags: 1894, asylum, Author Interviews, Bayley Street Press, behind the book, gift of second sight, Historical Fiction, illusionist, lunacy, medium, novel, Novels set in London, protagonist, seances, Self-Publishing, Society of Psychical Studiesu, spiritualist, Supernatural, The Sitting Room, Victorian London, Virtual Book Club
Subscribe to the blog Enter your email address and you'll be notified when new articles are published. (We will not share your email with any third party.)
Want to be featured?

I'd love to hear from authors who would like to be featured in an interview or submit a guest post. To be considered, please complete the contact form.

Image © Juanrvelasco | Dreamstime.com