Feb 23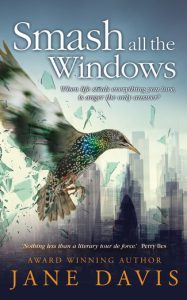 Since winning the Daily Mail First Novel Award in 2008, I've become known for writing about big subjects and giving my characters almost impossible moral dilemmas. What interests me is how people behave under pressure, because it reveals so much about them. And as the tagline of Smash all of the Windows suggests, my new offering is no exception.
When life steals everything you love, is anger the only answer?
This book started life as my reaction to the outcome of the second inquest about the Hillsborough football stadium disaster, when the ruling that had laid the blame at the feet of football fans was overturned. The expectation was that now justice had been delivered, the families could 'get on with their lives'. My question was, What lives?
In creating my fictional disaster, I combined two of my fears – travelling in rush hour by Tube, and escalators – plus a fall I suffered on my way to a book-reading in Covent Garden. I was overloaded, having just finished a day's work in the city. I was carrying my laptop bag, my briefcase, plus I had a suitcase full of books in tow. The escalator that I normally use was out of order and we were diverted to one that was much steeper and faster. I pushed my suitcase in front of me and it literally dragged me down head first. Fortunately, there was no one directly in front of me, but things could have ended very differently.
You can read one of my first interviews about the book on Jay Lemming's website here.
'A dazzling high wire walk through interwoven strands balanced so carefully you know you'll never fall.' Dan Holloway, novelist, poet and spoken word artist
'Just fricking perfect. An all-round triumph.' John Hudspith
'This is an astounding read. I was completely captivated.' Liz Carr
Commuters Crossing at Rush Hour (as used in the starling's wing), © Elegeyda | Dreamstime.com
It has taken conviction to right the wrongs.
It will take courage to learn how to live again.
For the families of the victims of the St Botolph and Old Billingsgate disaster, the undoing of a miscarriage of justice should be a cause for rejoicing. For more than thirteen years, the search for truth has eaten up everything. Marriages, families, health, careers and finances.
Finally, the coroner has ruled that the crowd did not contribute to their own deaths. Finally, now that lies have been unravelled and hypocrisies exposed, they can all get back to their lives.
If only it were that simple.
Smash all the Windows will be released on 12 April, but you can pre-order it now for the special price of 99p/99c (Price increases to £1.99 on 12 March. Price on publication will be £3.99). The Universal Link is books2read.com/u/49P21p
From 13 February to 10 March, US readers can also enter a Goodreads Giveaway for a chance to win one of 100 eBooks.
Please contact me if you'd like to order a signed paperback. I will include 2nd class postage to one UK address in the cover price.
Virtual Book Club will be taking a break for the next few weeks to make way for a special set of guest posts that I have lined up with contributors to Smash all the Windows. You'll be hearing about the cover design process, about the value of my beta readers, and from my structural editor, my copy editor and my proofreader.
In other news
March is Indieathon – a month long readathon dedicated to reading books by indie authors and small presses. It's a great opportunity to discover some gems. Shame my novel isn't out until 12 April… (did I mention you can pre-order it?) Ninja Book Box have all the details, including plenty of great suggestions about fiction you might like to try.
I'm also delighted to see that a previous guest on Virtual Book Club will be a recipient of an Amazing Women Award, run by No. 1 Magazine. Madeleine Black, author of Unbroken, has won her category of Strength. Read my interview with her here.
Written on February 23, 2018 at 8:52 am, by Jane Davis
Categories: Blog, Homepage, My Books | Tags: Goodreads giveaway, Indie Authors, Indieathon, Madeleine Black, new release, readathon, small presses, Smash all the Windows, Unbroken
Subscribe to the blog Enter your email address and you'll be notified when new articles are published. (We will not share your email with any third party.)
Want to be featured?

I'd love to hear from authors who would like to be featured in an interview or submit a guest post. To be considered, please complete the contact form.

Image © Juanrvelasco | Dreamstime.com