Mar 29
We're nearing the finish line. Now we turn to the book's interior. What is it going to look like? And how will that add to (or detract from) the way that the reader experiences the book?
From Wiki: Typesetting is the composition of text by means of arranging physical types or the digital equivalents. Stored letters and other symbols (called sorts in mechanical systems and glyphs in digital systems) are retrieved and ordered according to a language's orthography for visual display.
For this stage, I use Jane Dixon-Smith of JD Smith Design. Jane is the author of several historical fiction novels (which I thoroughly recommend), a member of the Triskele Books collective, editor of the writers' ezine Words with JAM, and the readers' review site Bookmuse. She's also an award-winning book cover designer. She loves books, both the physical and the words contained within. She'd like to think it was no surprise that she ended up immersing herself in the world of book design rather than marketing materials for corporate companies, but in many ways it was. (She also loves cake. Just in case you were wondering.)
Jane will need a clean manuscript that has been thoroughly proofread.
What do I mean by 'clean'?
I choose to type in a 5 x 8 inch 'book template', because I find it helps contain my style. (I get way too wordy if I allow myself the luxury of A4). Even if you outsource formatting, it's important to get to grips with the functionality of Microsoft Word. Learning how to use the Paragraph Dialogue Box to create a First Line Indent, and to set up 'Styles' are basic requirements. You can't employ a mish-mash of formatting techniques, or use the space bar to correct issues that don't look right, and then expect a formatter to sort it out for you.
As well as checking for typos, I make sure that I've followed my own 'house style'. For example, in my case, this means making sure that the names of books, newspapers and magazines appear in italics throughout.
I have eliminated stray hard returns at the end of lines. (The 'Show paragraph marks and other hidden formatting symbols' will highlight any issues.)
I have checked to ensure that I haven't accidentally introduced any extra spaces. (The 'find' function is ideal for this.)
I have checked my chapter numbering and headings. Several times.
Before hiring, do:
Check what's included in the price. Most formatters/typesetters will include two rounds of amendments within their quotation. These should be in addition to correcting any formatting errors they may make.
Consider having eBook and paperback formatting done at the same time. This can prove cheaper. (I ask Jane to produce two print-ready PDFs, one for the short print-run via Clays and one Print on Demand version via Createspace, plus eBooks).
If you don't have a clear vision of how you want your book to look, ask what options are available. For example, because I struggle with my eyesight, having an easy-to-read font is really important to me. I used Jane's suggestion of Minion Pro. I also like the look of drop caps. You should agree how you want your title page to appear, fonts, font-size, margins and chapter headings, whether you want every new chapter to start on a right-facing page. Remember: every choice you make will become part of your brand.
When placing your order, supply your formatter with clear instructions.
These should include:
Your 'house style' and special requirements. My pet hate is split words (words that are split over two lines with use of a hyphen), so I specify that I don't want more than two on any one page.
Your chosen producer/printer's requirements. These will include crop markings, margins and bleeds and extents. Don't worry if you're unfamiliar with these terms. Your formatter will be!
Requirements for different versions of the book. For example:
A different ISBN number is required for each version. You may already have registered your ISBN numbers, so it is important to be clear about which number is to be applied to which version.
There may be prescribed wordings that you need to use (or are banned from using) for your chosen producer/printer. For example, Clays require the text, 'Printed and bound in Great Britain by Clays Ltd, St Ives plc.' to appear on the copyright page, whilst Smashwords will reject your file if you have mentioned their competitors.
I like to include hyperlinks in my eBooks. I also have a newsletter signup page in my eBooks that doesn't appear in my paperbacks.
When you receive your proofs, remember to check them thoroughly – and that means in every format. If possible, have a further professional proofread at this stage.
For more information, I recommend The Importance of Book Cover Design and Formatting: For self-published authors by JD Smith, or you can contact Jane here.
If you would like to learn more about her historical fiction, visit her author website.
You might also like to visit her Facebook page or follow her on Twitter.
Book Launch Update
My book launch will take place at London Book Fair, an annual coming together of over 25,000 professionals in the publishing industry, and the global marketplace for rights negotiation and the sale and distribution of content. This will be joint event with authors Rohan Quine and Dan Holloway, who was also structural editor for Smash all the Windows and for Rohan Quine's novel, The Beasts of Electra Drive. You can read about my experience of working with Dan here.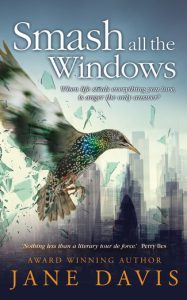 On 14 April I'll signing first editions at Barton's Bookshop in Leatherhead, Surrey from 10.00am until 3.30pm. Do come along and say hello! But if you live in the UK, would like a signed copy, but can't get along to Barton's, just drop me a line. I will include 2nd class postage and packing to UK addresses in cover price of £8.99.
Meanwhile, you can pre-order the ebook at the special price of £1.99/$1.99 (it will cost £3.99/$3.99 on release).
Next week, I'll be talking to Ali Bacon about her photography-themed Edinburgh-based historical novel, In The Blink of an Eye.