Nov 11
This week I'm delighted to welcome Tracie Barton-Barrett to Virtual Book Club, my interview series that gives authors the opportunity to pitch their novels to your book club.
As a life-long animal enthusiast, Tracie Barton-Barrett is a speaker, Licensed Professional Counselor with a specialty in pet loss, and former psychology instructor. She's facilitated pet loss support groups and presented and written articles on the subject. She's also a lover of travel, history, the water, music, movies and Will & Grace or Friends repeats. She and her husband live in North Carolina in the US and are owned by their two cats, Rutherford B. Barrett and Oliver Monkey.
Q: Tell us about the book you've written. What was the first seed of the idea for your book. How did it develop?
Buried Deep in Our Hearts is a novel that using a dog, cat, and horse story line, celebrates our important connection to our animals and honours their memories. As someone who has lost animal companions, the desire to write a book about pet loss, and addressing the unique, yet universal experience, was always a goal of mine. We know now that when a person experiences sadness or grief, similar parts of the brain light up as if a person were experiencing physical pain. After losing two beloved pets in grad school, I remembered what one of my professors said, "Don't do nothing (with grief.)"
So, ever the devoted student, I delved into pet loss research, copying as many articles as I could, proud of my newfound labelled and neatly stacked folders. But, they just sat there. Collecting dust. For years. It wasn't until the anniversary of our Kimball Kitty's death (whose story is featured in my book) when it hit me: Make it fiction.
From the second this "a-ha moment" occurred, a new energy and trajectory took its course, and Buried Deep in Our Hearts was born. Ironically, I primarily read non-fiction for most of my childhood. I was more interested in reading books about psychology and physiology than picking a book from a fiction reading list. It's only been in the last ten years that I've read and truly enjoyed fiction. I know that my book came from something bigger than myself.
Q: Where is the book set and how did you decide on its setting?
The book is set in Woodhaven Run, Michigan which is based on my hometown of Midland, Michigan, a Midwest state in the US. Some landmarks are included, such as The Gardens, based on Dow Gardens, the annual hot air balloon festival, the Tridge, which is a bridge downtown where three rivers converge, and some other local landmarks. Ironically, when I was younger, I wanted to leave Midland with every ounce of my being. But, after living in different states, and upon greater reflection of my life, I noticed I would return to Midland as a source of comfort. Not only is my novel an homage to the animals in my life, but to Midland as well… I've been asked my I changed the name of the town. A reader doesn't necessarily need to know, or have heard of Midland, to appreciate the book, but it's a "wink" to those who do.
Q: Did you know where this book was going to go right from the start?
I knew the ending before I knew the beginning and the middle of the book. It was as if I could see the mountain top, and knew I'd get there. Just wasn't sure exactly how.
Q: What's your research process like? Do you enjoy it?
I quite like it. New ideas are like new toys. I can hardly wait to spend time and play with them! As mentioned before, the setting is based on my hometown of Midland, Michigan and so I visited Midland several times as part of my research. Living in North Carolina, located in the southern part of the US, it's easy to forget Michigan's textures, sights, and sounds in all its seasons.
Sometimes I feel my antennae engage, in that I'll be more mindful of an article I read, or a story I hear, or a person or animal I observe. This often coincides with my "post-it/napkin/notepad" phase, where they reside on my nightstand. There seems to be a correlation between the rising up of characters, plot, and other details and my falling asleep. Or, trying to, at least.
I also look to my dreams. For example, Tucker, the main dog character in Buried Deep in Our Hearts, came to me in a dream. I was on a school bus, sitting near the back. The bus made a stop, and a smiling golden retriever dog entered through the door, walking down the aisle toward me with a tiny wooden sign hanging from his neck. It read: "Tucker."
Q: How would you describe your writing process?
The characters always come first. It's as though I'm meeting someone for the first time, and he or she reveals him or herself to me in his or her own time. I simply "check-in" to see if that belongs to their story. It's comparable to opening a jigsaw puzzle, spreading out the pieces, and seeing how they fit. The exhilaration when there is a match is almost indescribable. I've also journalled every morning for almost thirty years, which is as much a part of my morning routine as brushing my teeth.
"If animals hold a special place in your heart, this is a novel for you!"
"If you are looking for a book that brings smiles and tears in the same sentence, this one will fit the bill. Tissues mandatory."
"I predict you will want to share Buried Deep in Our Hearts."
Click here to look inside or buy
Q: What is it about your novel that you feel makes it particularly suitable for book clubs?
Discussion questions are included in the back of the book. As an educator, I couldn't not include them! In addition, if you've ever loved an animal, unfortunately, you will have experienced the loss; no animal lover is immune. And, as a universal experience, I have found people enjoy talking about their animals. Even if a person isn't an "animal person," he or she knows someone who is. I've also spoken with a book club with success.
Q: Are you a member of a book club?
Yes, Wonderland Book Club, which is comprised mainly of fellow authors. Even though I wrote Buried Deep in Our Hearts before I started attending, I really found my "footing" and sense of community when I found Wonderland. I've also been the member of a few other book clubs, but this is the one that is "home" for me.
Q: George Saunders wrote about not wanting to be the guy whose own gravestone would read, "Afraid to Embark on Scary Artistic Project He Desperately Longed to Attempt." Does that sound familiar?
Yes. Writing about pet loss can be difficult on many levels, but I knew I always wanted to write about it. It brings up a plethora of emotions and memories for the author, as well as the reader. But, other animal lovers will truly understand. When I explain what my book is about at book events, most people will share a story about their dog, or their cat, or their horse with me. Many of them will even choke up, which is a testament to the strength of the connection we have with our animals. This is why I wrote it.
Q: Which scene did you find most challenging to write and why?
There are some Kimball Kitty scenes that were the most difficult because they were based on my personal experiences. I didn't make any changes to it, including some of the dialogue.
Q: How do you survive writing in what is perceived as an unpopular genre?
This is a constant challenge for me, for which my husband has been a rock of support. My novel isn't written by a celebrity, nor does it fit into the popular genres of the time: science fiction, romance, dystopian, fantasy, mystery, horror, thriller, memoir, or biography, to name a few. I even belong to some Facebook author/writer/reader groups, where my book isn't a neat fit. However, I look at it as a metaphor to my life: I've never fit completely into any group, so I just find my niche. Or, I create a new one!
Q: Can you remember being read to by your parents as a child?
My mum, an elementary school teacher, was instrumental in developing my love of reading. Starting from an early age, she read to me every night. She also sold World Book encyclopedias for a short period of time, when I was young, so guess who got a set for her birthday? Yours truly! They might not have had the best plots or motifs, but I enjoyed reading them! My mum also tells the story of when I was maybe three or four-years-old, and we were standing at the card aisle in a supermarket. Another person standing near us couldn't believe that I was reading the cards aloud. Those encyclopedias paid off!
Q: What is your hope for your book?
My intention was to create a "go-to" book for pet loss that allows the reader to relate, reflect, and heal. One of my dreams would be to build a HEAL Park, the type of park described in my book. Also, I wouldn't be the slightest averse if Oprah or Ellen loved the book, or if the Hallmark Channel, or any other reputable production company wanted to make a movie based on it!
When I was teaching, I had hoped to inspire my students, too. This, I believe, was a vital part of my job description. One time when I shared that I'd written a novel, a quiet, but devoted student wrote in one of her assignments that she, too, wanted to write one. She then added that she now believes she can. All educators can relate to the pure joy of a statement like that.
Q: What are you working on at the moment?
This can be a trick question for an author! For me, much of the work happens even before sentences are typed out on the screen. At the moment, I'm writing a novel focusing on a girl that loves horses, but, for various reasons, can't have one. I'm also looking into writing a children's book based on Buried Deep in Our Hearts. In addition, there are two other books that are just in the planning stage, but all my books will celebrate the human-animal bond, in some form.
Q: Is there anything else you'd like to mention?
Humans have a need for stories: to read, tell, and share them. And, if we have animals, we definitely have stories. I would love to hear from you, and your thoughts about the book!
With so much dividing us, animals connect us.
Q: Want to find out more about Tracie and her work?
Amazon (Please buy new copies. Used copies only benefit seller) Paperback & Kindle: https://goo.gl/eXERyq
Email: AnimalsConnectUs@gmail.com
Website: www.AnimalsConnectUs.com
Facebook: www.facebook.com/TBartonBarrett
Twitter: @AnimalsConnect
Instagram: traciebartonbarrett
If there's anything else you'd like to ask Tracie please leave a comment.
To have future posts delivered directly to your in-box, visit the sidebar on the right and subscribe to my blog, or to find out about new releases, competitions and freebies, subscribe to my newsletter and I will send you a free copy of my novel, I Stopped Time, as a thank you.
While I have your attention, can I please draw your attention to my updated Privacy Policy. (You may have noticed, they're all the rage at the moment.) I hope this will reassure you that I take your privacy seriously.
Remember, if you enjoyed this post please share it.
If you have subscribed to my blog but no longer wish to receive these posts, simply reply with the subject-line 'UNSUBSCRIBE' and I will delete you from my list.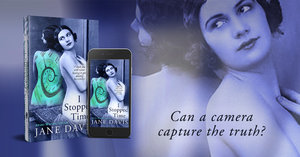 Written on November 11, 2018 at 11:43 am, by Jane Davis
Categories: Author Interviews, Homepage, Virtual Book Club | Tags: Bonds with animals, books for animal lovers, Buried Deep in Our Hearts, dealing with grief, golden retriever, grief, inspiration, pet loss, pets, Tracie Barton-Barrett
Subscribe to the blog Enter your email address and you'll be notified when new articles are published. (We will not share your email with any third party.)
Want to be featured?

I'd love to hear from authors who would like to be featured in an interview or submit a guest post. To be considered, please complete the contact form.

Image © Juanrvelasco | Dreamstime.com