Nov 26
This week I'm delighted to welcome Helena Halme to Virtual Book Club, my interview series that gives authors the opportunity to pitch their novels to your book club.
Prize-winning author, former BBC journalist, bookseller and magazine editor, Helena Halme holds an MSc in Marketing and an MA in Creative Writing. Full-time author and mentor, Helena also acts as Nordic Ambassador for The Alliance of Independent Authors and has published eight bittersweet Nordic romance novels and two non-fiction titles, Write Your Story: Turn Your Life into Fiction in 10 Easy Steps and Write in Another Language in 10 Easy Steps.
Apart from writing stories set in her native Finland, Helena is addicted to Nordic Noir and dances to Abba songs when nobody's watching. Helena loves to share her experience in indie publishing with other authors and creatives.
Helena has very generously offered a copy of The Christmas Heart to the first two readers to leave a comment – I'll remind you at the end!
Q: What is it about your book that makes it particularly suitable for book clubs?
The Christmas Heart has been described as 'Both romantic and uplifting' and 'The ideal feel-good Christmas read' by book bloggers. It's a story of Kaisa, who, after the loss of her husband, thinks she'll never find love again. When she reconnects with Tom, an old flame, on a skiing holiday to the Swedish Alps, she's surprised by the depth of her own passion. But can she trust Tom, the 'Rich Boy' from university and the archetypal European Casanova?
Click here to watch The Christmas Heart trailer
Click here to look inside or buy.
"The story picks up 20+ years after the last one with Kaisa's daughter, Rosa, grown and exploring the world. This leaves Kaisa feeling a bit lost and she agrees to a ski holiday over Christmas with her good friend Tuuli. Unbeknownst to Kaisa, Tuuli has arranged to meet up with some old friends during the trip.
What I've always loved about this author is all the wonderful cultural insights I gain from her novels. I love being transported to Scandinavia and the stories are always rich in detail just adding to the reading experience."
Q: Please tell us how you came to be a writer.
I've always loved writing and during my school days in Finland, my teachers felt that this was the career I should consider. When I met my husband to be, an English Navy Officer at the British Embassy in Helsinki, I began reading fiction in English and discovered Doris Lessing's books. I became besotted with her writing and started to dream of a writing career for myself. It took some twenty years and an MA in Creative Writing before I finally began taking my ambition seriously.

Finally, when I started blogging in 2007 and began writing the story of how I came to be in England, which later turned into The Nordic Heart Series, the many followers of that blog egged me onto writing each chapter of that first book in the series, The English Heart. I truly believe that if it hadn't been for those first, enthusiastic readers, I would never have published a single book.
Q: If you were trying to describe your writing to someone who hasn't read anything by you before, what would you say?
If you like Scandinavian crime or Nordic Noir, you should try Nordic Romance. My books are set in Finland or Sweden with settings that are often described as enchanting, with cultural insights that transport you to a different place. They are stories of displacement, love that transcends borders and ultimately about hope for the future.
Q: Did you know where this book was going to go right from the start?
The idea for The Christmas Heart began developing in my head after a late-night discussion in Helsinki with my best friend about our university days. The subject of old flames cropped up and we might have Googled a number of people …

That night in bed I sketched an outline for The Christmas Heart. It took a New Year's break to Åre in Sweden to find the right snowy setting for the story, and after this discovery, I was deep into the tale of a happily independent woman finding love with an old flame from university. When my friend read the finished manuscript she exclaimed, 'That could so easily have been me!' It was at that point that I knew I'd written the kind of book I set out to write.
Q: Did you incorporate any real-life characters into your novel? If so how?
Because The Christmas Heart is Book Five in The Nordic Heart Series, a set of books, which do have a quite a few real-life events and people in them, it follows that this book also includes characters who are inspired by real people. These characters appear, however, not exactly as they are in real life, nor do the course of their lives follow the line of the characters' fates in the series. What I have set out to do, is a sort of alternate history for the 'real' people in my books.
Click here to look inside or buy
She has her life planned out. He lets the wind guide his sails. As the Cold War heats up, can they keep love alive on either side of the iron curtain?
"Halme writes with a warm personal touch about characters that the reader ends up truly caring about."
"A saga of coming of age, loving, losing and regaining."
Q: What are the particular challenges of writing fact-based fiction, particularly when it includes living people?
Although I wouldn't say that the events in The Nordic Heart Series, and particularly not in the latest book, The Christmas Heart, are based on factual events, I have incorporated people and places that actually exist. Often people in real life are less complicated and interesting than you need them to be for the story to read well. So it's useful to treat any characters, whether based on a real person or not, as if you were making them up from scratch. I use a list of ten pieces of information I need to know about any character in the book:
Name
Role in the novel
Motivation
Personality
Appearance
Job/Occupation
Main Passion in Life
Character Flaws
Internal Conflict(s)
External Conflict(s)
This is by no means an exhaustive list – the more you know about your characters the better!
In addition, I often combine characters in a story based on real events, making the people less recognisable.
Both of these methods can save many an awkward conversation when the book is out and being read by people who feature in the story!
Q: Do you write with an imaginary reader in mind? If so, tell us a little about that person.
I write with three people in mind, or in truth, a combination of them. One is my sister, who reads widely and lives near the Arctic Circle in Northern Sweden. The other is a combination of two or three people. This person is female, between 35-55 years old. She loves to travel, and reads books that entertain her, but also books that give her some information about a different place and culture. She loves to be taken somewhere new and her guilty pleasure is to read heart-warming tales of romance with a sprinkling of Nordic Noir grittiness in them.
Q: Are you looking to entertain or illuminate?
I think that as a writer, I need to do both. I find it incredibly important that I inform my readers about subjects that are close to my heart, such as displacement following a move from one country or culture to another; finding and losing love; acceptance and understanding between nations and people.

At the same time, there's a definite need in me to be the entertainer; I want my readers to enjoy being taken inside a story, into the innermost thoughts of my characters. My aim is for a reader to feel happiness, sadness, sorrow, and at the same time gain an understanding of (and possibly increase their tolerance towards) the differences between people of all races, different sexual orientations and nationality.

Did I mention I'm quite ambitious?
Click here to look inside or buy
"I had difficulty stopping myself from devouring it in one go." Tania Hershman, Author, Poet, Curator of ShortStops
"The light tones of romance and adventure are deceptive. Halme tackles awkward issues such as family problems, practical bureaucracy and the reality of prejudice." JJ Marsh, Author of The Beatrice Stubbs Series
"I automatically give five stars to any book that has me staying up way past my bedtime to read it and abandoning anything else that I'm meant to be doing in order to get to the end, and this was one of those books." Debbie Young, Author and Book Blogger
Q: You've already mentioned Doris Lessing. She said that it was moving from one country to another at another (a young?) age that made her a writer. Is this something you can relate to?
I saw Doris Lessing at Bath Literary Festival, something I shall never forget. She spoke about her childhood in Rhodesia (now Zimbabwe) and about this very issue. I myself moved to Sweden from Finland at the age of 11, back to Finland when I was 14 and then to the UK at the age of 23, so I wholeheartedly agree with her assessment. I'm not sure if I would be a writer, had I not moved countries so many times at an early age. I think being displaced gives you a window to another country and culture – another way of living. You feel an outsider, looking in on people, their habits and actions, while not being part of the new environment. This is exactly how I feel when first starting a new story. I look into the world I've invented in my head and begin, slowly, to learn the characters' loves, hates, habits and motivations.
Q: What are you working on at the moment?
I'm working on the first book in a new series set in Åland, a group of islands between Finland and Sweden.

The Island Affair is a story of journalist Alicia and her husband Liam, who struggle to keep their marriage afloat after the tragic loss of their seventeen-year-old son in a traffic accident. During their regular holiday to Åland, the Nordic island where Alicia grew up, the rift between the couple deepens and Liam leaves Alicia behind and heads back to London.

Enter tall, blond Patrick, with the most piercing blue eyes Alicia has ever seen. When Patrick confides in Alicia about the near loss of his daughter and the breakdown of his marriage, Alicia is surprised to feel an affinity with the Swedish reporter. He's the only person who understands her.

The discovery a Romanian boy's body in the reefs not far from Alicia's parent's place brings secrets held by people close to Alicia to the surface and, surprisingly, gives her a reason to live – and love again.

The Island Affair will be out March 2019.

Want to find out more about Helena and her writing?
Website www.helenahalme.com
Twitter @helenahalme https://twitter.com/helenahalme
Facebook https://business.facebook.com/HelenaHalmeAuthor/
BookBub https://www.bookbub.com/profile/helena-halme?list=about
Google+ https://plus.google.com/u/0/110248357773125617006
Linkedin https://www.linkedin.com/in/helenahalme/
Pinterest https://www.pinterest.co.uk/helenahalme/
If there's anything else you'd like to ask Helena, or for a chance to win a copy of The Christmas Heart, just leave a comment.
To have future posts delivered directly to your in-box, visit the sidebar on the right and subscribe to my blog, or to find out about new releases, competitions and freebies, subscribe to my newsletter and I will send you a free copy of my novel, I Stopped Time, as a thank you.
While I have your attention, can I please draw your attention to my updated Privacy Policy. (You may have noticed, they're all the rage at the moment.) I hope this will reassure you that I take your privacy seriously.
Remember, if you enjoyed this post please share it.
If you have subscribed to my blog but no longer wish to receive these posts, simply reply with the subject-line 'UNSUBSCRIBE' and I will delete you from my list.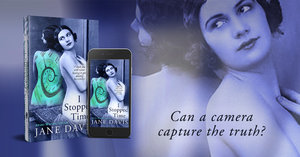 Written on November 26, 2018 at 10:10 am, by Jane Davis
Categories: Author Interviews, Blog, Homepage, Virtual Book Club | Tags: Are, displacement, English Naval Officer, Feel-good Christmas read, Helena Halme, Holiday romance, How to turn your life into fiction, Nordic romance, Sweden, The Christmas Heart, The English Heart, The Nordic Heart Series, Writing in a different language
Subscribe to the blog Enter your email address and you'll be notified when new articles are published. (We will not share your email with any third party.)
Want to be featured?

I'd love to hear from authors who would like to be featured in an interview or submit a guest post. To be considered, please complete the contact form.

Image © Juanrvelasco | Dreamstime.com