Dec 4
This week I'm delighted to welcome Suanne Schafer to Virtual Book Club, my interview series that gives authors the opportunity to pitch their novels to your book club.
Suanne, born in West Texas at the height of the Cold War, finds it ironic that grade school drills for tornadoes and nuclear war were the same: hide beneath your desk and kiss your rear-end goodbye. Now a retired family-practice physician, her pioneer ancestors and world travels fuel her imagination. She planned to write romances, but either as a consequence of a series of failed relationships or a genetic distrust of happily-ever-after, her heroines are strong women who battle tough environments and intersect with men who might—or might not—love them. Suanne's debut women's fiction novel, A Different Kind of Fire, released on November 1, 2018, explores the life of a nineteenth century artist who escapes, then returns to West Texas. Her next book, Hunting the Devil, due out in September 15, 2019, explores the heartbreak and healing of an American physician caught up in the 1994 Rwandan genocide.
Q: Before we dig into the novel, can you tell us a little about how you came to be a writer?
SS: As my thirty-five-year marriage dissolved and my son headed for college, I realised my life was changing significantly. I envisioned a very empty nest. Added to that, I'd lost five people I was close to within three years and was reaching the burn-out stage with my profession. Working as a physician while filling my free time with quilting and knitting no longer satisfied me. I became nostalgic for simpler times and for the hours spent on my grandparents' ranch. On their back porch, surrounded by horses nickering and West Texas wind blowing my hair, I read everything from Hiawatha to Tarzan. As a result of that wistfulness, I decided to reread all the Tarzan books in order of publication. Once I'd gone through them, I decided if Edgar Rice Burroughs could write eighty novels in fifty years, I could crank out one.
Q: What was your first recognition/success as an author?
SS: I sold a short story to Bête Noir, a magazine that specialises in horror, in which I retold the story of the Headless Horseman from the horse's point of view.
Q: John Green says that writing is a profession for introverts who want to tell you a story but don't want to make eye contact while doing it. Is that how you see yourself?
SS: Absolutely! I am painfully shy. Now that I've retired, I rarely leave the house, spending most of my day writing and dealing with social media. I even have groceries delivered because I hate shopping.
Q: What is it about your novel that you feel makes it particularly suitable for book clubs?
SS: A Different Kind of Fire deals with the emotional growth of one woman in a way that most women can identify with. My protagonist, Ruby Schmidt, leaves home at eighteen, an idealistic young woman who thinks her future is wide open and her dream of becoming a famous artist is attainable. Along the way, she grapples with things that concern every woman: misogyny, the tug-of-war between dreams and reality, the struggle between producing art and raising children, the juggling act needed to care for husband, family, and home.
Q: Was its seed an idea or an image?
SS: Originally, A Different Kind of Fire was intended to be my grandparents' love story, so the idea came from my past. However, I write by envisioning a scene as a movie and do as many "takes" in my imagination as needed to get as scene to the point I think I can put it on paper. So I definitely write from a visual impetus though my story may not originate from a visual stimulus.
Q: "The writer is that person who, embarking upon her task, does not know what to do." (Donald Barthelme) Does that sound like you?
SS: This definitely sounds like me. As I mentioned, A Different Kind of Fire was intended to be my grandparents' love story, but as I wrote, I realised the story belonged to Ruby who went off to art school and was exposed to many different things that influenced her while Bismarck, her childhood beau, remained in West Texas, doing what he loved—ranching and raising horses—so there was less change in his milieu to write about. The book, also planned to be a romance with alternating points of view, changed to only Ruby's POV. And, as I researched the 1890s I realised that women were challenging their place in history by advocating for the vote, for the Free Love movement, for the right to own property, for the right to their own bodies—and those slipped into the book for Ruby to experience. Plus I cut 15,000 words of another character and timeline.
Q: Did you incorporate any real-life characters into your novel? If so how?
SS: Though I fictionalised my grandparents into Ruby and Bismarck (Ruby as a young woman dreaming of becoming a famous artist and Bismarck as the archetypal laconic cowboy), I wove real people into the fabric of my novel. Victoria Woodhull was an American leader of the women's suffrage movement who, back in 1872, was the first woman to run for President of the United States. Colonel William F. Cody—aka Buffalo Bill—also makes a cameo appearance when he commissions Ruby to make etchings of his star attractions like Annie Oakley and Sitting Bull.
Click here to look inside or buy
"Passion: a compelling, undeniable fire that burns in the center of your soul. Deny it and your spirit withers. Indulge it and risk destruction."
"Ruby Schmidt knows how to ride, shoot, slop hogs, and doctor injured cowhands, as well as mend, cook, can, and garden. But she is also a talented and motivated artist who is not satisfied with resigning her art to stolen moments between the unending and exhausting chores of ranch life."
"The story of a woman whose heart pulls her in two very different directions. Ruby has a very hard decision to make. If she chooses her lover Willow she will lose her fiance, Bismark. If she chooses a home she loves, she loses the art she needs."
Q: How do you deal with the issue of blending historical characters with fictional characters?
SS: I have no trouble with the idea of blending fictional characters with real historical characters. I simply made sure that my characters realistically could have interacted with the historical ones. For instance, Ruby runs across a Free Love/Vote for Victoria Woodhull demonstration as she heads home from church. And a poster for Buffalo Bill's Wild West Show is the impetus for her writing him asking for a job.
Q: Which scene did you find the most challenging to write and why?
SS: The most difficult scene for me was writing about Ruby's reaction to the stillbirth of a son when she was seven months pregnant. The first go-around, lots of tears prevailed. Later, I rewrote the scene without tears, but from an artist's perspective: … she cradled his skull and, with her hand, fixed its geometry in her brain. Her thumb inscribed the arc of his brow in her memory. Her nose imprinted the scent from the crook of his neck on her dreams. The pad of a finger applied the burnished new-penny color of his hair to her mind's palette. Her arms held him, awed by how his tiny body made her soul feel so heavy. Finally, she sketched her son so she would never forget his innocent face.
Q: Joanna Russ wrote, "Not only is female experience often considered less broad, less representative, less important, than male experience, but the actual content of works can be distorted according to whether the author is believed to be of one sex or the other." Do you wish to comment?
SS: For centuries, the female perspective has been devalued. We've had to fight for the vote, for the right to control what happens to our own bodies, to own property, the list goes on and on. In A Different Kind of Fire Ruby experiences the misogyny so present in the late 1800s when she is raped, but the perpetrator couldn't be punished: A man can do whatever he wants to his wife. May not be moral, but it's legal. Also Ruby is told her paintings are unsuitable: her paintings don't portray a feminine gaze and contain subject matters appropriate only for males. Even today, it's rare to see the female gaze in movies, books, television.

Click here to watch book trailer
Q: Do the troubled identities in this book indicate changes in your own life?
SS: A Different Kind of Fire was intended to be a romance and was started at a point in my life were romance was non-existent: my thirty-five-year marriage was imploding. Though it didn't turn out to be a romance, ADKOF gave me hope that romance and true love still existed.
Q: William Boyd plots for a year before he puts pen to paper. Maggie O'Farrell writes with a desire to explore an issue and understand how it could happen. She says that she 'trusts the novel to know more than she does. Which are you, or do you fall in between?
SS: I am a "pantser" all the way. I sit down and start writing and let story unfold. I plotted out one story following the footprint of The Virgin's Promise: Writing Stories of Feminine Creative, Spiritual, and Sexual Awakening by Kim Hudson. By the time I got it worked out, the novel, even though not written, felt "done" and I lost interest in it.
Q: The bestselling book of all times in Britain is E.L. James' "50 Shades of Grey". The BBC even reported that the trend towards erotic adult fictions was "cannibalising" other genres including science fiction and fantasy, sales of which have decreased by 25%, and that horror was down by 30%, which may prove that the Brits are more into "saucy" than "sorcerers". Have you – or have you felt any pressure to – succumbe(d)?
SS: A Different Kind of Fire along with giving me hope for romance, also gave me hope that sex still existed; however, I don't think I fell prey to making the novel only about the sex act nor did I introduce sex simply to sell books. There is some sex in ADKOF, but it is understated and appropriate to the scenes where Ruby gave her virginity to Bismarck to convince him that she loved him and that going to Philadelphia wouldn't change her love. Sex also cements the relationship she has with fellow female artist, Willow Wycke. Sex also defines the beginning of her relationship with the Italian baron, Francesco d'Este—as she moves from infatuation, then after their marriage to realising she'd made a mistake, and finally the death of their relationship.
Q: When I was discussing historical fiction with Evie Woolmore, she said that there are three kinds of 'historical novelists': those who write in order to accurately reconstruct history in fictional or quasi fictional terms (Philippa Gregory or Hilary Mantel); those who write stories whose plot is reliant on and infused with the historical setting and thus which are historically very precise and well-researched (such as Harriet Steel's novel Salvation, which I recently reviewed); and those (like me) who write novels which are not principally historical but work effectively in historical settings. Do you share that view and, if so, which category do you fall into?
SS: I am probably in the category with Philippa Gregory and Hilary Mantel. I reconstructed America in the late nineteenth century as accurately as I could, using books, newspapers, weather reports, family papers such as the receipt for my grandmother's first year of college, and the vast genealogy charts worked up by my father. So my books are well-researched and infused with the settings of Philadelphia and West Texas. A Different Kind of Fire works well in its time setting because I wanted Ruby to be constantly pulled by opposing ideas, to be pushing the boundaries of what it meant to be a woman of her time. She loves Texas but wants to be an artist. At that time, Texas didn't even have an art museum. So those two ideas are incompatible. She loves her childhood beau, Bismarck, but takes off to Philadelphia to study art, falls in love with another woman and in lust with an Italian baron. As she's exposed to the freedoms of a bohemian artist's lifestyle, Texas looks provincial, but her heart longs for the expanse of the prairies and her best works are those that depict the beauty and violence of her home.
Want to find out more about Suanne and her writing?
http://suanneschaferauthor.com/
https://www.facebook.com/SuanneSchaferAuthor
https://twitter.com/SuanneSchafer
https://www.goodreads.com/author/show/7703847.Suanne_Schafer
If there's anything else you'd like to ask Suanne, just leave a comment.
To have future posts delivered directly to your in-box, visit the sidebar on the right and subscribe to my blog, or to find out about new releases, competitions and freebies, subscribe to my newsletter and I will send you a free copy of my novel, I Stopped Time, as a thank you.
While I have your attention, can I please draw your attention to my updated Privacy Policy. (You may have noticed, they're all the rage at the moment.) I hope this will reassure you that I take your privacy seriously.
Remember, if you enjoyed this post please share it.
If you have subscribed to my blog but no longer wish to receive these posts, simply reply with the subject-line 'UNSUBSCRIBE' and I will delete you from my list.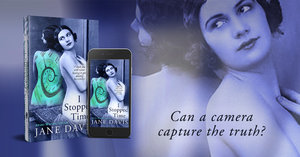 Written on December 4, 2018 at 1:34 pm, by Jane Davis
Categories: Author Interviews, Homepage, Virtual Book Club | Tags: A Different Kind of Fire, Art in Fiction, emotional growth, empty nest syndrome, Historical Fiction, Introverts, Nineteenth Century America, Read Women, stillbirth, Strong female characters, Suanne Schafer, women's fiction
Subscribe to the blog Enter your email address and you'll be notified when new articles are published. (We will not share your email with any third party.)
Want to be featured?

I'd love to hear from authors who would like to be featured in an interview or submit a guest post. To be considered, please complete the contact form.

Image © Juanrvelasco | Dreamstime.com