May 28
I'm delighted to welcome Scott Semegran to Virtual Book Club, my author interview series which gives authors the opportunity to pitch their books to your book club, be it virtual or real.
Scott is an award-winning writer of humorous fiction with a dose of heart. BlueInk Review described him best as "a gifted writer, with a wry sense of humour." His latest book is a comic sendup of state government—an entertaining slice-of-life story that's humorous yet uplifting at the same time—titled To Squeeze a Prairie Dog: An American Novel. His previous novel, Sammie & Budgie, was the first place winner for Fiction in the 2018 Texas Authors Book Awards. His book BOYS was the 2018 IndieReader Discovery Awards winner for Short Stories. His other books include The Meteoric Rise of Simon Burchwood, The Spectacular Simon Burchwood, Modicum, and Mr. Grieves. He lives in Austin, Texas with his wife, four kids, two cats, and a dog. He graduated from the University of Texas at Austin with a degree in English.
Q: Welcome Scott. Please can you start by telling us how you came to be a writer.
A: I was inspired to write after studying literature at the University of Texas in Austin. It seemed, after I graduated, to be the logical thing for me to do after spending four years dissecting and analysing great works of literature. With an English degree, my parents assumed I would teach. I didn't want to teach; I wanted to write. So, I started writing literally the week after graduating from college. That was over twenty-five years ago. Early on, I dabbled in all kinds of writing: poetry, short stories, screenplays, novels, even comic strips, hundreds of which have been published in newspapers. But I mostly now write novels and short stories. That's what I enjoy the most as well as what I have been recognised for. I won three book awards in 2018.
Q: Not a bad year! Raymond Carver said, "I like to give myself enough time between books to become a different kind of writer." How much of a gap do you leave between writing projects and why? What do you do between writing projects?
A: It seems to me when looking back at my book release dates (and this isn't a scientific observation by any means) that I wait at least a year or so between writing projects. I feel I put so much creative energy into each book that I need time to fill up that well of inspiration again. And I would change Carver's quote from "a different kind of writer" to "a better writer." When I'm not writing, I focus on two things: promoting my books (which uses a very different part of my brain and is not my favourite part of being a writer) and consuming as much literature and other forms of art as possible. This consuming of literature and art is where I become a better writer. Since completing To Squeeze a Prairie Dog, I have read voraciously, particularly other indie writers. Discovering other indie writers that were very talented was quite illuminating to me. I even wrote an article for Medium.com about my discovery of other self-published authors. Anyway, when I'm not writing, I read books, watch movies, listen to music, watch TV shows, go to museums, anything that inspires me. And hang out with my wife, kids, family, and friends. That's important to me, too.

Until 2 June 2019, you can enter Scott's Goodreads Giveaway for the chance to win a Kindle copy of To Squeeze a Prairie Dog.
This is the story of J. D. Wiswall, a sincere young man from a small town, who joins a state government agency in a data entry department comprised of quirky clerks. Quickly endearing himself to the diverse group in Unit 3, J. D. learns his coworkers have a pact to share the $10,000 prize if they win a cost-savings program for a suggestion that could save the government money, in turn helping them rise above their own personal struggles. A multimillion-dollar cost-savings suggestion is accidentally discovered by J. D.'s supervisor, the goof-off alcoholic Brent Baker. This lucrative discovery catches the attention of crotchety Governor Dwayne Bennett, a media-hungry demagogue, who turns the coworkers of Unit 3 into props for his selfish political reasons. The publicity surrounding the clerks piques the interest of a newspaper reporter, Esther Jean Stinson, whose investigative reporting threatens to reveal the governor's career-ending secret, as well as jeopardises the prize that the clerks so desperately desire…
"If Semegran has one overriding talent, it's in his ability to take the most seemingly ordinary bunch of characters and show us that their lives are, in fact, extraordinary. That the author is able to take the interplay of those lives and craft it into such an entertaining novel is a credit to his mastery as a storyteller." ~ Amazon Reviewer
"Semegran does it again with his quirky, true to life characters and his standard truth-is-stranger-than-fiction kind of fiction." ~ Amazon Reviewer
"Kudos to the author for making the world a better place." ~ Amazon Reviewer
Q: Let's talk about To Squeeze a Prairie Dog. At what point in writing the book did you come up with its title?
A: To Squeeze a Prairie Dog had a few variations of this title before I started writing the novel. I knew without a doubt that I wanted the title of the book to be an idiom. I felt it would be more memorable that way, but I wasn't quite sure what the exact phrasing of the idiom would be. I had six or seven variations before I settled on this title about halfway through writing this book. I'm pleased with it.
Q: Your novel was inspired by any real-life events. How do you deal with the responsibility that comes with this?
A: The 2016 election in the U.S. was one of the inspirations for me to write this story. The fact that our country would elect a lying buffoon to be president was shocking to me, my friends, and to the majority of this country (Trump lost by 2.87 million votes but still won by electoral college). The smarmy governor in To Squeeze a Prairie Dog is an amalgamation of Trump and some dubious politicians in Texas. And because of the inundation of horrendous news and the profound effect it had on me and the ones close to me, I wanted to write a story about friendship and camaraderie where the good guys win the day. As for the responsibility of that, I have to say that writers and artists in general should be responsible for excavating the truth in their work, whether blatant or subversive. I wanted to shine a light on what is good in all of us and expose the buffoons in power for what they are.
Q: Did you know the direction that the plot would take right from the start?
A: I carefully crafted the narrative framework and plot with an Excel spreadsheet. This was something new for me. With all my previous novels or stories, I knew how they began and ended before writing them, then filled in the middle as I went along. But I had some specific goals with To Squeeze a Prairie Dog. I wanted to reveal the back stories of all five coworkers in Unit 3 of the Texas Department of Unemployment and Benefits, and show what was at stake for them in their personal lives. Their personal stakes helped to drive the main narrative. I found that tracking the plot points, plot twists, pinch points, and the narrative arc to be very helpful to me in the writing process, so much so that I don't see myself going back to the "Point A to Point B" strategy I employed before.
Q: You have five main protagonists. Can you describe each of them in no more than five words?
A: I'll start with J. D. Wiswall, since he is the portal the reader uses to enter the place where they all work: Unit 3. J. D. is simple, kind, considerate, empathetic, and adventurous. Rita Jackson, the kind matriarch of her large brood of five struggling children and thirteen wily grandchildren, is motivated, sassy, a great cook, loving, and above all, hardworking. Deborah Martinez, a single mother to a felonious son, who struggles to keep her head above her sinking financial woes, is also hardworking, caring, and sassy, but is also forlorn and a little bitter. Conchino Gonzalez, a quiescent giant of Mexican and Japanese descent who street races at night to relieve worries about his ailing grandfather in Japan, is quiet, courteous, competitive, gigantic, and loyal. Finally, Brent Baker, their manager who wants nothing more than to drop the bureaucratic routine to become a rock star with his bar band, is funny, carefree, creative, lazy, and, unfortunately, an alcoholic.
Q: Are you looking to entertain or illuminate?
A: My goal is to illuminate through entertainment. I feel humour is the best way to disarm readers' preconceptions about the characters in my stories. Once the reader's guard is down, then I hope that the themes in my stories shine through.
"Funny, sweet, dark, and sad, Scott Semegran's stories create a wholly convincing world of love, loss, and fear. His light touch with heavy subjects is a gift, and his forays into silliness are a delight." ~ Award-winning cartoonist, Emily Flake
Q: Do you find yourself returning to any recurring themes within your writing and, if so, are you any closer to finding an answer? Or, more simply put, what is the question that keeps you writing?
A: I find that I return to stories about friendship. I also return to humorous situations in my stories. I think humour and friendship are both a salve that heals us all from the afflictions that come from this thing called life. When times are rough, it is beneficial to have loved ones to support you, whether family or friends. I have had and still have incredible friendships with people and many of these friendships have inspired my written work.
Q: Some authors have one particular person in mind when they write. Do you have a muse – or perhaps an imaginary ideal reader?
A: While I was writing To Squeeze a Prairie Dog, I had one particular audience member in mind: my wife. Many of the stories I had written before this one had characters that were acerbic and self-centered. So, I challenged myself to write a story that would please her sensibilities, one that had hope in its bones. I also wanted to write a story that was quirky but not snarky and endearing without being too saccharine. It was a huge challenge for me, especially with the humour aspect. It's pretty easy to step into indignant territory with humour and I tried to avoid that as much as possible.
Q: Have you experimented with audio books yet, and, if so, what was your experience like?
A: Two of my books have been published as audiobooks: Boys and To Squeeze a Prairie Dog. With Boys, I hired three narrators through Findaway Voices since the book has three stories. Findaway handled most of the production and all the distribution. I can't express enough how pleased I was with how it turned out. For To Squeeze a Prairie Dog, I decided to narrate the audiobook myself and handled all the production, then used Findaway for distribution to Audible, Apple, Amazon, etc. It's expensive to hire narrators, so I watched two very helpful videos about audiobook production by author Rob Dirks: here and here. After watching those videos, I thought to myself, I can do this! I had a MacBook with Garageband. I bought a nice microphone with a stand and pop screen. I turned my walk-in closet into an audio booth. I carved out the time to work on the production. But I wasn't prepared for just how difficult it was going to be. There's a reason professional narrators are paid a hefty hourly fee. They're good at it. I found the recording process very frustrating and the editing process very tedious. In many ways, creating the audiobook was more difficult for me than writing the novel itself. When I was done, I was relieved it was over. I'm pleased with the way it turned out. It sounds great and I feel I was the best person to narrate this story, but I probably won't narrate the next audiobook. I'll leave that to the professionals and stick to writing and publishing books.
Q: To what extent does self-publishing give readers and writers greater freedom when it comes to what they read/write?
A: For readers, there is an opportunity to read something unique and more adventurous than what the big publishers are releasing. I have read excellent self-published novels and non-fiction books. It just takes more effort to find these books, but there are very reliable resources out there: IndieReader, BlueInk Review, Kirkus Reviews, and Foreword Reviews. And many public libraries and indie bookstores are featuring indie authors from their communities; those are two excellent places to look. In Austin, where I live, the public library has some of my books and audiobooks in their catalogue. Two indie bookstores in Austin carry my books.
For writers, there is a freedom with self-publishing that they're not going to get with being under contract with a big publisher. The feeling is similar to owning your own business. If a writer feels they have an entrepreneurial spirit, then self-publishing is for them. They will have to think like a publisher, though. Hire an editor. Hire a proofreader. Hire a graphic designer for the cover. Find beta readers. Request book reviews. It's a lot of work, but it's also very gratifying. It's the stuff dreams are made of.
Find Scott Semegran
https://www.instagram.com/scott_semegran
https://www.goodreads.com/scottsemegran
https://www.twitter.com/scottsemegran
https://www.facebook.com/scottsemegran.writer
https://www.bookbub.com/authors/scott-semegran
Buy Books by Scott Semegran
https://www.amazon.com/author/scottsemegran
https://books.apple.com/us/author/scott-semegran/id365797218
https://www.kobo.com/us/en/search?query=scott%20semegran&fcsearchfield=Author
https://play.google.com/store/books/author?id=Scott+Semegran
https://www.indiebound.org/search/book?keys=author%3ASemegran%2C%20Scott
Latest Books
Boys: Stories about Bullies, Jobs, and Other Unpleasant Rites of Passage from Boyhood to Manhood
Latest Audiobooks
Boys: Stories about Bullies, Jobs, and Other Unpleasant Rites of Passage from Boyhood to Manhood
If there's anything else you'd like to ask Scott please leave a comment.
To have future posts delivered directly to your in-box, visit the sidebar on the right and subscribe to my blog, or to find out about new releases, competitions and freebies, subscribe to my newsletter and I will send you a free copy of my novel, I Stopped Time, as a thank you.
While I have your attention, can I please draw your attention to my updated Privacy Policy. (You may have noticed, they're all the rage at the moment.) I hope this will reassure you that I take your privacy seriously.
Remember, if you enjoyed this post please share it.
If you have subscribed to my blog but no longer wish to receive these posts, simply reply with the subject-line 'UNSUBSCRIBE' and I will delete you from my list.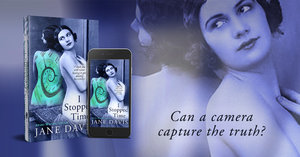 Written on May 28, 2019 at 10:00 am, by Jane Davis
Categories: A Day in the Life, Author Interviews, Homepage, In-depth, Virtual Book Club | Tags: Author Interviews, Authors, behind the book, dark humour, darkly comic, Humour, Indie Authors, On writing, Self-Publishing, To Squeeze a Prairie Dog, Virtual Book Club, Writing life
Subscribe to the blog Enter your email address and you'll be notified when new articles are published. (We will not share your email with any third party.)
Want to be featured?

I'd love to hear from authors who would like to be featured in an interview or submit a guest post. To be considered, please complete the contact form.

Image © Juanrvelasco | Dreamstime.com