Aug 8
Today, I'm delighted to welcome Karen Elizabeth Lee to Virtual Book Club, an interview series in which I put questions to authors about the books they'd like to persuade your club to read. If you want to pose a question of your own, you'll have the opportunity to do so at the end.
Karen is an experienced public speaker, workshop leader, instructor and published author. She is a dual Canadian/British citizen who grew up in Southern Ontario, Canada, originally trained as a teacher and taught school in Toronto. She moved to Calgary, Alberta, returned to University and became a chartered clinical psychologist. In 1995 she moved to Milton Keynes, Buckinghamshire. For eleven years, she taught graduate level business students and worked as a freelance management consultant with projects all over Western Europe, the Middle East and Far East. She now lives in Calgary, Alberta.
She loves to travel – broadening her outlook on life and the world has been a passion long before she was able to indulge it.
In addition to writing, her interests now are the place of women in society, upscale abuse and what keeps women in abusive situations. She is on the Board of Sagesse, formerly the Peer Support Services for Abused Women in Calgary, Alberta, leads groups for women in the process of leaving abusive relationships and is a member of a federally-funded Women's Community Advisory Committee, sponsored through the Calgary Women's Emergency Shelter, that is studying the barriers women face when leaving abusive relationships. 
In April 2016, she published her memoir, The Full Catastrophe.
 Q: Karen, before we discuss your book, perhaps you'd start by telling us how you became a writer.
In 2001, while a psychologist and management consultant living and working in England, I had opportunities to have articles published based on work I was doing with international organisations, such as working with multi-cultural teams, change management and using psychology in the workplace. More submissions led to increased invitations to contribute articles. I was then asked to do a book on consulting practices, a project that took a year to complete. I chose to do Consulting into the Future as an edited book, writing the introduction and two of the chapters, setting the theme and topics, gathering experts to write the chapters, editing and proofreading their work. The book was published in 2002 by Hodder and Stoughton, London. This book lead to writing more non-fiction articles that were published in academic journals and business-oriented university publications. However, by the time my last article was published in an academic journal, I was expanding my writing projects to include a historical piece about my grandparents, a journalistic piece about an art therapy school and my own story.
Q: How did this lead to tackling your own memoir?
About seven years ago I felt compelled to write my own story. It seemed to nag at me. I needed to understand why an intelligent, well-educated woman fell for not one, but two, controlling and eventually abusive men. I wanted to connect the dots of my life and at last felt secure enough to do that – to summon the courage to troll through the memories, the journals, the photos, write it down through the tears and tell my story. I bought a book on how to write memoir and attended a local writing conference. I read out a character sketch of my late husband at an open mic session and received enough positive feedback that I had the encouragement I needed to continue. I realised I had to learn how to write in this new (to me) genre of creative non-fiction. I had to learn all the techniques familiar to fiction writers: the story arc, scenes, character sketches, and dialogue in order for the reader to get inside my head to discover the psychological drama of a woman trapped in a life of upscale domestic abuse. I also revisited my stack of fourteen journals I had kept throughout my second marriage, widowhood and healing journey – that is where my writing passion was! In those journals. I'd had the bones of my story all along.
Now, having tasted both the struggle and pleasure of memoir writing, I won't go back to academia. This autumn, I will be teaching two memoir courses for people with difficult stories to tell.
Q: What makes your book particularly suitable for book clubs?
The Full Catastrophe is about the human condition – the desire to do well, to do the right thing, to enter trustingly and wholeheartedly into a loving relationship and to work hard at that relationship. It is about how people cope when their lives don't go as they thought they would. It is about the courage to ask for help when we need it. We all can relate to those things.
It is a story of betrayal – about what happens to your soul when the one you love deliberately hurts you and betrays all that you thought you were both working towards – and it is about healing and regaining trust.
The Full Catastrophe is about widowhood – and becoming a widow when the marital relationship has not been ideal – the confusion and anguish that can evoke.
My memoir is the telling of a unique life but it may make readers rethink some of their assumptions and beliefs about their own lives. For others, it may strike a note of resonance – to their own marriages, that of their friends, sisters or mothers.
Book clubs are ideal venues for the discussion of deep topics. The Full Catastrophe reads like a novel that really hits you in the gut but then gives you hope. It is about healing and resurrection – overcoming adversity through courage and perseverance.
'Lee has done something rare: she's told her story with an unflinching eye to her own accountability and with a depth of hard-earned wisdom.' ~ Lauren Carter, author of "Swarm"
'The perfect mix of a psychological study paired with inspirational self-help.' ~ Redbook
Click here to look inside or buy
About The Full Catastrophe: A Memoir
In 1981, Karen's first marriage ended with a violent beating, leaving her with no child support, two small children to raise and a poorly paying job. The bank repossessed the house because she couldn't afford the mortgage payments. Her husband wanted nothing to do with their sons. Two months later, in this desperate state, she met Duncan, the man who would become her second husband. Though initially he seemed like the perfect partner – well educated, a great job in the oil patch, interested in theatre, personal development, music – he was extremely controlling and eventually resorted to screaming, yelling, insulting, threats, in private and in public. It was easier just to go along with him.
He did support her to go back to University to become a psychologist and they formed a consultancy partnership. Ironically they worked together well – it was only in their private life that he exploded. Her financial security was completely tied to him. She put on a false front to friends and clients so they would never know what their marriage was really like. They moved to England in 1995 so he could take up a position in a prestigious business school but the marriage did not improve.
In 1998, after having been married to Duncan for fourteen years, Karen thought divorce was in the cards. But ten months after telling him that she wanted that divorce, her husband was diagnosed with cancer. Eight months later, he was gone. Karen hoped her problems would disappear after Duncan's death―but instead, she never anticipated the depth of grief of widowhood. She found that, without his ranting, raving, and screaming taking up space in her life, she had her own demons to face at the same time as dealing with tremendous grief. Luckily, Duncan had inadvertently left her the keys to her own salvation and healing―a love of Jungian psychology and a book that was to be her guide through the following years.
The Full Catastrophe: A memoir is about much more than domestic abuse – it is about widowhood, betrayal, a search for truth, Jungian analysis, dreams, healing and learning to trust the Universe. It was published in April, 2016 by She Writes Press, Berkeley, California.
Q: How was writing the book transformative for you?
As a psychologist, I had the benefit of already trusting in Jungian analysis before my husband passed away. About a month before my husband's diagnosis of cancer, I started going to an analyst and continued for the next five years of my life.
After years of being completely ruled by my husband's emotions, I was thrown into a life on my own – suffering from grief and symptoms of post-traumatic stress after years of abusive treatment. I was determined to heal because I knew that if I didn't, I ran the risk of choosing another difficult man.
I had shut myself down emotionally to cope with the abuse. I didn't know myself – in some ways I had never grown up. So, instinctively, after my husband died, I allowed myself the young adult phase I had never had. I entered a period of four years in which I went weekly to Jungian analysis, recorded my dreams, kept track of my horoscope, spent time with friends, and attracted new business projects on my own. I also dated, learned to sail, explored new countries like Egypt, Nigeria, Morocco, Greece, and even camped on my own. Yes, I sometimes was reckless, but eventually I learned to be more independent, make good decisions and trust the universe to guide me. At the end of that time I met my present husband on a beach in Maui, Hawaii and am extremely happy.
While writing the book, I had the benefit of hindsight – my story made clearer through the lens of having healed from the years of abuse and being willing to be honest about the feelings I had during my marriages and my journey to wholeness.
Q: Are there books that were, to you, "life changing"?
When I was twelve to fourteen I read Gone with the Wind, Wuthering Heights, and Les Miserables. In some ways, heavy reading for a young girl in the midst of puberty, but they introduced me to a depth of feelings that spoke to my own adolescent yearnings. I lived out in the country, a mile's walk from school, isolated from other houses and villages, restricted by my fearful and immature parents, longing to know "real life." I found it in books, but particularly books about adults who floundered, who made mistakes, who didn't seem to have their lives perfectly figured out, who sometimes loved the wrong people or couldn't express their love due to inner turmoil. I could relate to Scarlett O'Hara, heroine of Gone with the Wind – tough, ambitious, misguided, recognizing love too late and having a longing for the land of her birth. Perhaps it was prescient that I would read about many of the very issues I would face in the drama of my adult life.
Want to know more about Karen?
Karen has a website  and a Facebook page. She is willing to visit book clubs in person or by Skype. And she has a list of suggested questions she's drawn up for book clubs to discuss, available from her at Karen@karenelee-author.com
Remember, if you enjoyed this post please share it. If there's anything else you'd like to ask Karen please leave a comment.  
To have future posts delivered directly to your in-box, visit the sidebar on the right and subscribe to my blog, or to find out about new releases, competitions and freebies, subscribe to my newsletter and grab your free copy of my novel, I Stopped Time.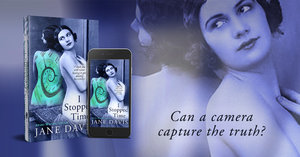 And if you're an author and would like to appear on Virtual Book Club, please fill in a contact form.
Written on August 8, 2016 at 6:57 pm, by Jane Davis
Categories: Author Interviews, Homepage, Virtual Book Club | Tags: Author Interviews, behind the book, Karen Lee, Memoir, On writing, The Full Catastrophe, Virtual Book Club, Writing life
Subscribe to the blog Enter your email address and you'll be notified when new articles are published. (We will not share your email with any third party.)
Want to be featured?

I'd love to hear from authors who would like to be featured in an interview or submit a guest post. To be considered, please complete the contact form.

Image © Juanrvelasco | Dreamstime.com