Sep 6
Today, I'm delighted to welcome Cheryl Evans to Virtual Book Club, an interview series in which I put questions to authors about the books they'd like to persuade your club to read. If you want to pose a question of your own, you'll have the opportunity to do so at the end.
Cheryl was born in Canada. She has been happily married to her husband for more than twenty-three years and together they have raised two wonderful children, one of whom is transgender. In her spare time, Cheryl is an avid reader and when she isn't writing or reading, she enjoys painting with acrylics.
She has just released her memoir, I Promised not to Tell: raising a transgender child.
Q: Cheryl, what is it about your memoir that you feel makes it particularly suitable for book clubs?
I believe that I Promised Not to Tell is extremely relevant in today's world because so many people are living outside of society's binary definitions of male and female. The central conflict in my memoir concerns religion and transgenderism. They don't make for a great pairing. One family member struggled with this conflict and it took a lot of time and a great amount of love to overcome it. As a book club topic, I expect it would ignite some intriguing conversations, even get some healthy debates going on. It is a very controversial topic and, while the book is deeply personal in nature, it does transition well into some of the larger societal issues currently facing the transgender community. My goal was more to encourage and educate while offering wisdom and hope to readers who many have found themselves on a similar path.
Q: Have you always felt driven to write or was there a particular trigger?
A big trigger! When your daughter comes to you and tells you the thing she wants most in the world is to be a boy, it's a really big trigger.
Q: What was your first recognition/success as an author?
I Promised Not to Tell is actually my second book. My first success as an author came a few years back when I co-wrote another book that went on to sell over 50,000 copies in Canada alone. That book was also non-fiction. However, as much as I would like to tell you about my first book I'm unable to do so as I wrote it under my real name. Due to the sensitivity of my latest book, it is important I am only known as Cheryl B. Evans so that I can honour the promise I made to my son when I promised not to tell.
'A riveting book of understanding, acceptance, dedication, perseverance and love.'
Q: If you were trying to describe your writing to someone who hasn't read anything by you before, what would you say?
I would say it's honest, heartfelt and deeply personal.
Q: Who is the hero of your story?
The hero is definitely my son. However, in no small part, it is also my daughter who triumphed over her own struggles to come to terms with the changes happening within our family.
Q: How do you approach research for a memoir?
I believe the research done for memoir is by its nature much more personal than research for fiction. You research in order to fill a void of knowledge about something that intimately involves and directly affects you. The motivation behind the research is usually what's driving the story, at least that's how it was for me. When I was doing research for I Promised Not to Tell, it wasn't just about the research for a book, it was about research for my family. It's hard to beat a personal drive like that. You want to know, need to know, and won't stop researching until you have the answers you seek. When it's personal there is much more urgency involved.
Q: Which part did you find the most challenging to write and why?
The scene I found the most challenging to write was the one where I speak about my child's torment and unhappiness. The day we first found out he believed himself to be transgender. It was a scary and very emotional time.
Q: In which ways was writing the book transformative for you?
The story itself transformed me as it was unfolding. I was living in a blissful place of ignorance when it all began but it became clear it was a place I could not stay. I had to stretch my comfort zone, learn and study something I never even knew existed and come out the other side to a place of acceptance and love. It was a very transformative journey, and not just for myself, but for each member of my family.
My memoir was never intended to be published. Writing it was my own personal therapy. Putting my thoughts and feelings down on paper helped me come to terms with what was going on within our family. As our story got further along, I became enlightened to the hardships many transgender people face because not everyone understands or accepts transgender people. I realised that it was a lack of knowledge more than anything else that prevented society from seeing transgender people the way I see my son. I Promised Not to Tell was a reaction to the harshness I had become aware of. There was an opportunity there for me to make a real difference by sharing our deeply personal story with others. Society not only inspired me but also challenged me to write in such a way that our story could actually enlighten and educate others about what it truly means to be a transgender person.
Q: Man Booker prize-winner Richard Flanagan said that The Narrow Road to the Deep North was the book he couldn't avoid writing. Have you ever felt that way about a book?
I Promised Not to Tell is definitely that book for me. It needed to be told, to be shared. Transgenderism is such a misunderstood topic. I myself had a steep learning curve to get to where I am today with regards to my own understanding. I felt so strongly about this book, especially once it was finished. The only thing, or rather person, that could have stopped me from publishing it was my son. Had he not been willing to give me his blessing, I couldn't have published it. The thing is, my son knows better than anyone how important it is to let others know they are not alone. He hopes, as I do, that by sharing this story we can help other families who may be struggling with accepting a loved one that has come out as transgender or even individuals struggling with their own gender identity.
Q: What do you think the most powerful weapon in a writer's secret arsenal is?
The delete key! I believe writers, especially new writers, need to learn to delete and edit more. It's hard when you've spent so much time and effort, writing a chapter for example, only to realise that what you've written takes more away from the page that it brings to it.
"Everyone's life matters and everyone deserves to be happy but not everyone is in a place where they think, or even believe, happiness is possible."
Q: What advice would you give aspiring writers?
Always carry a notebook. You never know when something will strike you and you'll want to jot it down when it does. My smart phone is that notepad for me because it is small, convenient and always with me.
Q: What message do you want people to take away from your experience?
I believe anyone who reads I Promised Not to Tell – Raising a transgender child will hear a clear message throughout the book. The message is that love is the most important thing of all.
Want to know more about Cheryl and her work?
Visit her website, find her on Facebook, follow her on Twitter
Remember, if you enjoyed this post please share it. If there's anything else you'd like to ask Cheryl please leave a comment.  
To have future posts delivered directly to your in-box, visit the sidebar on the right and subscribe to my blog, or to find out about new releases, competitions and freebies, subscribe to my newsletter and grab your free copy of my novel, I Stopped Time.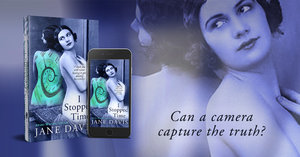 And if you're an author and would like to appear on Virtual Book Club, please fill in a contact form.
Written on September 6, 2016 at 7:03 am, by Jane Davis
Categories: Blog | Tags: behind the book, Cheryl B. Evans, I Promised not to Tell, Indie Authors, Memoir, On writing, Raising a transgender child, Virtual Book Club, Writing life
Subscribe to the blog Enter your email address and you'll be notified when new articles are published. (We will not share your email with any third party.)
Want to be featured?

I'd love to hear from authors who would like to be featured in an interview or submit a guest post. To be considered, please complete the contact form.

Image © Juanrvelasco | Dreamstime.com