Nov 1
Today, I'm delighted to welcome Katharine D'Souza to Virtual Book Club, an interview series in which I put questions to authors about the books they'd like to persuade your club to read. If you want to pose a question of your own, just add a comment at the end.
Katharine writes contemporary fiction, most of which is set in Birmingham. Her love of stories began young when short-sightedness meant books were the only things which made sense. Even since getting glasses, she generally still finds that books are the only things which make sense.
As a ponderer and people-watcher, Katharine often finds herself wondering "why would they do that?" Writing fiction is one way of finding out. It causes less offence than starting awkward conversations with strangers.
When not writing, Katharine leads the PowWow writers' group in Moseley, chairs the organising committee of the annual PowWow Festival of Writing, runs writing workshops, and undertakes freelance editing work.
Q: Katharine, we're going to talk about your novel, No Place. What do you think makes it particularly suitable for book clubs?
No Place touches on topical issues such as immigration as well as matters of universal interest such as, 'why are my family so annoying?' As a result, there's plenty to generate discussion. At the book group I'm in, we always talk about more than the plot and characters; we also ask each other searching questions such as 'what would you have done in that situation?' So as well as assessing the characters' decisions and what unfolds in the story, I hope book clubs would find material to generate debate among members – the book contains both personal and political issues.
Q: If you were trying to describe your writing to someone who hasn't read anything by you before, what would you say?
I describe my books as contemporary realism, but it's rare for anyone to know what I mean by that. My books don't investigate the extremes of the criminal underworld or bask in the bliss of a perfect romance, but that doesn't mean they don't contain both tension and joy. I deal in the real world, unfiltered by difficult language or metaphor. My writing is plain and clear. But I've been told my characters are plausible and the stories relatable and easy to read, which I take as a compliment. I enjoy the challenge of experimental or clever writing, but aim for accessibility. Readers of authors such as Catherine O'Flynn, Sathnam Sanghera, Ayisha Malik or Dorothy Koomson tend to enjoy my writing.
Q: What central conflict is at the heart of No Place?
The key question Tanya, the main character in the novel, asks herself, is 'where is home?' She's a second generation immigrant – born in Birmingham, but not settled there. The answers she finds take in family, career, community and core values. I think many people feel they don't really fit in. Tanya has that problem with regard to her identity, her role and where her roots are, and she comes up with a solution. Of course there's far more to it than that. Essentially it's a story about sisters and identity – a tag line I'm using is that No Place is a twenty-first century, British Asian, Sense and Sensibility. I hope Jane Austen wouldn't mind me wearing my influence on my sleeve.
Bournville Green, photo from Katharine's personal collection 
Q: Where is the novel set and how did you decide on its setting?
Like my other books, No Place is set in Birmingham – a British city with an unjustly bad reputation. This time I've explored the south-western suburbs with one character working in the recently-built super-hospital in Edgbaston, another in the garden suburb of Bournville. The characters are influenced not only by events in their own past, but also from the history of the area and what this has meant for present day Birmingham. For those of us fortunate to live in the city, there's plenty to recognise. For those unfamiliar with Birmingham, I hope you'll get a feel of what the city is like – unpretentious, practical, aware of its history while looking to the future, capable of laughing at itself and embracing change.
Q: William Boyd plots for a year before he puts pen to paper. Maggie O'Farrell writes with a desire to explore an issue and understand how it could happen. She says that she 'trusts the novel to know more than she does.' Which are you, or do you fall in between?
Can I just say that I'm a huge Maggie O'Farrell fan? And I love this quote from her. I certainly discover my stories rather than having them entirely plotted out, although I do have a vague idea of where I'm going. I think that story comes out of character; so as I get to know my characters better by writing them, they determine where the story has to go.
Q: Do you find yourself returning to any recurring themes within your writing and, if so, are you any closer to finding an answer?
Oh, yes: this conundrum of 'how to live a good life'. There are multiple facets to a life, many situations and relationships we're all exposed to. There's plenty of material for novels in that question!
I've been told my characters have a moral dimension, and that is true, even if I don't plan it that way. I try to look at how these people react to the types of events which any of us (or our neighbours) could be confronted with. I ask my characters difficult questions and try to offer solutions which may inspire people off the page.
 Click here to look inside or buy 
'Confident and sympathetic writing.'
' a fascinating glimpse into the dynamic between first and second generation immigrants and how they feel about the place where they live.'
'An impressive book that deserves wider awareness.'
British Asian twenty-something Tanya longs to travel, but working in a Birmingham hospital and running a home keeps her grounded. Her younger sister, Geena, won't take life seriously, chasing her dreams instead of helping look after their dad. When he reacts strangely in response to racist abuse, Tanya begins to uncover the real reason their parents left India and is forced to choose between family, career, and a temptingly cosmopolitan boyfriend as she realises who she wants to be and what makes somewhere the place you call home. No place to go. No place like home. The novel explores British Asian identity in a story which blends elements of Sense and Sensibility with Life Isn't All Ha Ha Hee Hee to deliver a family drama with horizons beyond second city suburbia.
Q: So, are you looking to entertain or illuminate?
Entertainment is my primary aim; I try not to be too earnest with the 'messages' in my fiction. We're all busy people, with many demands on our attention. I personally don't read on if a book has started to bore me. I certainly don't expect my own readers to.
Q: What do you want readers to feel after reading one of your books?
Warmth towards humanity.
Q: Is it true that you should never say anything interesting to an author because it's bound to end up in print?
Er, yes! Although I don't think I've used exact quotes, only jumping off points from ideas sparked during interesting conversations. So, to all my friends, family, colleagues and acquaintances, please continue to be interesting!
Q: Do any of your books have dedications? If so, to whom and why?
I don't write dedications, no. But I do add author notes at the end of my books which give background information on the facts each fiction sprang from and to say thank you to people who helped get the book to readers. Publishing requires a team. I may have made the story up, but there are many people who make it worth reading.
Q: Finally, where can readers find out more about you?
On my website and my Amazon Author Page   or you can follow me on Twitter @KatharineDS. 
Remember, if you enjoyed this post please share it. If there's anything else you'd like to ask Katharine please leave a comment.  
To have future posts delivered directly to your in-box, visit the sidebar on the right and subscribe to my blog, or to find out about new releases, competitions and freebies, subscribe to my newsletter and grab your free copy of my novel, I Stopped Time.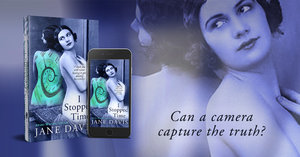 You might also like to enter my Goodreads Giveaway to win a copy of My Counterfeit Self.
And if you're an author and would like to appear on Virtual Book Club, please fill in a contact form.
Written on November 1, 2016 at 11:05 am, by Jane Davis
Categories: Blog, Homepage, In-depth, Virtual Book Club | Tags: behind the book, Books set in Birmingham, contemporary fiction, Indie Authors, Katharine D'Souzae, new fiction, No Place, PowWow festival of Writing, PowWow writers group, Self-Publishing, Virtual Book Club, women's fiction, Writing life
Subscribe to the blog Enter your email address and you'll be notified when new articles are published. (We will not share your email with any third party.)
Want to be featured?

I'd love to hear from authors who would like to be featured in an interview or submit a guest post. To be considered, please complete the contact form.

Image © Juanrvelasco | Dreamstime.com