Nov 15
Today I'm delighted to welcome Cindy Rinaman Marsch to Virtual Book Club, my interview series in which I give authors the opportunity to pitch their latest releases to your book club.
Cindy is a debut novelist in her 50s who spent decades reading and teaching writing after college, laying material in store for this new season of life. In her fourth decade of marriage to Glenn, a physics professor, and with their nest of four children emptying, she is now finding the time to write. The Marsches enjoy life gardening and making wine in Western Pennsylvania, surrounded by the fields of a dairy farm.
Rosette: A Novel of Pioneer Michigan was released in January 2016 and has been awarded the Awesome Indies Badge of Approval.
Q: What is it about Rosette: A novel of Pioneer Michigan that you feel makes it particularly suitable for book clubs?
I was able to ask that question of the leader of a local book club that featured Rosette recently for their most successful club discussion ever, I understand. The participants said it was easy to read quickly for busy folks, and the character Rosette is realistic and not idealised. "She is a tragic character, but much like us. She arouses our empathy. We ache for her."
What is true for myself is promising for book clubs – I'm fascinated by Rosette and want to talk about her.
Q: Twenty words on why your book should be a reader's next read…
Who can resist a found antique journal, its original wedding-day entry edited in pencil to tell a different story?
Q: Who indeed? Let's turn to your protagonist, Rosette. How would you describe her?
Proper. Earnest. Troubled. Naïve. A Dreamer.
Q: Did you feel under pressure to make your main character likable?
One of the main challenges of writing Rosette was giving her room for her own personality, even if I didn't particularly like her. When I read Elizabeth Strout's Pulitzer Prize winner Olive Kitteridge years ago I was struck by how much I disliked Olive but was still compelled by her. That was my inspiration as I crafted Rosette, though I believe my character is more subtly unlikable than is Olive. Our humanity is of beautiful value even if we ourselves are not particularly pleasant.
Click here to look inside and buy
"With every successive wave of joy and sorrow, loss and longing, regret and resolve, broken hearts and healing hearts, readers will be swept into this powerful story and its intimately drawn cast of characters. . . . This is a provocative and delightful novel, not to be missed." ~ George Grant, author
"A poignant and compelling novel that hangs together like a vintage patchwork quilt." ~ Debbie Young, for Awesome Indies
Q: Where is the book set and how did you decide on its setting?
The journal provides the real setting – frontier Michigan in the 1850s and beyond, the land being formed by the first generation of white settlers. I studied the area with Google Earth, but it came to life when I visited in the summer of 2015. Being there rooted me in the landscape as I gazed on the house Rosette and Otis built together, and the novel was "informed" with reference to the real kitchen stoop and the maple grove – sugar bush – that hugs the borders of the creek.
The novel begins as the journal does, with the 1856 presidential election, and I speculate about what happened with Rosette's family during the Civil War. Rosette died in 1913, and I have only a wisp of an idea of what her last decades were like. But her writing in 1894 – letters to the editor of a magazine – came to light, giving me a "late word" from Rosette that helped shape a few details in the novel.
Q: Was your novel inspired by any real life events? And, if so, how to do deal with the responsibility that comes with this?
Oh, yes. The journal is real, and I am in contact with Rosette's great grandson, who was eager to learn of the ancestors he knows nothing about. I worried that the few family members might object to my story, which is sad but nevertheless respectful and true to the facts as I understand them. Besides the twenty months covered in the journal I have only birth and death and marriage records, property records and a couple of other legal forms, plus city directories and census records that give a rough sketch of the family milestones over the decades. Because the journal itself is a beautifully-written, detailed record of a thoughtful young woman's everyday life, her personality and that of the other characters comes through in snapshot fashion. My job was to study those snapshots and build out from that deep, rich impression to a full story that is faithful to the people contained in the journal.
Q: Tell us a little about the major areas you had to research.
The minor ones are more fun – campaign ribbons, cutters (sleighs), the punishing freeze and subsequent flooding of 1857, photography techniques, property records including Rosette's husband Otis's will, the educational writings of John Milton Gregory, soapmaking, Rosette's "salt rheum" skin condition I share (dyshidrotic eczema), spiritualist mediums of the 1850s, and gravestones that gave me a catch in my breath when I read the names on them. And most of all – bloomers!
Q: You stray from a chronological time-frame. Can I ask if you wrote the book in the order in which it now appears on the page, or did you write in a chronological order and then make changes?
The journal structure suggested a very simple plan of starting with 1856 and moving forward, perhaps even finishing in 1858, or maybe just adding a postscript from late in Rosette's life. But as I wrote that well-structured 1850s core, it kept coming to me that the dramatic moment is the day she takes a pencil and strikes through some faded brown ink and writes in different words from what she recorded on her wedding day. When did she make that edit? Under what circumstance? Did she even do the editing herself or did some bitter daughter, perhaps? I made my decision about it, and I created the moment. The novel opens with that scene, set in 1888 (and available in the preview on Amazon).
Q: Maggie O'Farrell says, 'The way I see it, the past and the present are not separate. The present is the past amended, particularly in the way we apprehend it, our memories and nuances.' Is that something that you like to explore in the timeline of your novel?
The privilege of writing a novel that spans more than sixty years is in having a godlike view of things the principals know only as they unfold before them – and some of which they do not realise the import of until much later. Rosette is hindered by her skirts and her housekeeping and the odors and noises of new motherhood, and she does not realise that we in the future have ways to escape much of that. But still we have babies and ill tempers, don't we? And housekeeping that won't do itself? And relationships going wrong? And shiny new stoves and good-smelling new leather shoes, and the taste of a fresh peach after the stomach flu. As she records her daily life, Rosette is much like us, even removed by 170 years.
Q: Verbal anachronisms have been spotted recently in Downton Abbey and in Ripper Street. There is always a difficulty of striking a balance between getting the 'feel' of the language of the era right and borrowing directly from the language of the day. How do you go about this?
Rosette herself helped immensely with her language patterns in the journal. I read and studied and transcribed and re-read, and her language sank into my bones. I am thrilled when reviewers mention the authenticity of my language. It was difficult at first, knowing some readers might be put off. But those who stick with it a chapter or two soon find themselves following the upright beauty of nineteenth-century educated American prose. My editor, Kim Aulerich Mahone, is a student of period clothing and household effects, in particular. She challenged me in just the right places, though I was delighted to reveal sometimes that Rosette herself had used a particular term or phrasing.
Q: Regardless of genre, what are the elements that you think make a great novel? Did you consciously ensure all of these were in place?
It is a daunting call, but one we writers secretly or overtly aspire to. Rosette herself captured my imagination, and I have considered it a privilege to bring her words to light again. In that I am serving her. But I am doing my own work, too, seeking to present Rosette herself in a way that carries my creativity. When a reader is moved by Rosette's circumstances, or calls out a line that he or she finds beautiful, I have great satisfaction in knowing I have met the mark. And oh, I have so far to go. This is, after all, my first novel.
Q: How does your home and its environment influence your writing?
Having lived in a countryside similar to Rosette's for over a decade, I have absorbed the cycles of the weather, the harvest, the movement of the sunrise and sunset across the sky through the seasons of the year. When I pick blackberries I know that Rosette experienced doing the same – the satisfaction of the berry popping off when it is perfectly ripe, the elastic embrace of the hedge as it supports our weight when we lean into the thicket. Our dairy farmer neighbours have daily connection to the needs and production of their animals, and that is a familiar part of my life even from a comfortable distance across the fields.
Only now with our children grown and gone do I have the "head space" necessary to write in the contemplative way that suits me best. In long spans of quiet, long walks, long hours slicing tomatoes for storage I am able to think through scenes and characters. And then I sit in solitude and call it all up on my keyboard (or sometimes in my notebook) as I sit on the front porch, or in an easy chair by the fire, or at a prim desk upstairs overlooking the fields, or at my regular old messy computer desk. It's a beautiful life!
Q: Have you had any rejections that have inspired or motivated you?
Just as I was ready to publish I learned that the Kindle Scout program was newly accepting general literature, so I enrolled in the campaign. I had a wonderful run, with high page views and listings in "Hot and Trending" almost every hour of the campaign. Many praised the excerpt – one of my favourite reviews comes from a fellow Scoutee. It seemed I was well poised to become a new Kindle Press author. But Kindle Press chose not to publish Rosette, and I was quite discouraged. However, I'd learned so much through the campaign that I bravely published myself within a week or so, and I've been determined to prove that this novel was worthy of publication. I'm happy that my sales and reviews are strong even without the muscle of Amazon marketing behind the book. Perhaps I'll give them a chance with the next novel.
Q: Do you feel there is more of a sense of community with self-publishing than there is with traditional publishing?
Although I would love to be in the inner circle of those who did win Kindle Press contracts earlier this year, I have found wonderful new friends and networking partners in my independent publishing journey, and my life is richer for it. The generosity of those who realise that helping another indie along does not diminish their own success inspires me, and I have tried to pay it forward with reviews and encouragement and spreading the word about the great books Indies are writing.
Q: I know you're a keen reader. Where do you get the majority of your book recommendation from?
From wise friends and stellar authors. I keep up with a network of friends on Goodreads, and it feels like Christmas when the weekly updates come in with their reviews that point me to new discoveries. Almost two decades ago we started as a small email group of like-minded friends with great taste, and I've been taking their book recommendations ever since. Interestingly, they're picky enough that they tend to rate Rosette a 4 instead of a 5. I understand – I reserve my 5 ratings for the best of the best!
Want to find out more about Cindy and her writing?
Visit her website, find her on Facebook, find Rosette on Facebook, follow Cindy on Twitter, or on Goodreads.
Cindy is happy to discuss visiting US book clubs and to consider Sykpe.
She would like to offer a copy of the beautiful illustrated paperback version of Rosette: A Novel of Pioneer Michigan to the US winner of a random drawing of those who join my email list November 15-27. International subscribers will have an alternative drawing. Just visit RosetteBook.com to join the list and enter the draw.
Remember, if you enjoyed this post please share it. If there's anything else you'd like to ask Cindy please leave a comment.
To have future posts delivered directly to your in-box, visit the sidebar on the right and subscribe to my blog, or to find out about new releases, competitions and freebies, subscribe to my newsletter and grab your free copy of my novel, I Stopped Time.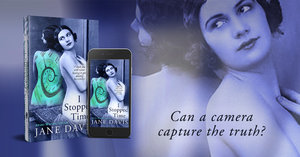 Written on November 15, 2016 at 2:05 pm, by Jane Davis
Categories: Author Interviews, Homepage, In-depth, Virtual Book Club | Tags: Cindy Rinaman Marsch, debut novel, Historical Fiction, historical mysteries, Indie Authors, On writing, Outside the Box: Women Writing Women, pioneer, Rosette, Self-Publishing, Virtual Book Club, Writing life
Subscribe to the blog Enter your email address and you'll be notified when new articles are published. (We will not share your email with any third party.)
Want to be featured?

I'd love to hear from authors who would like to be featured in an interview or submit a guest post. To be considered, please complete the contact form.

Image © Juanrvelasco | Dreamstime.com