May 16
Today I'm delighted to welcome English Author Debbie Young to Virtual Book Club, the interview series in which authors have the opportunity to pitch their novels to your book club.
Debbie has just launched the first in her new cosy mystery novel series, Best Murder in Show, hailed by Katie Fforde as "a cracking example of cosy crime". She has also published three themed collections of short stories, establishing a reputation for highly polished warm, witty, feelgood fiction. When not at her writing desk in her Victorian cottage in the Cotswolds, she's likely to be escaping the clutches of the internet in a camper van full of books and notebooks with her Scottish husband and their teenage daughter.
When Sophie Sayers inherits a cottage in a sleepy English Cotswold village, she's hoping for a quieter life than the one she's running away from. What she gets instead is a dead body on a carnival float, and an extraordinary assortment of suspects…

'Much clever word play, and a plot that will keep you reading long after you should have gone to sleep.'
Best Murder in Show is a great title! At what point in the writing did you decide on it?
I usually decide on my books' titles early on in the writing process, because it makes the book seem real and helps me focus on its completion, but this title came to me at the very start.
I was describing to an old Dutch friend the traditional horticultural show that takes place each summer in the Cotswold village where I live and write. It's the sort of event in which rosettes and cups are awarded for prowess for home-grown produce, crafts and baking. He remarked that it was the kind of event that crops up in one of his favourite English TV series, Midsomer Murders. Jokingly he asked me whether anyone ever got murdered at our village show. I immediately latched on to the idea of a trophy for "Best Murder in Show", and the basic premise for the book was born. This exchange took place a few years ago, and when I contacted him to announce I'd finally written the book, he'd forgotten the incident altogether – so I feet less guilty for seizing his idea like a magpie and making it my own!
Great cover too – who designed it and what was the brief?
Rachel Lawston of www.lawstondesign.com is the genius behind my beautiful cover. The brief was to come up with a consistent brand for the series that would reflect the different times of year in my fictitious Cotswold village of Wendlebury Barrow. I wanted to suggest a cosy comfort read, good-humoured and full of fun, in a loveable idyllic setting, but also allude to the murder mystery that will drive the story.
Thus for Best Murder in Show, the traditional coloured bunting has been turned a funerary black. Future books in the series, which will run the course of the village year, will each use a similar seasonal device e.g. the second in the series, Trick or Murder?, set at Halloween, may feature a string of black pumpkins above an autumnal scene, while the Christmas book, Murder in the Manger, may well be adorned with black paper chains over a wintry landscape.
Where is it set and why?
I chose to set it in the Cotswolds (for those who don't know it, that's a rural sheep-farming region in the south west of England renowned for its beautiful rolling fields and honey-coloured stone cottages) because I've lived in a small village in that region for over 25 years and wanted to write about somewhere I knew well and loved very much. The Cotswolds has dozens of villages similar to the one I live in, each with a strong sense of identify and community that makes them very special. I also know that there are plenty of readers out there who love this region, and who I hoped would lap up another set of cosy mysteries in this setting!
Photos by Angela Fitch of www.angelafitchphotography.co.uk
How does your home and its environment influence your writing?
Since I moved to my adopted home village of Hawkesbury Upton in 1991, I've become very much involved in village life and its many organisations. I've served on various committees that have given me a special insight into how small communities work – thirteen years on our village show committee, six on the village school PTA, a couple of years on the Friends of St Mary's, etc. I helped found the village fun run, HU5K, and organised it for a few years, and the village youth club, and I also founded the Hawkesbury Upton Literature Festival, now in its third year. I have befriended many people in the village, including elderly folk with stories to tell from down the generations, including many born and bred here, and I also know plenty of people who are new to the village, and I've helped acclimatise them to village life.
This means I have an intimate first-hand knowledge of the way such small villages work, and I also have enormous respect for their community spirit and strength. Originally a city girl, I wanted to celebrate village life and raise awareness before those who have never had the good fortune to experience it for themselves.
Of course the Sophie Sayers series is fiction, so all the people and places and situations are made up, but my life in Hawkesbury Upton is the inspiration behind it. I've also written non-fiction about village life, e.g. All Part of the Charm includes a collection of essays penned when I first moved here.
Are you looking to entertain or illuminate?
Both, really. I want these novels to divert readers and make them laugh, and allow them a few hours of escapism into the cosy little bubble that is my fictitious village. But I also want to make them realise the joys of village life. These little communities still offer a safe haven in the modern age, and the comfort of real community in an often scary world. In villages like Wendlebury Barrow and Hawkesbury Upton people are accepted for what they are, and the pressures of the 21st century fade away. Even if readers can't move to the country themselves, at least my books offer them the opportunity to dwell among tolerant friends for a while.
What do you want readers to think and feel after reading one of your books?
I want them to have a good laugh, to love my characters as much as I love them, and to be clamouring for the next book in the series! When they close the book at the final page, I want them to feel like they've just had a mini-break in the country, and, wherever they live, to step back from the hubbub of modern life to observe and enjoy the changes in the seasons and the rich patterns of community life.
I'd also like them to learn from my characters' mistakes and to follow the examples of the kindlier role models. I hope after sharing Sophie's experiences, they'll try harder to understand each other's motivations, to be less materialistic, to forget about the pressures of the 24/7 online world, and to treat their neighbours as they'd like to be treated themselves.
Describe your style to someone who hasn't read your work before.
Lighthearted, easy-to-read yet clever, polished prose, written with warmth, humour, and a zest for life, with an underlying thread that is gently and subtly moral.
Do you believe that you write the book you want to read?
Yes. I have lots of favourite authors whose books that have something in common with my Sophie Sayers series in different ways, from Golden Age of Crime thrillers (Agatha Christie, Dorothy L Sayers) through nostalgic portraits of village life (Miss Read, Lillian Beckwith) to modern rural romps (M C Beaton and Alexander McCall Smith).
And – dare I confess? – I do find my own books comfort-reading! I have read the closing pages of the first three Sophie books many times because I like reliving their happy endings as I drift off to sleep!
What makes Best Murder in Show suitable for book clubs?
It's very book-focused, as the central character, Sophie Sayers, is an aspiring writer, and more authors are brought in along the way throughout the series. The lead male, Hector Munro, is an independent bookseller. Avid readers will particularly enjoy the scenes set in the bookshop, mischievously named Hector's House, and they will have fun spotting the literary jokes and allusions scattered throughout the story.
It would also provide a good jumping-off point for discussion about the current rise in popularity of cosy mystery as a genre. Katie Fforde has kindly described Best Murder in Show as "a cracking example of cosy crime" – so where better to start?!
Plus it's a jolly good fun read! Check out the reviews on Amazon and Goodreads for an idea of how much readers are enjoying it.
20 words on why readers should choose this book next.
Be among the first to discover what's set to become a long-running and popular series of classic English cosy mysteries.
What are you writing now?
I'm editing the sequel, Trick or Murder?, set in the autumn, when a new vicar comes to Wendlebury Barrow and attempts to ban Halloween, to the consternation of the villagers for whom it's a much-loved local tradition. Then I've got a couple of chapters left to write of Sophie #3, Murder in the Manger, which revolves around an ill-fated nativity play which Sophie pens for the village school and drama group. After that, I've got four more books planned to complete Sophie's first year in Wendlebury Barrow – and I can't wait to see what she gets up to!
Want to find out more about Debbie and her writing?
'I'm very happy to visit book clubs within reach of where I live or to meet over Skype, and I welcome enquiries to my email address debbie@authordebbieyoung.com'
Website: www.authordebbieyoung.com
Twitter: http://www.twitter.com/DebbieYoungBN or @DebbieYoungBN
Facebook author page: https://www.facebook.com/AuthorDebbieYoung/
Email: debbie@authordebbieyoung.com
Sign-up form for Debbie's mailing list (free short story on signing).
Paperback: available via CreateSpace and Ingram Spark using ISBN 978-1911223139, available to order from any bookshop
Remember, if you enjoyed this post please share it. If there's anything else you'd like to ask Debbie please leave a comment.
To have future posts delivered directly to your in-box, visit the sidebar on the right and subscribe to my blog, or to find out about new releases, competitions and freebies, subscribe to my newsletter and grab your free copy of my novel, I Stopped Time.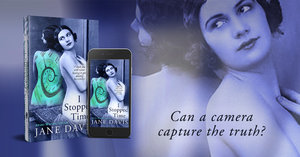 Written on May 16, 2017 at 12:23 pm, by Jane Davis
Categories: Author Interviews, Homepage, Virtual Book Club | Tags: All Part of the Charm, Author Interviews, Authors, behind the book, Best Murder in Show, contemporary fiction, cosy mystery, Cover Design, Debbie Young, feelgood fiction, Hawkesbury Upton, Hawkesbury Upton Literature Festival, Hector Munro, Series, Sophie Sayers, The Cotswolds, village life, Virtual Book Club
Subscribe to the blog Enter your email address and you'll be notified when new articles are published. (We will not share your email with any third party.)
Want to be featured?

I'd love to hear from authors who would like to be featured in an interview or submit a guest post. To be considered, please complete the contact form.

Image © Juanrvelasco | Dreamstime.com