May 23
Today I'm delighted to welcome Leonora Meriel to Virtual Book Club, the interview series in which authors have the opportunity to pitch their novels to your book club.
Leonora grew up in London and studied literature at the University of Edinburgh and Queen's University, Ontario. She worked at the United Nations in New York, and then for a law firm. In 2003 she moved to Kyiv, where she founded and managed Ukraine's largest Internet company. She studied at Kyiv Mohyla Business School and earned an MBA. During her years in Ukraine, she learned to speak Ukrainian and Russian, witnessed two revolutions and got to know an extraordinary country at a key period of its development. In 2008, she returned to her dream of being a writer, and completed The Woman Behind the Waterfall, set in a village in western Ukraine, published October 1 2016. Her second book, The Unity Game was released on May 1 2017.
Leonora, firstly welcome to Virtual Book Club. The book we're going to be discussing today is The Woman Behind the Waterfall.
Heartbreak and transformation in the beauty of a Ukrainian village

For seven-year old Angela, happiness is exploring the lush countryside around her home in western Ukraine. Her wild imagination takes her into birds and flowers, and into the waters of the river.
All that changes when, one morning, she sees her mother crying. As she tries to find out why, she is drawn on an extraordinary journey into the secrets of her family, and her mother's fateful choices.

Can Angela lead her mother back to happiness before her innocence is destroyed by the shadows of a dark past?

Beautiful, poetic and richly sensory, this is a tale that will haunt and lift its readers.

"A strange and beautiful novel" – Esther Freud, author of Hideous Kinky, Peerless Flats, Mr Mac and Me
Q: What is it about your novel that you feel makes it particularly suitable for book clubs?
The Woman Behind the Waterfall is a story of mothers and daughters, and choices and mistakes and heartbreak and love. It has something for everyone to empathise with, particularly women.
Where is the book set and how did you decide on its setting?
It's set in western Ukraine, in a small, isolated village. I lived in Ukraine for many years and it is an incredibly beautiful and culturally-rich country, which very few people know about. One of the goals of the novel was to show off some of the landscapes and culture of this wonderful place.
Q: Who is the hero of your story?
The hero of my story is a seven-year-old girl called Angela. She is a happy, loving child with a wild imagination, but as the story progresses, she starts to realise how sad her mother is. This leads to the unfolding of her past, and helping her mother come to terms with what happened and break through into happiness.
Q: Was it your intention to write a story with a message or a moral?
Absolutely not. In fact, I was very careful not to be moralistic in the novel. As an example, there is a very difficult situation where the father walks out on the mother and abandons her, and I tried hard to present this as a situation where each was doing what they believed to be the right thing, and to show the situation as difficult and complex, as life truly is, not a simple situation of right and wrong.
I did, however, consciously explore many questions which I was looking for answers to. I think it is the job of a novelist to raise questions, to which the readers can add their own experience, and find their own answers.
Q: In which ways was writing the book transformative for you?
When I first wrote the book the ending was very sad – uplifting, but essentially sad. It took several years to edit the novel to exactly where I wanted it to be, and during that time my life circumstances changed a great deal, and by the time it was ready for publication, I realised that the ending didn't reflect how I felt about the book. I changed the ending to a happy one, which felt right to me. It's a point of great joy that I went through this transformation at the same time as the book.
Q: What do you want readers to think or feel after reading one of your books?
In my ideal world, I would like readers to feel moved by the story, to be uplifted by the language of the written word, and to be full of thoughts and questions. I know from some of my readers that this has happened. On the other hand, I'm sure there will be a good proportion of readers who are simply relieved that it's over; confused by the ending; and put it straight out of their heads. Luckily, these are not the readers who write follow up notes to the author!
Q: Can you remember where you saw your first book on the shelves?
It was a thrilling moment! It was my local Waterstones, where I had the book launch for my debut novel, and they had put it on a table surrounded by Margaret Atwood, Kazuo Ishiguro and Haruki Murakami (the novel is Magical Realism). It was a really amazing moment – everything I had dreamed about since I was about 4 years old come true.
Q: Excellent company to keep and, thinking of those authors, what moves you most in a literary work?
Anything that I could not have done myself. Sometimes it is incredibly beautiful writing. Sometimes it is feats of imagination that astonish me. Sometimes it is the audacity of the plot. And I love to feel that the author has given every drop of blood and imagination and energy to a book – you can always feel if it is the furthest the author could possibly stretch themselves at that time.
Q: What makes fiction 'literary'?
Of course this is a subjective answer, but for me, a book is literary if the aim of the writer is to create the most elevated piece of art possible, and at the same time, to consciously contribute to the development of literature.
Q: According to F. Scott Fitzgerald, a novel is never really finished but only abandoned. True?
This is a delicious question. I both agree and disagree. With both of my novels, I felt strongly that I could have worked on them for another three to four years, shaping, moulding, making a masterpiece of every single sentence. But on the other hand, this is a never-ending process, because once you have finished a novel – whether writing it or editing it – you are a different writer from when you started. A better one! And you can improve the book you are working on. Thus, if a writer spent a lifetime on one book, it would be exceptionally polished, but then it may also have been destroyed along the way. Debut novels are very special in that they have that rawness to them – the terror of the writer, the pain and emotional bleeding that goes into the first ever novel. And if that is smoothed down and edited out, then the novel arguably loses its most important element – the emotional power.
So – I do agree that a novel is only abandoned – however I also think that this is part of the raw and wonderful beauty of a work of art.
Q: What advice would you give aspiring writers?
A writer is someone who writes, so my first advice is – write – and write regularly. When you are writing, you are necessarily somewhere on that journey from just-starting-out to first-draft-of-first-novel to editing-first-novel to debut-novel and so on – so keep writing and you will achieve those goals one by one.
My second piece of advice is that any piece of writing you do should challenge you more than anything has ever challenged you ever before in your life. Mentally, emotionally, physically, intellectually – in every possible way. You should be a different person by the time you have finished what you are writing. If you work like this, then you never need to worry if your novels are good or not – they are the best you could possibly write at that moment of your life. And that is always enough.
Q: Before we come to an excerpt from Chapter One of The Woman Behind the Waterfall, twenty-five words on why it should be a reader's next read…
Wildly original setting; three generations of women, challenging and rewarding. IndieReader said: "It asks a lot of the reader, but gives more back."
Here's that excerpt:
I live in Bukovina, in a village that lies between the black and golden flats of farmland and the wolved forest peaks of the Carpathian Mountains. I am seven years old. The house where Mama and I live is a faded brick red, and our windows are painted in a cracked white and bright turquoise blue. There is a wooden gate with a broken latch that opens onto the dusty village street, and a path through our garden leading to a narrow white-painted bench next to the kitchen door. Our land stretches in layers of high grass and scattered flowers down to the woods below.
I am sitting now on the wooden bench, the lavochka, and I swing my warm legs up and down. Next to me, the kitchen door is open. Across the garden is the lilac tree and I watch as tiny flowers are carried down in the breeze, drifting to the ground below, to the pressed dark earth where I love to lie, daydreaming, gazing up into a panoply of lilac stars.
This garden, this spring, this dazzling sunlight, the sound of a solitary bird singing, feels like a dream shimmering around me. The white lilac, my thin dress, the constant deep smell of Ukrainian earth; it could all be a dream were it not for a streak of dirt on my skin and the touch of cold water when I wash it off. Cold water splashed from a silver bucket on a spring day. A dog barking in the distance. A faint smudge of dirt and my skin rising against the droplets. I look up into the light. Streaks of memory now forming against a background of falling gold.
If your interest is piqued, Leonora is offering 3 signed, hard cover copies of The Woman Behind the Waterfall – sent anywhere in the world. It's first come first served, so just leave a comment to say you'd like one.
Q: Leonora, to finish, what are you working on at the moment?
I have just published my second novel, The Unity Game, which is a wild, multi-genre, speculative journey; and I am now making plans for my next books. The first two took so many years each to write and perfect, that I now want to work on several books at once, so that I can maximise all the many elements I want to work on. There will certainly be more on Ukraine and certainly more about women's journeys.
What if the earth you knew was just the beginning?
A New York banker is descending into madness.
A being from an advanced civilisation is racing to stay alive.
A dead man must unlock the secrets of an unknown dimension to save his loved ones.
From the visions of Socrates in ancient Athens, to the birth of free will aboard a spaceship headed to Earth, The Unity Game tells a story of hope and redemption in a universe more ingenious and surprising than you ever thought possible.
Metaphysical thriller and interstellar mystery, this is a 'complex, ambitious and thought-provoking novel' from an exciting and original new voice in fiction.
Want to know more about Leonora and her writing?
Visit her website or her Amazon Author Page, find her on her Facebook or follow her on Twitter @leonora_meriel
Leonora loves book clubs, so if you would like her to visit yours, do get in touch!
Remember, if you enjoyed this post please share it. If there's anything else you'd like to ask Leonora please leave a comment.
To have future posts delivered directly to your in-box, visit the sidebar on the right and subscribe to my blog, or to find out about new releases, competitions and freebies, subscribe to my newsletter and grab your free copy of my novel, I Stopped Time.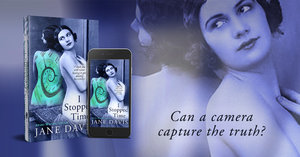 Written on May 23, 2017 at 12:47 pm, by Jane Davis
Categories: Author Interviews, Homepage, In-depth, Virtual Book Club | Tags: Author Interviews, behind the book, Child heroes, contemporary fiction, Indie Authors, Leonora Meriel, literary fiction, Magical Realism, mother daughter fiction, new fiction, On writing, The Woman Behind the Waterfall, Virtual Book Club, Writing life, written word
Subscribe to the blog Enter your email address and you'll be notified when new articles are published. (We will not share your email with any third party.)
Want to be featured?

I'd love to hear from authors who would like to be featured in an interview or submit a guest post. To be considered, please complete the contact form.

Image © Juanrvelasco | Dreamstime.com