Jun 5
Today I'm delighted to welcome JJ Marsh (Jill) back to Virtual Book Club, the interview series in which authors have the opportunity to pitch their novels to your book club.
Jill is the author of The Beatrice Stubbs series, featured in The Guardian Readers' Recommend and The Bookseller's Editor's Choice
She is also:
A founder member of Triskele Books, an award-winning author collective founded in 2011. In addition to publishing 21 books, Triskele creates initiatives to support other writers, eg The Indie Author Fair and The Big Five Competition.
Swiss Ambassador for The Alliance of Independent Authors.
Co-editor of The Woolf, Zürich's literary ezine and writers' workshop.
Journalist for Words with JAM, the magazine for writers.
Reviewer for Bookmuse, the readers' site with a difference.
Originally from Wales, Jill spent time in Africa, the Middle East, Portugal and France before finally settling in Switzerland with her husband and dogs. Nowadays, in an attic overlooking a cemetery, she writes crime.
I was delighted to be invited to the launch of Bad Apples at the weekend. Social media friends will know I'm a huge fan of Jill's writing and always recommend it to readers who are not sure if they enjoy crime fiction. So let me tempt you…
Blurb
Acting DCI Beatrice Stubbs is representing Scotland Yard at a police conference in Portugal. Her task is to investigate a rumour – a ghostwritten exposé of European intelligence agencies – and discover who is behind such a book.
Hardly a dangerous assignment, so she invites family and friends for a holiday. Days at the conference and evenings at the villa should be the perfect work-life balance. Until one of her colleagues is murdered.
An eclectic alliance of international detectives forms to find the assassin. But are they really on the same side?
Meanwhile, tensions rise at the holiday villa. A clash of egos sours the atmosphere and when a five-year-old child disappears, their idyll turns hellish.
From Lisbon streets to the quays of Porto, Parisian cafés to the green mountains of Gerês, Beatrice realises trust can be a fatal mistake.
"Murder at a crime conference, family fireworks and all the ingredients for a rollercoaster adventure." – Francis Guenette, author of The Crater Lake Series
Q: Do you believe that you write the book you want to read?
Yes. I write to entertain a very specific reader. S/he's critical, emotional, suggestible, culturally curious, nosy, loves puzzles, dislikes graphic violence, enjoys strong female characters, has a sense of humour and wouldn't say no to a plate of tapas with a large glass of wine.
Q: What is it about your novel that you feel makes it particularly suitable for book clubs?
Firstly and most importantly, all of my books contain lots of wine.
In addition, there are complex characters to dissect, discuss and debate, a country to explore, a crime to analyse and moral choices to be judged. At the core of Bad Apples, there's a very basic, human question to which everyone has a different answer. Placing it in the context of fiction makes is easier to talk about but no easier to resolve.
Q: Was it your intention to write a story with a message or a moral?
No, categorically not. I wanted to learn how to be a better plotter, not a better person. Yet despite myself, little molehills of ethics erupted all over my nice smooth crime lawn. The more I wrote, the more I understood how fascinated I was with personal principles, individual choices and the way one chooses to live. It came as a bit of a shock, to be honest. I didn't know how much I cared.
Q: Where is the book set and how did you decide on its setting?
Originally, Bad Apples was due to unfold in Devon, a country house mystery with a knowing wink to the Golden Age crime writers: Christie, Sayers, Allingham and Marsh (Ngaio). Then came Brexit. The whole premise collapsed and I nearly threw the book in the bin. Instead I made a mind-map of themes, associations and imagery. That gave rise to one of those ideas which makes you sit up in bed at four o'clock in the morning and say 'Portugal!'.
Q: Khaled Hosseini says that he feels he is discovering a story rather than creating it. Are you an avid plotter or do you start with a single idea and let the novel develop organically?
There's some truth in the discovery concept. Often when researching the germ of an idea, I feel more archaeologist than author, digging up and dusting off. Then I turn architect, designing, plotting and framing the whole. Finally, I am a quilter, stitching the patterns together.
Q: Why do you think so many women write crime fiction? How do you make crime fiction entertaining without adding to the problem?
Ooh, that is a huge question and one I've debated with other crime writers. We don't always agree. My analysis is that women have a particular relationship to fear and vulnerability, both for themselves and their loved ones. Fictionalising deep fears can be a kind of exorcism, but if that is true, we have a responsibility to avoid the clichés and stop reinforcing tired stereotypes. Otherwise we do indeed add to the problem.
Q: Crime fiction seems to have moved from Whodunnit to why did they do it? Why do you think that is?
Perhaps crime stories now feel closer to our own lives. Media scaremongering makes us afraid of that quiet bloke in the flat downstairs or wonder what secrets that glamorous couple over the road are hiding.
Perhaps we're more interested in the psychology behind the crime as that makes it explicable and reassures us there's a reason for everything.
Perhaps we're subconsciously aware there is no mystery as complex and indecipherable as our own behaviour.
Q: Patricia Cornwell took a job in a morgue to research her books. What is the darkest place your research has taken you?
The human mind.
Researching the kinds of disorders and dysfunctions that lead some of my characters to (mal)function took me down a stairwell of nightmares. I read frankly terrifying literature on mental health and had conversations with psychologists I will never forget. Yet if that is what you choose to represent on the page, you are honour-bound to do your homework. Even typing this answer, I have tears in my eyes thinking about the man with the imaginary wolf pack.
Q: What do you want readers to think or feel after reading one of your books?
Obviously I want readers to fling themselves on the floor and swear to read nothing else but Beatrice Stubbs for the rest of their days. Failing that, I'd be pleased to hear them argue. 'She should have…', 'He deserved it…', 'They were wrong…', 'He was right…', 'That's not how you make a caipirinha…'.
Q: And what about you? How do you feel when you have finished writing a novel? Or in this case, a series. Because Bad Apples is Beatrice's final outing.
Massively, hugely relieved. Scared and want to burn it. Excited to see if Stubbs fans will approve. Characters, yes, since writing book one, I had every intention of bringing back a few favourites for this final novel. I felt like a hostess at a reunion. "Xavier, I don't think you've met Catinca" and so on. The hardest thing is saying goodbye to Beatrice herself.
Bad Apples is available at all retailers or HERE
Those of you left wanting to know more might like to read this piece, published on Triskele Books' blog pre-book launch as a preview, and which contains an extract.
Jill's twitter handle is @JJMarsh1 and you can find her Amazon Author Page here, but Beatrice has her own Facebook page, Not to mention a website.
Remember, if you enjoyed this post please share it. If there's anything else you'd like to ask Jill please leave a comment.
To have future posts delivered directly to your in-box, visit the sidebar on the right and subscribe to my blog, or to find out about new releases, competitions and freebies, subscribe to my newsletter and grab your free copy of my novel, I Stopped Time.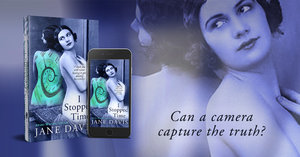 Written on June 5, 2017 at 4:45 pm, by Jane Davis
Categories: Blog | Tags: Beatrice Stubbs, behind the book, crime fiction, crime series, Crime Thriller and Mystery, Indie Authors, International crime, murder mystery, Outside the Box: Women Writing Women, Portugal, Strong female characters, Virtual Book Club, Writers
Subscribe to the blog Enter your email address and you'll be notified when new articles are published. (We will not share your email with any third party.)
Want to be featured?

I'd love to hear from authors who would like to be featured in an interview or submit a guest post. To be considered, please complete the contact form.

Image © Juanrvelasco | Dreamstime.com