May 31
Writing with passion and purpose
Today, I'm delighted to welcome Tim Gurung to A Day in the Life, an interview series in which authors talk about their writing lives.
Tim is the author of eight novels. Born in Nepal, he is based in Hong Kong.
Before becoming an entrepreneur, he served in the legendary British Gurkhas army, renowned for their unparalleled bravery and unconditional loyalty, for thirteen years. During his army career, he served in Hong Kong, Brunei and United Kingdom respectively and visited other countries as well for temporary deployment. He then worked in manufacturing in China for more than twenty years, and ran his own successful international company from Hong Kong.
Influenced by what he has seen during his travels, he writes on serious global and social issues, and only writes for his family-run charity, ISSLCARE Foundation Ltd, the main emphasis of which is education, with its own scholarship programme.
Q: Tim, perhaps you could start by telling us how you came to be a writer.
A: I used to write poem, short story and song when I was still very young. But I stopped writing when life was busy and hard raising a young family as well as establishing a new business. Since I have been working hard from the age of seventeen, I always wanted to do something meaningful in life after I turned fifty. Although I have been living my entire adult life in Hong Kong, I have never forgotten about my home nation, Nepal, and I always wanted to give something back to the society there.
Q: You charity work is incredibly important to you, isn't it?
A: Yes, I decided to open a charity foundation through which I could contribute to the people and the society and use my writing as the wherewithal of my charity. Whatever I earn from my writing is entirely for my charity. When I told people I was only writing for my charity, not many believed it, and they still don't. But scepticism doesn't bother me and in some extent, it inspires me to work even harder. I knew I was doing for good, I have confidence on my own work, and it motivated me to work even harder. I am happy and proud of being a self-published author and I have no intention whatsoever of changing that.
 'The politics, personal success, jealousy, corruption and hidden interests are some of topics that the author in a meaningful and interesting way brought in this story of a man that from village boy came to the very top.'  Amazon reviewer

Click here to look inside or buy
Q: You generally write in the genre of literary/contemporary fiction. What can readers expect?
A: I always write on serious global and social issues, and my books mostly deal on real issues. My books also carry social messages, life values as well as social understanding. My books don't contain any bad elements such as drug, sex or violence. They are good for sharing with other members of the family and friends. Most important, they should be good for people, society and even mankind.
Q: If you were trying to describe your writing to someone who hasn't read anything by you before, what would you say?
A: My writing is definitely different from other writers, even unique in some extent, and you might have to be a little patience with my writing. Some say, my books are too long, and one must definitely get used of my writing before enjoying it. Most importantly, in order to appreciate my works, one must finish reading my book and only then, you will understand the purpose of my books. People sometime tend to pay too much attention on trivial issues but a book should be judged on the entirety of book itself and nothing less.
As all of my books are based on real issues, I must always remain as truthful and conscience to the subject as possible. If I am not fully convinced with the subject matter, I won't use it for my book and my conscience has to be very clear throughout the process. I never like an half-hearted job. I do a lot of researches on that main subject. Most importantly, the subject matter that I am going to use as the main theme of my book has to touch my heart and make me think. Only then I could use it for my book. For instance, my 6th book, A Nation for Refugees, is all about refugees issues and it even provides viable solutions for our ongoing refugee's problem. And it certainly needed a lot of researching works on my part and I do hope relevant party can have a look on this book.
Q: What are the particular challenges of writing fact-based fiction, particularly when it includes living people?
A: Although my books are based on real social and global issues, my characters are always imaginary. The only time I use real life characters is when describing facial feature of those characters. It is the reason why I study people whenever I am on the road and I actually analyse them in great details. Whenever I found an interesting person, I try to capture a photographic image of that person and store it on the back of my mind. And they suddenly come alive whenever I needed them while writing and it makes my job a lot easier.
Finding facts, dates and details is not easy. The sources of your work have to authentic and crosschecked. Thankfully we have internet but we must know where to look it.
After a tragic fire in Hong Kong, John will find a memory stick that has five phone numbers on it, and decide to find out if those numbers are in any way connected to the event that changed his life forever.
Click here to look inside or buy.
Q: At what point in writing a book do you come up with its title?
A: I always come up with the title of a book before the actual writing and I hardly change it. Whenever I find a subject matter for my future book, it clicked right away at the back of my mind and I would create the title of the book after giving some serious thoughts around it. It is not only the title but also the whole prose of the book is well thought of before the actual writing and I only do some necessary changes on the main story afterward. This way, I would already know the main story of the book and how it should be written beforehand.
Q: What type of scenes do you find the most challenging to write and why?
A: I find writing fight scene is the most challenging, at least for me. I am not a violent person, nor do I watch too many action movies, and find it quite hard to write. Besides, the expression of sounds varies according to your language and culture and finding the right balance for all is quite daunting for me. It has to be bold, fast and furious. But it must be also exciting as well so readers won't lose interest. That's why movies do a lot better than book for obvious reason. I also find writing humour extremely hard.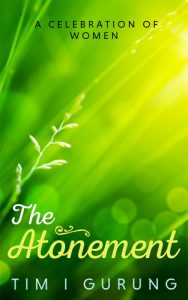 How do indigenous people cope with modern civilisation they never invited because they didn't even know that it existed?
Click here to look inside or buy
Q: What do you think the greatest advantage of self-publishing is?
A: The helm of the whole cruising ship. You are free to sail whenever, wherever and however you like and you are the master of your own destiny.
Q: Which professional services won't you skimp on? (Copy editor, cover designer, proofreader…)
A: Initially I used to think that the most important one was the editor, I have a long term and professional editor and it cost me a lot. But now, I think that all three are important for a good book. Nice cover can attract potential readers, proofreading can wipe out typos and silly errors, and a good editor can make your book really tidy and good reading. Still, I would never skimp on a good editor for sure.
Q: Name five things you wish you'd known before you published your first novel.
A: Book marketing, Media, Bookshop, proper use of social networking sites, and some journalist friends.
 Want to know more about Tim and his writing? 
Visit his website or his Amazon Author Page. You can also find him on Goodreads, Linked in and Twitter.
Remember, if you enjoyed this post please share it. If there's anything else you'd like to ask Tim, leave a comment.  
To have future posts delivered directly to your in-box, visit the sidebar on the right and subscribe to my blog, or to find out about new releases, competitions and freebies, subscribe to my newsletter and grab your free copy of my novel, I Stopped Time.
And if you're an author and would like to appear on Virtual Book Club, please fill in a contact form.
Written on May 31, 2016 at 10:45 am, by Jane Davis
Categories: Author Interviews, Homepage, Virtual Book Club | Tags: Author Interviews, contemporary fiction, Indie Authors, On writing, Self-Publishing, Tim Guring, Virtual Book Club, Writing, Writing life
Subscribe to the blog Enter your email address and you'll be notified when new articles are published. (We will not share your email with any third party.)
Want to be featured?

I'd love to hear from authors who would like to be featured in an interview or submit a guest post. To be considered, please complete the contact form.

Image © Juanrvelasco | Dreamstime.com