Feb 7
Today, I'm delighted to welcome LG Thomson to Virtual Book Club, the interview series in which authors have the opportunity to pitch their books to your club.
LG Thomson was born in Glasgow and grew up in modernist new town experiment, Cumbernauld, best known as the setting of Bill Forsyth's film, Gregory's Girl. She has two GG claims to fame: Bill Forsyth shouted at her when she inadvertently wandered onto the set when going to the chippie for a can of Top Deck (the watching crowd provided a chorus of boos and jeers); her friend Kevin's bedroom can be seen in the background of the football scenes.
Winner of a UK-wide writing competition and short-listed for the Dundee Book Prize, she has indie published four books: noir thriller Boyle's Law and its sequel Boiling Point; crime thriller Erosion; and post-apocalyptic thriller, Each New Morn. In 2016, she signed a publishing deal for a major new project.
Since leaving Cumbernauld for art school in Dundee, she has lived in cities, towns and villages across Scotland. In a kind of You Choose by Pippa Goodhart and Nick Sharratt life, she has lived in various dwellings including a caravan on a croft and an abbey on an island where she was an artist-in-residence. She now lives with her family in Ullapool on the rugged north-west coast of Scotland where she enjoys coastal rowing and is the part-time, occasional stand-in usherette for the Screen Machine, a mobile cinema which tours the Highlands.
Q: LG, perhaps you'd start by telling us how you came to be a writer.
A: I went to art school in Dundee and several years later I returned to work as a graphic designer in the city's art galleries and museums. As soon as I moved back, I had an overwhelming urge to write. It had been all about drawing, but suddenly words were the thing. I couldn't shake it, so I bought a portable typewriter and the first piece I wrote won £2,000 in a national writing competition. I thought I'd cracked the writing lark, but of course, it wasn't quite as simple as that.
Q: Twenty words on why your book should be a reader's next read…
A: If you love great characters, a twisting plot, gallows humour, and cracking dialogue, Boyle's Law is the book for you.
Q: What is it about your novel that you feel makes it particularly suitable for book clubs?
A: The plot's a corker and it has a great setting in the Highlands of Scotland, but it's the two central characters that really get people talking about Boyle's Law. Charlie Boyle is not a nice man; he does some truly terrible things, but somehow readers end up rooting for him. They want him to get away with it, and that throws up all kinds of discussion points about morality, justice, and consequences, but even more questions are thrown up by the book's other main character, Stella Valentine. The reader gets inside Boyle's head, they see how he justifies his terrible actions, but Stella is only ever viewed from the outside. We never know what's going on inside her head. Consequently, her motives are open to interpretation. What makes it really interesting is that readers have described her both as a tragic figure and also as the true villain of the piece. For a book group, there's lots to tussle over and get to grips with.
Q: Why do you think readers are so drawn to dark subject-matter?
A: For me, it's all about tension. I love the anticipation. It's that slowly-turning door knob in the title sequence for The Walking Dead; it's that train scene in The Talented Mr Ripley when Tom realises his friendship with Dickie is over; it's the House of Death opening paragraph in Double Indemnity. If it's not bad already, it's going to get bad very soon. It's a vicarious thrill, a brief delve into the shadows, all the while knowing that you're safe, that it's not real. Or is it…?
Click here to look inside or buy
Charlie Boyle, has fallen for Stella Valentine. Trouble is, Stella is married to Frank, a senior police officer, and Frank is not about to let his wife run out on him. Boyle and Valentine have history, none of it good, and the future is looking even grimmer than the past.
'Quite simply the best Tartan-Noir I have ever read….and I've read a lot of crime fiction – Scottish and otherwise!'
'You won't find the shortbread biscuit version of Scotland here. 'Boyle's Law' exposes the criminal underbelly of Inverness and the Highlands in all its glory.'
***
Q: Now there's a question! Did you know where Boyle's Law was going to go right from the start?
A: I knew the big picture, but not the details. I didn't know how it was going to end until I got there.
Q: At what point during the writing of the book did you come up with its title?
A: I wanted to call the main character Harry. This was before I was aware of Jo Nesbo's Harry Hole books, but the film, Harry Brown, had just come out, so I decided to change it. I still wanted that two-syllable rhythm and Charlie was an obvious choice. It seemed weird at first as my husband is called Charlie, but I went for it. I was scanning a newspaper looking for a good second name and I came across Boyle. It was a gift. For a start, there's Boyle's Law, which is a law of physics about pressure, and if there's anything you can say about Charlie Boyle it's that he's a man under a great deal of pressure. And then there were the ways I could play on it. Boyle's Law is a noir thriller, so I was thinking hard-boiled, and it gave me lots of scope for subsequent titles; the sequel, which was published in 2016, is called Boiling Point.
Q: So, it's a coincidence that your protagonist happens to share your husband's first name, but did you incorporate any real life characters?
A: Actually, one of the incidental characters near the start of the book, is my husband, Charlie. I didn't say anything about it beforehand, and read the passage out to him and our daughters. The girls picked up on it straight away and thought it was hysterical, especially as he was in his underpants and ranting in the street. A few other minor characters were named after friends.
Q: With my own fiction, it's often the parts in a story that are based on truth that the reader challenges as being 'unrealistic'. Why do you think that is?
A: Brilliant, a chance to slip in Jack Nicholson's Col. Jessop quote from A Few Good Men: You can't handle the truth! For me, that sums it up. When the truth is bad, it's often so bad, people can't process it. There were a few things in Boyle's Law – mostly background stuff – I had to dilute, because if I told the truth, no-one would believe it.
Q: Which scene did you find the most challenging to write and why?
A: Writing sex is murder. A few years before writing Boyle's Law, Allan Guthrie gave me feedback on another manuscript. I thought I had been very clever in avoiding writing sex by employing the From Here To Eternity method. That's to say, I built up to the scene and then cut the camera away to pounding waves, but Allan saw right through me. In one of the best (and funniest) pieces of feedback I've ever had, he said, Lorraine, you need to at least give us some foreplay.
Q: Writing is undoubtedly a lonely occupation. P D James says that it is essential for writers to enjoy their own company. Are you a natural loner?
A: I wouldn't call myself a loner. For a long time, I didn't know how to describe myself, because extravert is way too much and introvert doesn't feel like enough. I got myself into a bit of situation not so long ago. I went into my local bookshop and someone I knew was at the counter. It was one of those times when I didn't have any small talk in me, so I sidled past and had the genius idea of crouching down in a corner behind a table display until they'd gone, but they got into a long conversation with the assistant and the longer it went on, the more ridiculous it would have been for me to suddenly pop up like a jack-in-the-box. I was trapped in my corner like a character from a sit-com for what felt like hours.
It all became clear when I did a personality quiz and discovered that I am an ambivert. I love that word. Basically, it means that when I'm in the right mood, I am sociable as hell. Otherwise, the door is locked and I'm not coming out to play.
Q: What do you want readers to think or feel after reading one of your books?
A: Immediate satisfaction, followed by wishing they hadn't already read it, so that they could have the pleasure of that first read all over again.
Q: What are you working on at the moment?
A: I signed a deal last year for a major new project. The scope of it goes way beyond anything I've done before and I'm really excited about it. A confidentiality clause prevents me from saying anything more now, but I'll make up for that when it comes out later this year.
Now there's a cliffhanger if ever I heard one! Want to find out more about L G and her work?
Visit her website, Like her on Facebook Page, or follow her on Twitter.
Remember, if you enjoyed this post please share it. If there's anything else you'd like to ask LG please leave a comment.
To have future posts delivered directly to your in-box, visit the sidebar on the right and subscribe to my blog, or to find out about new releases, competitions and freebies, subscribe to my newsletter and grab your free copy of my novel, I Stopped Time.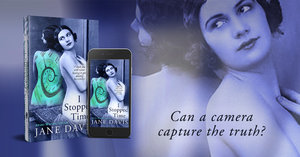 Written on February 7, 2017 at 5:41 pm, by Jane Davis
Categories: Author Interviews, Homepage, Virtual Book Club | Tags: behind the book, Boiling Point, Books set in Scotland, Books set int he Scottish Highlands, Boyle's Law, crime fiction, Crimes, gallows humour, Indie Authors, LG Thomson, noir thriller, On writing, plot twists, Self-Publishing, Tartan noir, thrillers and mystery, Virtual Book Club
Subscribe to the blog Enter your email address and you'll be notified when new articles are published. (We will not share your email with any third party.)
Want to be featured?

I'd love to hear from authors who would like to be featured in an interview or submit a guest post. To be considered, please complete the contact form.

Image © Juanrvelasco | Dreamstime.com