Dec 13
Today, I'm delighted to welcome Rosemary J Kind to Virtual Book Club, my interview series which gives authors the opportunity to pitch their novels to your book club.
Rosemary says that she writes because she has to. You could take almost anything away from her except her pen and paper. Failing to stop after the book that everyone has in them, she has gone on to publish books in both non-fiction and fiction, the latter including novels, humour, short stories and poetry. She also regularly produces magazine articles in a number of areas and writes regularly for the dog press.
As a child she was desolate when at the age of ten her then teacher would not believe that her poem based on Stig of the Dump was her own work and she stopped writing poetry for several years as a result. She was persuaded to continue by the invitation to earn a little extra pocket money by 'assisting' others to produce the required poems for English homework!
Always one to spot an opportunity, she started school newspapers and went on to begin providing paid copy to her local newspaper at the age of sixteen.
For twenty years she followed a traditional business career, before seeing the error of her ways and leaving it all behind to pursue her writing full-time.
She spends her life discussing her plots with the characters in her head and her faithful dogs, who always put the opposing arguments when there are choices to be made.
Always willing to take on challenges that sensible people regard as impossible, she set up the short story download site Alfie Dog Fiction in 2012 and has built it to being one of the largest in the world, representing over 300 authors and carrying over 1600 short stories. Her hobby is developing the Entlebucher Mountain Dog in the UK and when she brought her beloved Alfie back from Belgium he was only the tenth in the country.
She started writing Alfie's Diary as an Internet blog the day Alfie arrived to live with her, intending to continue for a year or two. Twelve years later it goes from strength to strength and has recently been named as the number three pet blog in the UK.
Q: Have you always felt driven to write or was there a particular trigger?
Completely driven. I cannot imagine what life would be like without being able to write. On a desert island my one book choice would need to be a very thick one with blank pages that I could fill. I've always been that way, from starting school newspapers to filling pages of travel journals, my childhood paved the way for what I do now. I'm incurable.
Q: Your latest release is New York Orphan. What do you think makes it particularly suitable for book clubs?
Not only is it a compelling story which can be enjoyed as it stands, but it raises some challenging questions which are relevant both to the period of history in which it is set, and which are equally pertinent today. There is plenty for a group to discuss both of a literary nature as well as deeper issues.
Q: Can you give us an idea of the central conflict?
The strapline for the book is 'How strong are bonds of loyalty when everything's at stake?'. The essence of the conflict stems from two boys swearing blood brothers as children and that bond being put to the test.
Q: Did you know where this book was going to go right from the start?
I was quite sure I knew what the ending would be, until the characters went into revolt and refused to cooperate. Funnily enough, that was the point I knew I'd really got something. When your characters have taken on such a life of their own that they can change the shape of your story then you know they will be as real to your readers as they are to you. I think their choice of ending is way more satisfying for the reader and I'm glad I didn't finish it as I'd originally planned. Interestingly, in making the change I have paved the way for the book being the first of a series whereas it was originally intended to be a one off.
Q: At what point in writing the book did you come up with its title?
That's an interesting story. I was quite set on the book being called The Orphan Train. Unfortunately, I spent so long writing it that someone else came along with a book of that title which has been very successful. That meant even though it had been my working title long before their book came out it would have felt wrong to use it. The book was complete before it received its current title. I spent hours thinking of every possible combination and arguing against each one, until I had one left that I thought was strong enough for the book. As things have turned out I couldn't be happier with the title and am very glad that the book is called New York Orphan as, particularly with the wonderful cover design, it has a real strength to it.
Q: Who designed your book cover and what brief did you give them?
I think the cover for New York Orphan is amazing. Along with a number of my other book covers, it has been designed by Katie Stewart of Magic Owl Designs. Katie is very good at understanding the concept of a book and being able to produce something which gives a real flavour of the story. I gave Katie the synopsis as well as a little bit about what where the key aspects of the book and then she worked from there to produce ideas. Oddly the hardest thing was to make sure the train was authentic for the period and for the particular location. It would have been all too easy to get the train's wheel configuration wrong and there are just too many people out there who would know that was the case.
Click here to Look Inside or buy
From fleeing the Irish Potato Famine, to losing his parents on the ship to New York, seven-year-old Daniel Flynn knows about adversity. As Daniel sings the songs of home to earn pennies for food, pick-pocket Thomas Reilly becomes his ally and friend, until he too is cast out onto the street.
A destitute refugee in a foreign land, Daniel, together with Thomas and his sister Molly, are swept up by the Orphan Train Movement to find better lives with families across America. For Daniel will the dream prove elusive?
How strong are bonds of loyalty when everything is at stake?
Based on real history, the strength of the characters in New York Orphan will move you with their desperate plight to survive. A gripping story of love, loss, betrayal and bonds of kinship.
Q: Obviously, as the title suggests, the book is set in New York, but that's not the only setting, is it?
Once I was captured by the idea of writing about the Orphan Trains, the locations chose themselves through my research. New York was the key location as that was where the first Orphan Train ran from, but I needed three destinations that the children would be moved to. For the first two, Dowagiac and Iowa City, that was driven by the destination of the very first train and where children were sent on to who weren't given a home. The final choice had to be a location that trains were running to a year later and which was neither too close to either of the original choices nor too far from New York and so I chose Pierceton.
Q: Tell us a little about the major areas you had to research.
I've done a huge amount of research for the book. It was important to me that not only was the story accurate in terms of historical detail, but that the language I used was appropriate both to the time and the characters. Although these days a lot of research can be done on the internet, I was privileged to be able to visit the Orphan Train Museum in Kansas and be given access to many of the original records. I also went to the New York Library and was able to see first-hand some of the original documents and letters belonging to the Children's Aid Society.
When you are researching it can be the odd details which trip you up. I needed to know whether the syrup for pancakes would have been corn syrup and found myself reading some very interesting articles on how corn syrup is produced. Interestingly, it was not around until later than I was writing about.
Q: Was the seed of your story an idea or an image?
I'm very much a conceptual writer. I heard a story about Charles Loring Brace and the Orphan Train Movement and immediately my mind was asking 'What if?' and exploring combinations of scenarios. Once the characters started to take shape it became very clear how things would develop.
Q: Are you looking to entertain or illuminate?
A little of both, but not exactly either. I do believe in a story being compelling read simply as a story and so I would hope that every one of my books would entertain. However, I want to write fiction which is more than that. My own writing motto is 'challenge thinking through writing'. I'm conscious that running deeper through a number of my books is the question 'what makes us who we are?' and I want the reader to go on a journey of exploration, if they are willing to dig deeper than the simple story. On many occasions right and wrong are not as black and white as they appear. I love the problem in Victor Hugo's Les Misérables as to whether Jean Valjean should have been imprisoned for the theft of a loaf of bread taken to feed his sister's starving family. It is still theft, but is the right to life more powerful? Sometimes to understand what is right you need to look more deeply to the situation of the offender.
Q: In which ways was writing the book transformative for you?
It has not so much been the writing itself which has been transformative, as beginning to receive some recognition for my work. I've been overwhelmed by the number of readers who have started to ask when the next in the series will be available and to be regularly asked how it's going. It is very encouraging and rewarding.
Q: So, are you working on the next installment?
No, I'm working on something that couldn't be more different. My hobby is developing the Entlebucher Mountain Dog breed in the UK and I've accidentally became an expert in the breed. Given that there isn't a complete guide to the breed in English I decided it was time to fill the gap. If things have gone to plan it will be on sale by the time you read this, however at the moment I'm setting it for publication and cursing trying to set a book which has so many pictures in it. I shall definitely be back to novel writing from January. I'd rather be creating the pictures through my choice of words than checking if an image is high enough resolution to reproduce well. From January I shall be working on the second in the Tales of Flynn and Reilly series, which takes up the story where New York Orphan leaves off.
Q: What advice would you give aspiring writers?
Write as much as you can and read even more. You will learn a great deal about how to write and how not to write, by reading the work of others. Read anything and everything and analyse what works and how you react to it. You are not a writer if you don't put pen to paper. Make time to practice writing. Make it your top priority. Find a writing buddy who will be honest with you and help each other to improve. Most of all understand that writing is a journey and we all have to start somewhere.
Q: When I was discussing historical fiction with Evie Woolmore, she said that there are three kinds of 'historical novelists': those who write in order to accurately reconstruct history in fictional or quasi fictional terms (Philippa Gregory or Hilary Mantel); those who write stories whose plot is reliant on and infused with the historical setting and thus which are historically very precise and well-researched (such as Harriet Steel's novel Salvation, which I recently reviewed); and those (like me) who write novels which are not principally historical but work effectively in historical settings. Do you share that view and, if so, which category do you fall into?
I am very definitely the middle one of the three. New York Orphan is driven by the story, but it is very important to me that the historical detail is accurate. You will find little details thrown in to ground the story in time and place, but you won't find long passages of description which make it closer to non-fiction. Although I have done a huge amount of research and could talk for hours on the subject, I don't feel the need to burden the reader with all of that. If the reader does want to delve more deeply into the Potato Famine, of the whole Orphan Train Movement then I provide a bibliography at the back of the book of the many sources I found interesting and useful. At the end of the day I want the reader to be able to lose themselves in the story and not be pulled out of it to absorb too many interesting but unnecessary facts along the way.
Q: Is there a phrase or quote about writing that you particularly like?
It's wider than my writing, but has been the motto that has driven me since I was given it on a birthday card for my tenth birthday. 'Do not follow where the path may lead, go instead where there is no path and leave a trail.' That is what I have set out to do and what I shall keep doing every day.
For more details about the author please visit her website . (For more details about her dog then you're better off visiting www.alfiedog.me.uk)
Rosemary is happy to visit book clubs in person or by Skype depending on location. Book clubs can also find suggested questions for discussion on her website at http://rjkind.co.uk/wp/book-groups/
You can also find her on Facebook, and Twitter: @therealalfiedog
Remember, if you enjoyed this post please share it. If there's anything else you'd like to ask Rosemary please leave a comment.
To have future posts delivered directly to your in-box, visit the sidebar on the right and subscribe to my blog, or to find out about new releases, competitions and freebies, subscribe to my newsletter and grab your free copy of my novel, I Stopped Time.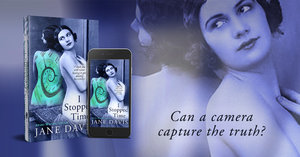 Written on December 13, 2017 at 12:59 pm, by Jane Davis
Categories: Author Interviews, Blog, Homepage, Virtual Book Club | Tags: Alfie Dog Fiction, Author Interviews, behind the book, Bookclub, Charles Loring Brace, Children's Aid Society, Historical Fiction, Indie Authors, Irish potato famine, New York Orphan, Orphan Train Museum in Kansas, Orphan trains, Pet Blog, Potato Famine, research, Rosemary Kind, Stig of the Dump
Subscribe to the blog Enter your email address and you'll be notified when new articles are published. (We will not share your email with any third party.)
Want to be featured?

I'd love to hear from authors who would like to be featured in an interview or submit a guest post. To be considered, please complete the contact form.

Image © Juanrvelasco | Dreamstime.com