Feb 19
I'm delighted to welcome Anita Belli to Virtual Book Club, my interview series that gives authors the opportunity to pitch their novels to your book club. This month I'm showcasing my fellow nominees for The Selfies Award 2019 – a chance to check out the competition!
Anita describes herself as a 'compulsive writer' and creative tutor, who caught the writing habit as a child and has spent a lifetime trying to get other people hooked.
She is passionate about Art and History, and writes Women's 20th Century History about the consequences of the past catching up with us. A former dancer and filmmaker, she devised and taught an MA in making dance for the screen, which led to a love of developing creative ideas with others.
She is a full time novelist, and also works with local communities, writers and non-writers, across age, gender, race and creed; in public places, private rooms, streets, bars, libraries and art galleries. The aim is to encourage more people to tell their own story in their own way, and to publish their work; whether it is memoir, fiction or poetry, for pleasure, or publication. Her theory about harnessing creative tools to enhance your writing, been encapsulated in Anita's non-fiction book, 'Kick Start Your Writing', a practical guide, which is a product of her workshops.
Q: Firstly, welcome and congratulations on your nomination. Can I start by asking, have you always felt driven to write or was there a particular trigger?
I have written since I was at primary school and The Manchester Evening News printed my stories and poems on its children's page. I said that I wanted to be a writer when I grew up, and I was told categorically not to be silly, 'they have people who do that sort of thing.' Subsequently, my professional work led me to focus on supporting and developing the creative practice of arts professionals, local communities and children and I still work extensively as a writer in community settings to help as many people as possible to tell their own story and publish their work. This is the day job which I manage around my writing. I have subsequently become one of those people 'who do that sort of thing!'
Q: If it's possible to pinpoint, why do you write?
I write because the stories parade through my mind and keep me awake at night. I write because the characters shout at me to tell their story. I write because for part of my life, it was therapeutic to get my ideas on paper, to explore underlying issues, character flaws and backstory. In this way, I healed the hole in my own soul and passed it on to my characters! I have learned a great deal from exploring character over the decades. And finally, I write because I get to decide how my characters' lives turn out. That is a wonderfully empowering thing to do.
Q: If you were trying to describe your writing to someone who hasn't read anything by you before, what would you say?
Although different genres, my books share a common thread; I explore how the past ripples across the years to impact on the lives of the women who come later; searching for our own truth and examining the power of love to heal the past. Love is the greatest motivator for all of my characters; not only romantic love, but the ties that bind us to others across generations.
Click here to look inside or buy
When Hollie bumps into Rory on Camden High Street on a wet day in February, it seems that her long held secret is about to be uncovered. They were lovers, years ago, until college days ended, and Rory took off to find his brilliant career. Hollie found herself stranded in the world of single parenthood with her son Tom, and as a waitress at The Blue Moon Café, is struggling to make ends meet. When Rory reappears in her life, perched as he is on the edge of success, Hollie realises just how far she has let her own potential slip. And how dangerous it would be to admit her secret after all this time…
"Unputdownable, Rom Com at its best. I laughed out loud, bit my nails and swooned
– all in the one day that it took me to devour this treasure of a book. More please!" ~ Amazon reviewer
Q: Once Upon a Blue Moon is something of a departure from your chosen genre. Where does it fit in with the rest of your work?
It's a Contemporary Romance set in Camden Town. It differs from my other work in that it is Contemporary in genre, and lighter in tone. The central conflict comes from the heroine not wanting to admit a secret from the past until she bumps into an ex boyfriend on Camden High Street.
The central conflicts of my previous books comes from war and the character's responses to it. I have previously published two novels of 20th Century Historical Women's Fiction.
My first experience of publishing was to independently publish The Art Forger's Daughter. It was one of the most thrilling experiences of my life. It took three years to write; I gave up the day job and went to live in Spain, and did acres of research about art forgery and WW11. I followed a lot of rabbit holes, but learned a lot about the Art and Craft of Writing and the Business of Publishing.
Following my self-publishing experience, The Traveller and The Rose was published by a small press. It is an epic story of love loss and betrayal set in the Spanish Civil War and the germ of the story was planted whilst I was living in Spain.
I felt that I wanted to try a traditional publishing route with this book and I was successful. The publisher designed the cover and did some marketing, but I was disappointed with the interior design of the paperback. I believe I could have done a better job myself! I also still had to do a lot of marketing, and all of this has convinced me of the power of the Indie Publisher. Independently publishing also gives me the ability to try different genres, and that freedom has enabled me to publish Once Upon a Blue Moon which has been shortlisted for a Selfie Award, so I must have done something right!
Photo from recent visit to Camden High Street, Jane Davis
Q: Was there ever a moment when you felt the story started telling you?
Yes! This used to happen every time I wrote a new book, which is why I have such a large back catalogue of unpublished work! I've realised on my long journey into the craft of writing, that in order to be more productive and write stronger, publishable stories, I needed to get better at plotting! I studied a lot of plotting methods, linked to genre specific narrative arcs, and am now careful to make sure that I don't skip happily down wonderful cul-de-sacs, having a marvellous time but writing irrelevant scenes which end up on the proverbial cutting room floor. Although these may be a delightful distraction and sometimes, some of the best writing in the book, they do little to progress the narrative. My writers' group now helps to keep me on target with new works. I do however still retain that awe and wonder when I am writing a new story and allow the freedom to explore the scene fully through the writing process. I think it is more a case of how I present the scene, not what the scene is about and what it needs to cover. This is the difference between plotting and pantsing; writing from the seat of your pants. I have had a marvellous time with both methods, but am definitely more productive and publishable when I plot and I don't have to rewrite stories too many times.
Q: Is your writing plot-driven or character-driven?
Character; always character first, but not in isolation. It is a character in a setting which interests me, and the two usually come into my mind together.
In The Traveller and The Rose, I had an image of a young Englishman strolling through the sunburnt Spanish landscape on the eve of the Spanish Civil War (Summer 1936.) An innocent bystander, his only involvement was to fall in love with a Spanish woman, and then he couldn't leave. So the narrative is driven by his character – resilient and loyal – within a landscape and political situation over which he has no control.
A similar situation arises in The Art Forger's Daughter. A young Beatrix Prins is left alone in the world after her mother is admitted into an asylum in Colchester in the 1950s. The only way she can help her mother to recover her mind is to travel back into the fragments of her mother's memory of Nazi occupied Amsterdam. Her character, and the choices she makes, drives the narrative. She is again an innocent caught up in past events, which play out on a global, geo-political stage.
"A richly imagined saga of lives touched and shaped by ancient traditions, family tensions and the ravages of war." ~ Amazon reviewer
Q: When you write, are you looking to entertain or illuminate?
Both. I like to write about recent historical stories which may not be well known, and which inform. The entertainment comes from the reader caring about how a character deals with the challenging situation they find themselves in and how the character changes as a result of their troubles. If the stakes are high, the reader will care.
In Once Upon a Blue Moon, the entertainment value is provided by the characters at The Blue Moon café: a host of colourful characters playing out a story of single parenthood, financial worries, modern careers and reality TV, told with humour and an eclectic mix of events which overwhelm them in one of London's most interesting boroughs.
Q: What advice would you give aspiring writers?
I have been running creative writing workshops for about five years and have done a lot of one to one mentoring for beginner writers. I am now a co-founder of TheNovelMakers and it is a part of the day job to give advice and mentor writers, as well as appraise manuscripts and teach writing craft.
I find that the most frequent advice I give is:
Develop a writing habit. Write every day. Keep notebooks everywhere. Capture all the ideas, however insignificant they may seem.
Learn to take feedback and use it positively. Join a writers' group if possible.
I would strongly advise new writers to learn the craft of writing just as you would need to do to master any art form.
And be genre aware.
Don't send manuscripts out to agents and publishers (or self publish) unless it has been through a rigorous structural edit, line edit, and proof reading.
I also advise a warm up, because I trained as a dancer and would never do anything without being warmed up and in the right place physically and mentally. I think that getting the mind into the right place to create a flow in your writing is important. I have a thing about letting it flow; engaging from the heart to the head to the fingers and capture how it feels not just what happens next.
I use various techniques and creative tools in my workshops and self published Kickstart Your Writing to support these workshops.
Q: Is there a phrase or quote about writing that you particularly like?
Michael Crichton said: Books aren't written, they are re-written.' Once I learned this, and joined Frinton Writers Group, my writing improved, and so did my chances of writing publishable novels.
Q: Want to find out more about Anita, her writing and writing workshops?
Visit her website, follow her on Twitter, or like her Facebook page.
Find out more about Anita's new venture, The Novel Makers. "Looking forward to our first outing as The Novel Makers at Essex Book Festival on 9th March. The seminar at 11.30 is 'How to re-write, edit and get your manuscript publication-ready.' We will be there all day to talk to you about your writing and see how The Novel Makers can help you achieve your writing aims. Come and say hello!"
If there's anything else you'd like to ask Anita, just leave a comment.
To have future posts delivered directly to your in-box, visit the sidebar on the right and subscribe to my blog, or to find out about new releases, competitions and freebies, subscribe to my newsletter and I will send you a free copy of my novel, I Stopped Time, as a thank you.
While I have your attention, can I please draw your attention to my updated Privacy Policy. (You may have noticed, they're all the rage at the moment.) I hope this will reassure you that I take your privacy seriously.
Remember, if you enjoyed this post please share it.
If you have subscribed to my blog but no longer wish to receive these posts, simply reply with the subject-line 'UNSUBSCRIBE' and I will delete you from my list.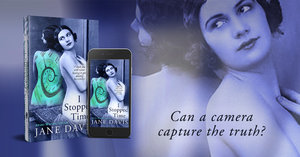 Written on February 19, 2019 at 9:22 am, by Jane Davis
Categories: Author Interviews, Homepage, Self-Publishing, The Making of a Book, The Selfies Awards, Virtual Book Club, Writing Life | Tags: Anita Belli, Books set in Camden, Books set in London, contemporary fiction, contemporary relationship fiction, Contemporary romance, creative writing workshops, Kick Start Your Writing, Once Upon a Blue Moon, The Art Forger's Daughter., The Selfies 2019, The Selfies Award, The Traveller and The Rose, TheNovelMakers, Women's 20th Century History
Subscribe to the blog Enter your email address and you'll be notified when new articles are published. (We will not share your email with any third party.)
Want to be featured?

I'd love to hear from authors who would like to be featured in an interview or submit a guest post. To be considered, please complete the contact form.

Image © Juanrvelasco | Dreamstime.com